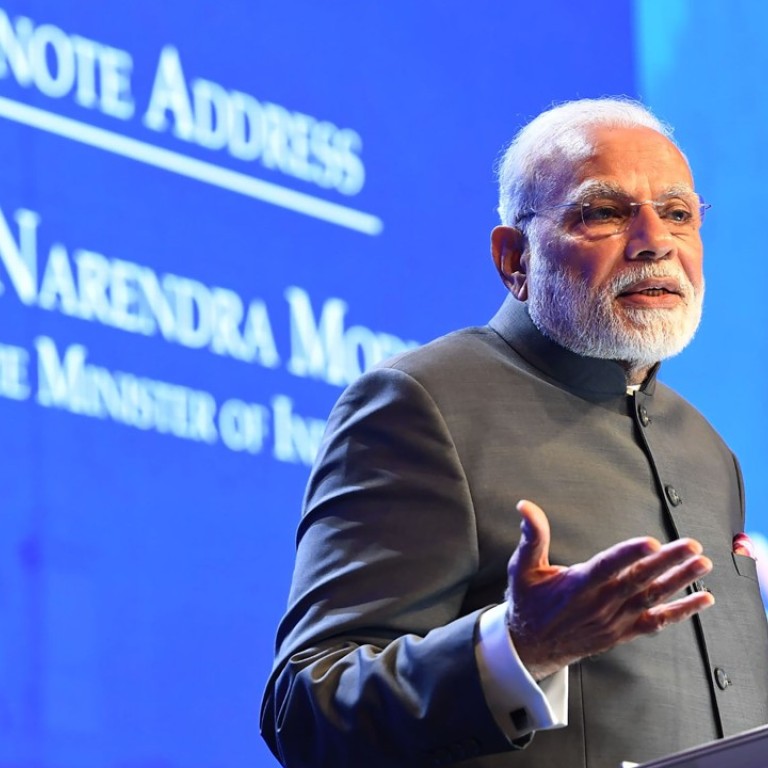 Indian leader Modi wants no part of China-US rivalry, but still manages to keep Beijing happy
Asia and the world 'have a better future when India and China work together', prime minister says
With Washington's Indo-Pacific strategy set to boost India's role in the region, New Delhi is working hard to avoid being caught in the middle of the growing rivalry between China and the United States, observers said.
That might have explained why Indian Prime Minister Narendra Modi appeared to avoid mentioning the "quadrilateral strategic dialogue" – a US-led grouping of four regional powers including Australia, Japan and India, also known as "the Quad" – during his speech at the Shangri-La Dialogue, a regional security summit, in Singapore over the weekend.
He also refrained from criticising China ahead of the Shanghai Cooperation Organisation summit this weekend.
Modi's remarks were well received in Beijing, with foreign ministry spokeswoman Hua Chunying saying on Monday that China was willing to work with India to "safeguard the hard-won positive trend in bilateral ties to increase political trust … and properly manage and control disputes to ensure the peace and stability at the border area".
Some had speculated that Modi, the first Indian leader to attend the Shangri-La talks, might seek to promote New Delhi's role in ensuring stability in the region in light of growing concerns about Beijing's assertiveness in the South China Sea, East China Sea and Indian Ocean. India has been particularly uneasy about Beijing's growing relationships with its neighbours, like the Maldives and Sri Lanka.
Speaking to defence ministers and other officials from 50 countries, Modi – India's strongest leader for decades – also outlined his view of the Indo-Pacific region.
"India does not see the Indo-Pacific region as a strategy or as a club of limited members," Modi said in his keynote speech, delivered in English, on Saturday.
"Nor as a grouping that seeks to dominate. And by no means do we consider it as directed against any country. A geographical definition, as such, cannot be," he said.
US Defence Secretary James Mattis said earlier that President Donald Trump's administration "espouses the shared principles that underpin a free and open Indo-Pacific".
Modi said that India's relations with China had "many layers". And despite their months-long military stand-off on the Doklam plateau last summer, "Asia and the world will have a better future when India and China work together in trust and confidence, sensitive to each other's interests".
Diplomatic observers said that although Washington regarded India as a "major bridgehead" in the region, and counter to China's rise, New Delhi might have other opinions.
"Unlike Japan, which is an ally to the US, India does not want to share the cost of an Indo-Pacific strategy … but would like to use the opportunity to bolster its role in global affairs," said Hu Zhiyong, a research fellow at the Shanghai Academy of Social Sciences' Institute of International Relations.
"Meanwhile, as Modi is going to attend the Shanghai Cooperation Organisation summit in Qingdao this weekend, he doesn't want to make any moves to dismay or disappoint Beijing," he said.
New Delhi's decision to exclude Australia from the annual Malabar naval drill in the Indian Ocean might have been evidence of that, he said.
Rajeev Ranjan Chaturvedy, a visiting fellow at S. Rajaratnam School of International Studies at Nanyang Technological University in Singapore, said although India's relationship with the US had improved in recent years, Modi still believed that strong and stable relations with China were in the country's best interests.
"India's view of Indo-Pacific is not shared by the US. India sees the region more inclusively, open for all, and not a club for democracies only," he said.
"Also, the word 'alliance' is not India's approach, which is why you see its reluctance to support the Quad concept."
With its decades-long Look East policy, India is also keen to have strong economic and strategic relations with Southeast Asian nations as a counterweight to China's influence.
Its efforts to achieve that were significantly bolstered this year when for the first time, leaders of all 10 members of Asean were invited to India's Republic Day parade in Delhi and greeted with warm handshakes from Modi.
During his visit to Southeast Asia, Modi also visited Indonesia, where he signed a deal allowing India access to Sabang port, which overlooks the western entrance to the Strait of Malacca, one of the world's busiest waterways.
Before flying to Singapore, he also met newly elected Malaysian Prime Minister Mahathir Mohamad in Kuala Lumpur, where he agreed a pact on logistical support for naval ships, submarines and military aircraft.
As for the dispute between China and the US in the South China Sea, where Mattis said the US would continue to confront what it sees as Beijing's militarisation in the contested waters, Chaturvedy said he believed India was unlikely to get involved.
"India is limited in its capacity, and its primary focus will remain the Indian Ocean," he said.
"It will not add to the direct rivalry between the US and China, particularly in the South China Sea."
This article appeared in the South China Morning Post print edition as: Modi WARY OF U.S. PLANS FOR regional ALLIANCE