Putin state visit to China reflects strengthening of Sino-Russia ties amid US pressure
Russian head of state to attend regional security group meeting in Qingdao
Just a month after beginning his new term in office, Russian President Vladimir Putin is heading to China for a state visit, underscoring how mounting pressure from the United States is drawing the two countries increasingly close.
Responding to US national security strategy that describes them as American's top adversaries, Russia and China have vowed to further expand their economic, political and military cooperation. They have also sought to strengthen the Shanghai Cooperation Organisation, a regional grouping they created.
Beijing and Moscow's rapprochement is driven by a strong personal relationship between Putin and Chinese President Xi Jinping, seen as the most powerful Chinese leader since Mao Zedong. The two have met 25 times – five times last year alone, according to Putin's foreign affairs adviser, Yuri Ushakov. Putin's visit begins on Friday.
Underlining his close personal relationship with Xi, Putin told a Chinese state broadcaster in an interview aired on Wednesday that the Chinese president is the only world leader whom he once invited to celebrate his birthday.
"I'll be frank with you, I hope he won't be angry at me: we had a shot of vodka and had some sausages at the end of a workday," Putin said. He praised Xi as a "comfortable partner, a good and reliable friend."
The two leaders rely on tight security controls to block challenges to their rule and both tightened their grip on power this year. Xi by engineering a move to stay in power indefinitely and Putin, Russia's longest-serving leader since Josef Stalin, by winning another six-year term.
"They appear to have an excellent rapport," Fyodor Lukyanov, a top Moscow-based foreign policy expert. "They have similar horizons and share a common vision."
Putin has been driven closer to China by a sharp decline in relations with the West after Moscow's 2014 annexation of Crimea and support for a separatist insurgency in eastern Ukraine. Moscow is increasingly looking to Beijing for trade and investment following waves of Western sanctions targeting its vital energy sector and military industries and limiting the country's access to global financial markets.
"Over the past decades, we have developed relations that have no parallel in the world today," Putin said in the interview, referring to China and Russia. "These relations are built on consideration of mutual interests."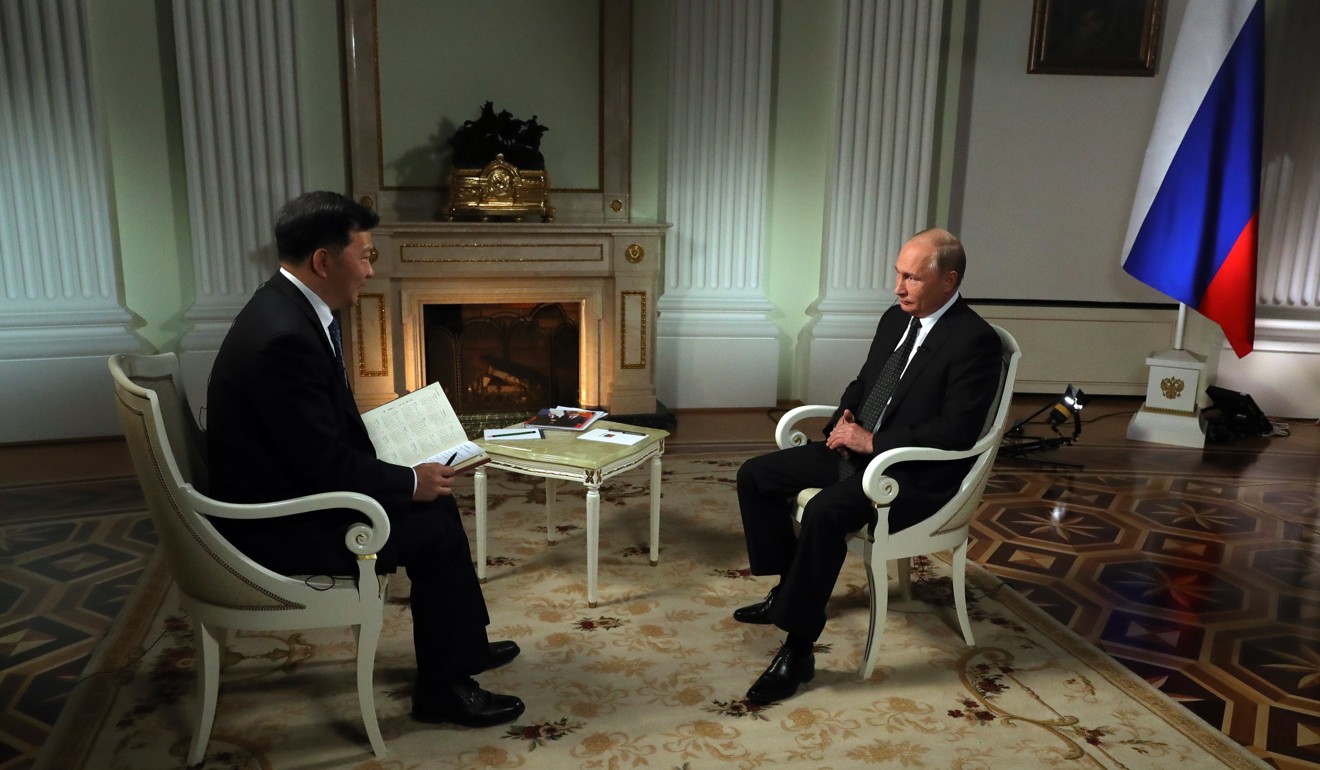 Russia's hopes for better ties with the US under President Donald Trump have withered, while frictions between China and Washington have sharpened over a potential trade war and American criticism of Beijing's claims to territory in the strategically vital South China Sea.
In an unusually blunt statement, the newly named Chinese Defence Minister, Gen Wei Fenghe, said in April that he chose Russia for his first trip abroad to send a signal to Washington about the increasingly close military ties between Moscow and Beijing.
Li Xin, director of the Shanghai Institutes for Foreign Studies' centre for Russian and Central Asian Studies, said: "Put simply, everything the US has done in an attempt to sanction Russia and curb China will make China and Russia step up cooperation in all fields."
Russia and China have largely aligned their positions at the UN to oppose intervention in Syria and quash attempts to criticise their human rights records. They have both sought to assert their interests in North Korea talks and Moscow has backed Beijing's opposition to freedom of navigation operations by the US Navy in the South China Sea.
Russia and China have conducted joint military manoeuvres, including exercises in the South China Sea and last summer's joint navy drills in the Baltics. In December, the two militaries held missile defence drills intended to practice their joint response to missile threats from other countries, reflecting their shared concern about America's missile defence programme.
Russia also has shared its top-of-the-line military technologies with China, providing it with batteries of the long-range S-400 air defence missiles and its latest Su-35 fighter jets.
However, while political and security cooperation has blossomed, economic ties have lagged.
China is Russia's top trading partner, while Russia ranks 10th on Beijing's list. Exports of oil, timber and other raw materials made up the bulk of Russian exports to China, while the Chinese exports mostly consisted of industrial goods, replacing the imports of Western products blocked from sanctions.
Bilateral trade sank from nearly US$100 billion in 2014 to some US$60 billion the following year due to a sharp depreciation of the Russian currency. It has since partly recovered as the rouble has strengthened, reaching nearly US$90 billion last year.
In comparison, US-China trade amounted to US$636 billion last year, with a US deficit at US$375 billion.
Moscow and Beijing have pledged to boost their trade to US$200 billion by 2020 – a goal that looks overly ambitious in view of a slow pace of Russian economic growth and remaining restrictions that hamper mutual trade on both sides. New agreements are due to be signed during Putin's visit, which will also feature the two leaders attending a youth hockey game.
Beijing has also shown a renewed interest in railway and other infrastructure projects in Russia, while pursuing its Belt and Road Initiative intended to encourage development in ex-Soviet Central Asian nations.
Yu Bin, a political scientist at Wittenberg University in Ohio, sees "growing asymmetry in their national power" as China's economy continues to forge ahead and it rapidly expands its military, especially its navy. Still, differences between the sides are manageable, Yu said, and unlike their exchanges with the US, are seldom politicised.
Moscow continues to see Central Asia as falling within its sphere of influence and early on had reservations about China's economic expansion in the region – a reflection in part of lingering suspicion dating from their cold war-era competition for leadership of the Communist bloc.
However, the two have since appeared come to terms on their shared presence there, while countries in the region also appeared to hedge their bets, eagerly developing economic cooperation with China but continuing to rely on close security ties with Russia.
"Building up cooperation with China is a strategic priority for Russia," said Lukyanov, who heads the Council for Foreign and defence Policies. "But there is also an understanding that each country has its own interests."
This article appeared in the South China Morning Post print edition as: Putin state visit to bolster ties amid rising US pressure