Vietnam
Get more with myNEWS
A personalised news feed of stories that matter to you
Learn more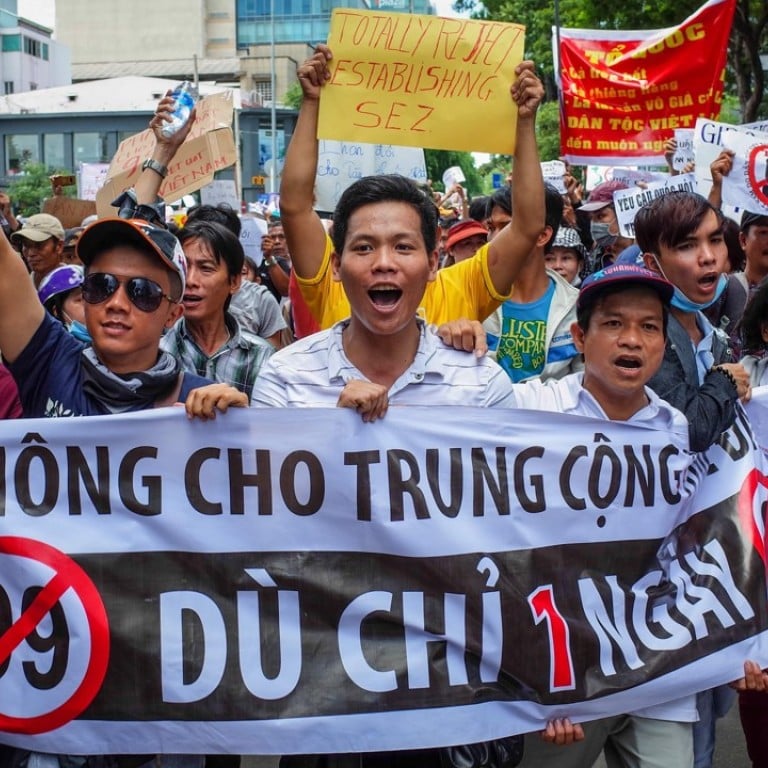 Anti-China protests in Vietnam set to aggravate tensions with Beijing
Around 100 arrested during demonstrations over draft law for special economic zones that workers fear will be dominated by Chinese interests
Vietnam's worst flare-up of anti-Chinese sentiment in years could strain already troubled relations with the country's powerful neighbour, as the government tries to keep a lid on nationwide protests.
About 100 people have been arrested so far, but on Wednesday hundreds of defiant demonstrators again gathered at Tan Huong Industrial Park in the southern province of Tien Giang, holding up banners with slogans such as "I love the fatherland – don't let China lease our land".
Videos posted on social media showed hundreds of workers facing down police at factory gates and marching through the streets.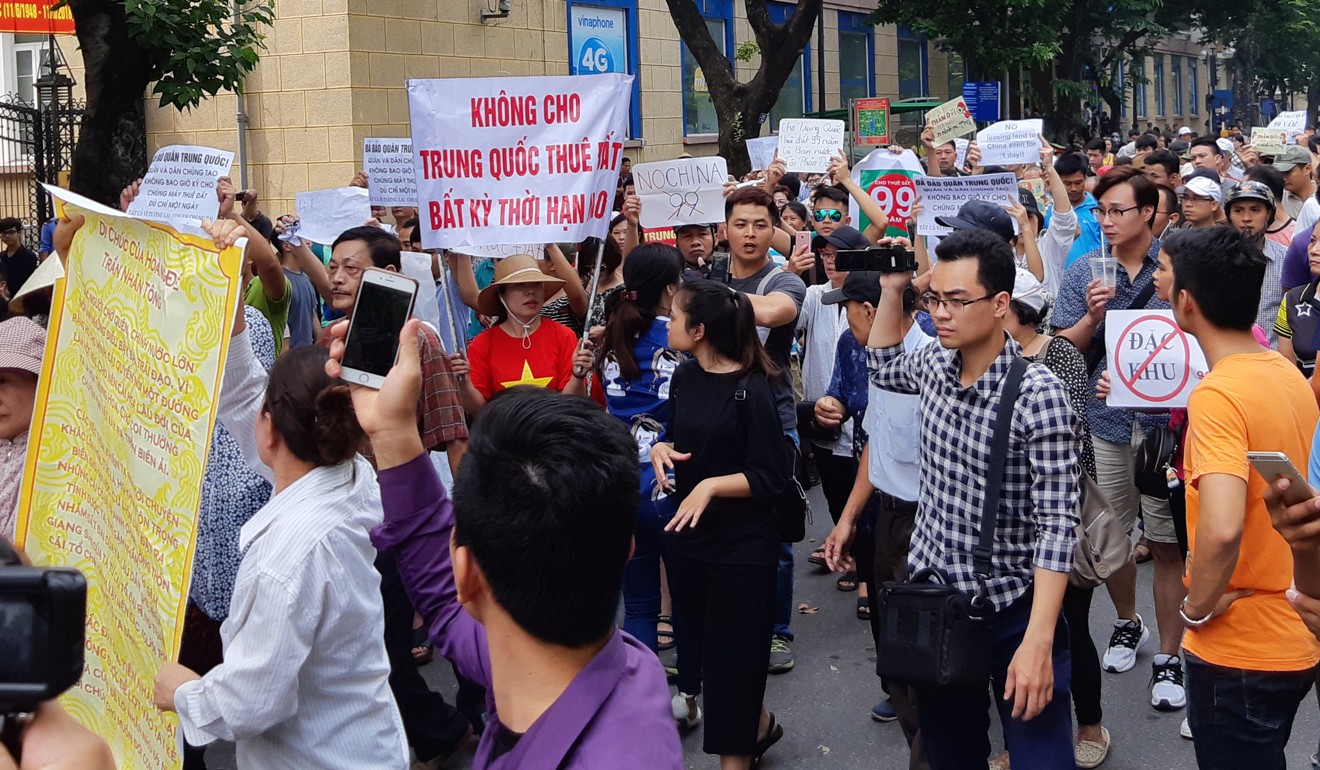 The anti-China protests – the worst seen in Vietnam since 2014 – began on Saturday at Taiwanese-owned shoe factory Pou Yuen in Ho Chi Minh City, where workers demonstrated over the government's plan to set up three new special economic zones that would allow 99-year concessions.
The protests spread, and violence erupted at other rallies in southern province Binh Thuan on Sunday.
Although the government did not specifically mention who would invest in the zones, protesters fear they will be dominated by Chinese interests.
"The links between the Vietnamese and Chinese authorities are becoming more and more conspicuous each day, and make citizens frustrated and angry," said Do Thi Minh Hanh, president of the Viet Labour Movement, a labour rights organisation.
The protests are set to aggravate the already tense relations between the two countries. China's embassy in Hanoi on Sunday issued a safety warning to Chinese nationals, calling the protests "illegal gatherings" with "anti-China content", and said it would pay close attention to the developments.
"For the Vietnamese leadership, the anti-Chinese nationalism poses a greater challenge for Vietnamese foreign policy, because China is such an overwhelmingly powerful neighbour," said Robert Ross, a professor of political science at Boston College.
"It's difficult for Vietnam to appease their nationalists with anti-Chinese behaviour and anti-Chinese policies without incurring potential Chinese retaliation."
In April, the foreign ministers of both countries met in Hanoi and pledged to address their disputes – especially over contested territory in the South China Sea – peacefully.
But last month, Vietnam asked China to remove military equipment it had reportedly installed on three man-made islands in the disputed Spratly chain claimed by China and Vietnam, among others.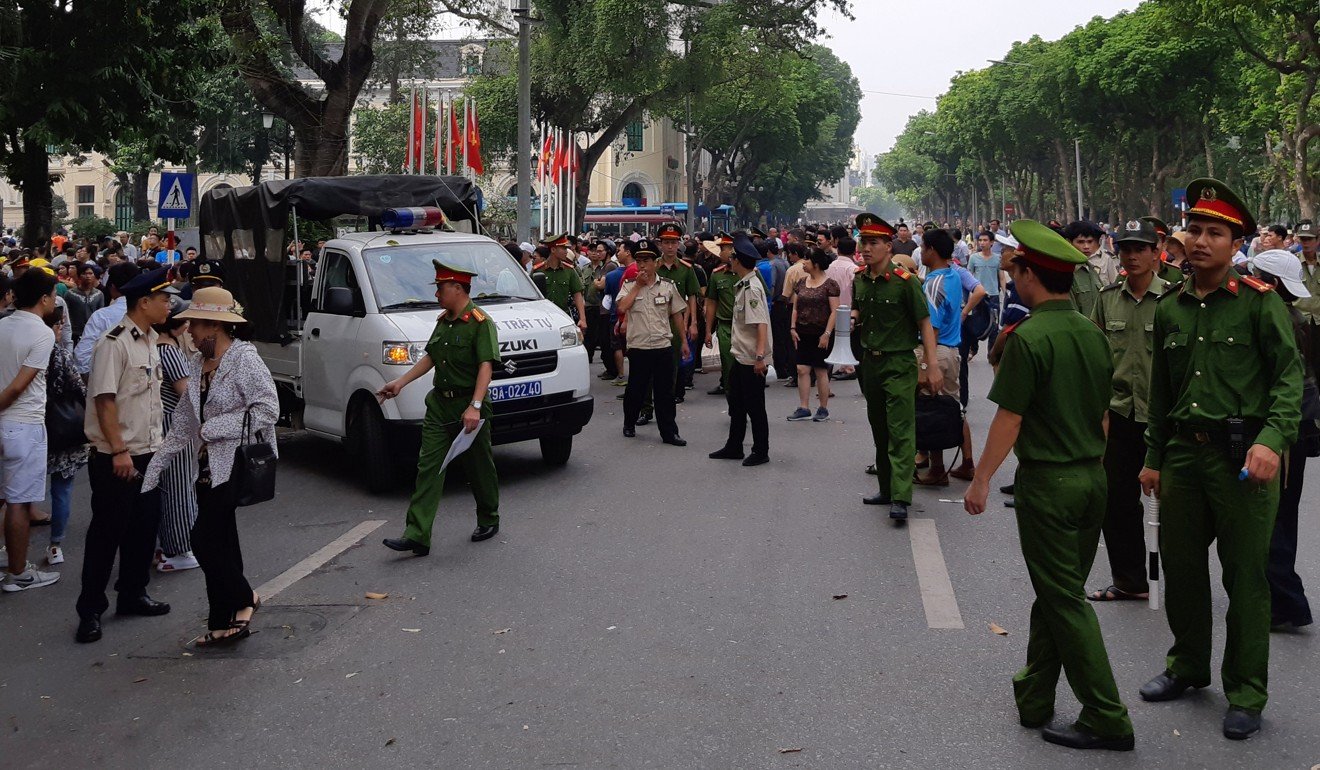 The demonstrations turned violent over the weekend when police moved in to shut them down. In Binh Thuan, rioters looted public buildings and clashed with police, while in Hanoi more than a dozen protesters were detained.
The protests continued on Monday even after the National Assembly voted to defer discussion of the special economic zones bill until October.
Thousands of workers have also taken part in strikes across southern Vietnam since the unrest began, including at Pou Yuen and Ching Luh, another shoe factory in Long An province, and at Tan Houng Industrial Park in Tien Giang province, according to Minh Hanh.
Adding to the simmering anger towards the government is a
new cybersecurity law
that will require digital businesses like Facebook and Google to store the data of Vietnamese users in Vietnam.
While the vote on the special economic zones has been postponed, an analyst said any amendments to the bill were likely to be cosmetic.
"There is so much money and power involved for [Communist Party of Vietnam] officials, they will make some minor concessions – such as shortening the allowed lease period of 99 years – but they would not let this affect their ties with China," said Tuong Vu, a professor of political science at the University of Oregon.
Lawmakers could shorten the lease term from 99 to 70 years, the maximum allowed for investors under current Vietnamese law, online newspaper VnExpress reported.
Anti-China riots erupted across the country in 2014 after a Chinese oil rig was stationed in a disputed part of the
South China Sea
claimed by both Vietnam and China. Rioters attacked police and Chinese workers, leaving more than 20 people dead and nearly 100 injured.
This article appeared in the South China Morning Post print edition as: Anti-China rallies risk aggravating Beijing tensions