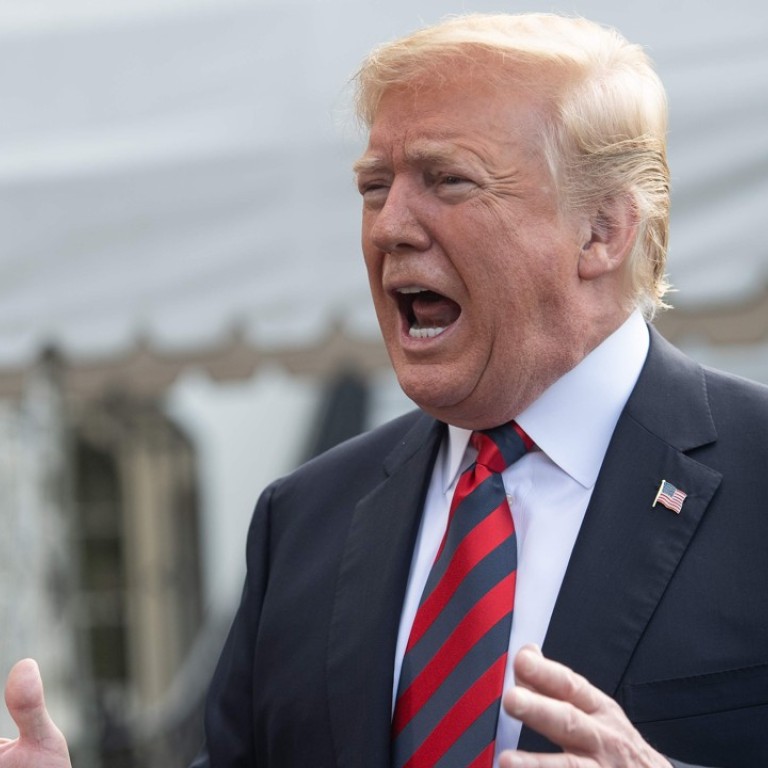 Donald Trump vows to pursue aggressive trade action in 'coming weeks' against China
Comments by the US president come just ahead of Washington's planned imposition of punitive tariffs on US$50 billion in imports
US President Donald Trump has pledged to hit China with aggressive trade action "in the coming weeks", signalling that he will not back away from a plan to institute punitive tariffs on goods from America's largest trading partner.
"China could be a little bit upset about trade because we are very strongly clamping down," Trump told Fox News's Bret Baier in an interview to be aired on Wednesday, according to Bloomberg. The interview was conducted aboard Air Force One, during Trump's flight from Singapore, after he met with North Korean leader Kim Jong-un.
Trump spoke just days ahead of a deadline he set last month about his administration's imposition of a 25 per cent punitive tariff on US$50 billion worth of annual imports from China, part of an effort to force Beijing to lower restrictions on US companies and exporters to the country's markets.
The final list of goods to be targeted is expected to be announced on Friday.
"You will see over the next couple of weeks," Bloomberg quoted Trump as saying. "They understand what we are doing."
Trump has shown little interest in softening his approach in an effort to draw down long-standing trade deficits with the US's largest trading partners.
He has even antagonised Washington's traditional allies, most recently at last weekend's annual G7 summit meeting, when he refused to sign the group's joint statement.
The US leader enraged the group's leaders with his decision earlier this month to impose tariffs on steel and aluminium imports from Canada, the European Union and Mexico as part of his "America First" agenda.
Trump's summit meeting with Kim in Singapore may have emboldened him to take a harder line on China, said Daniel Russel, a former assistant secretary of state for East Asian and Pacific affairs.
The president's "obvious satisfaction with the outcome of the Singapore summit and his willingness to take warmed-over DPRK promises as victory, may in fact embolden Trump to hit the Chinese even harder," Russel, now a senior fellow at the New York-based Asia Society Policy Institute, told the South China Morning Post.
Investment restrictions and export controls are to be announced on June 30, the White House said. The tariffs, to be levied under Section 301 of the Trade Act of 1974, and restrictions will be imposed "soon" after the announcement.
"To protect our national security, the United States will implement specific investment restrictions and enhanced export controls for Chinese persons and entities related to the acquisition of industrially significant technology," in addition to the tariffs, the White House said in a May 29 announcement.