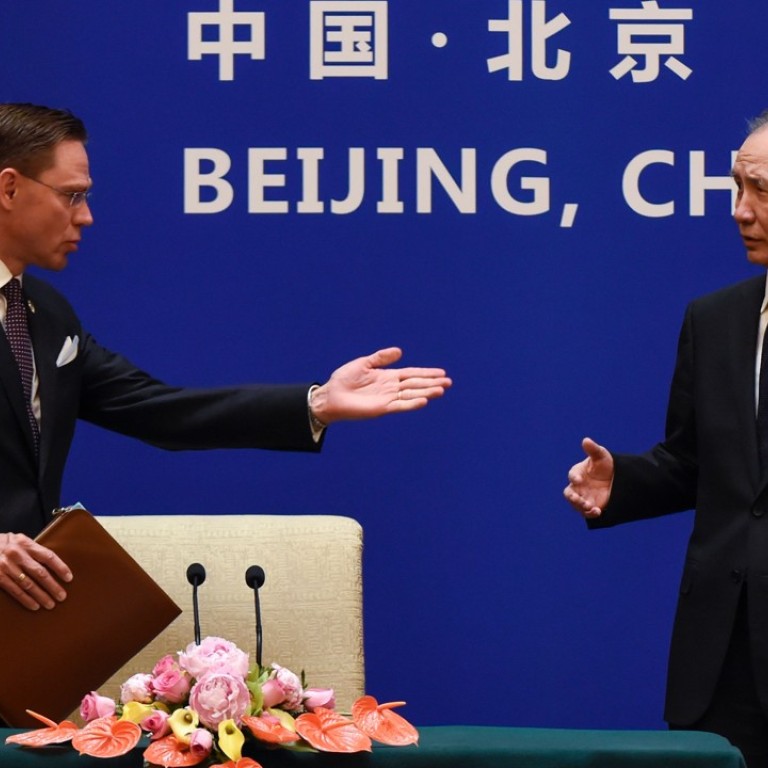 China, EU plan working group to revamp WTO and counter US unilateralism
Two sides agree to oppose protectionism during high-level economic talks but Beijing's industrial policies and market access remain sticking points
China and the European Union will set up a working group to revamp the World Trade Organisation to counter US unilateralism, but the two sides remain divided on thorny issues such as Beijing's industrial policies and market access.
European Commission Vice-President Jyrki Katainen made the remarks at a news briefing following high-level economic talks with Chinese Vice-Premier Liu He in Beijing on Monday, as both economies face escalating trade tensions with Washington.
"Even though one cannot accept unilateral action, which is in violation of the principles and rules of the WTO, once the US is doing so [engaging in unilateralism], it tells us we have to update the WTO to be better suited for the existing environment," Katainen said.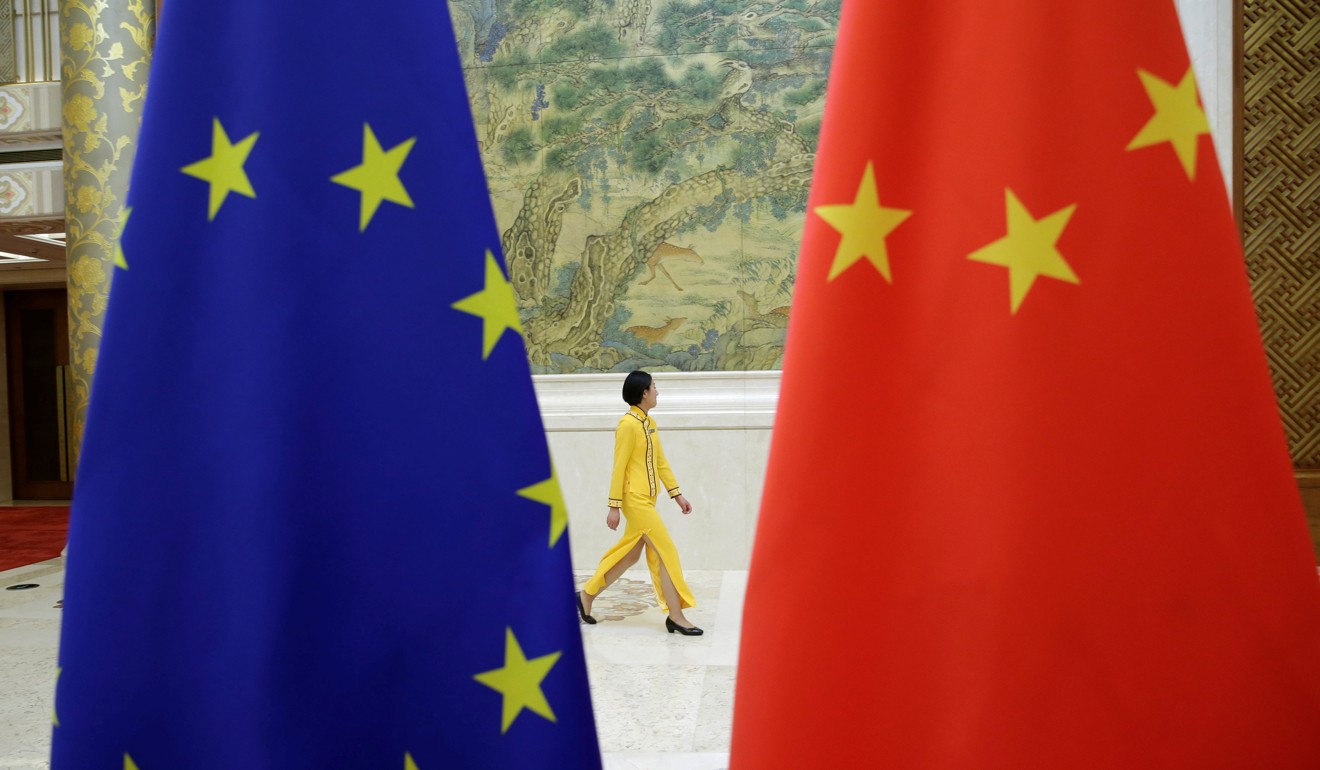 He added that the EU shared Washington's concerns about industrial subsidies and mandatory technology transfers in China, and that those issues would be part of the working group.
Katainen said the EU sought to solve such conflicts at the WTO, and that "it is the only way to address possible disputes", adding that it did not side with any party or country involved in trade frictions.
Last week, the EU announced tariffs on about €2.8 billion (US$3.3 billion) worth of US products, with a senior official saying the United States had "left no other choice" for the bloc.
The EU was retaliating after US President Donald Trump on June 1 announced tariffs of 25 per cent on steel imports from Europe and 10 per cent on aluminium.
China also hit back last week after Trump slapped punitive duties on Chinese goods, announcing that it would place its own tariffs on US$50 billion of US products at the same level of 25 per cent.
The first round of US tariffs on US$34 billion of Chinese imports begins on July 6, and Trump has threatened to impose levies on another US$200 billion of goods from China.
Katainen said the exact set-up of the working group had not yet been decided, but "ideally" would be at the vice ministerial-level and other countries would be welcome to take part.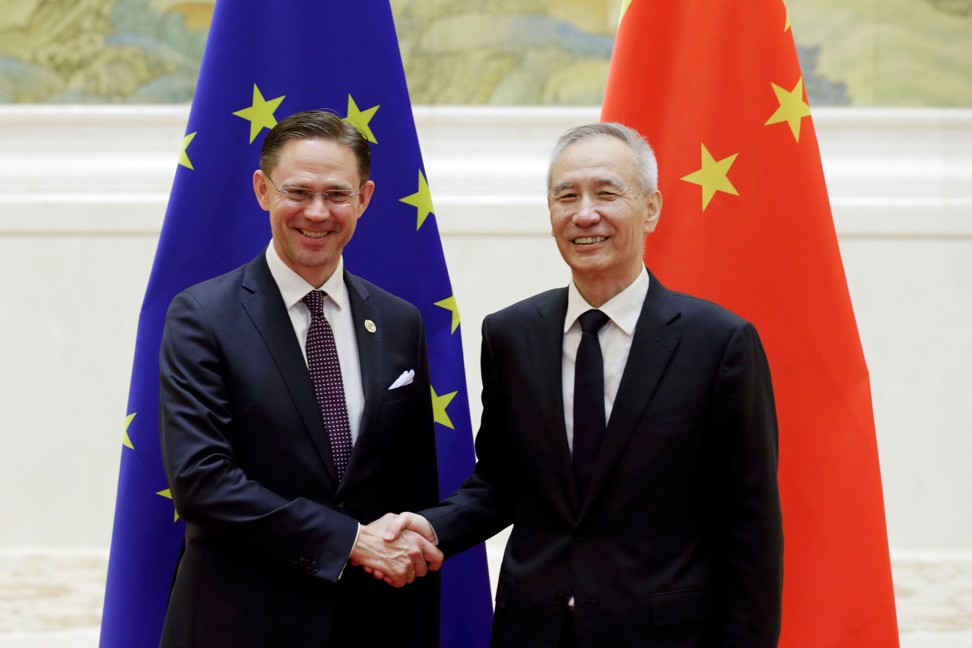 Liu said Monday's talks "were held against a unique background – amid a rise in unilateralism and trade protectionism, and amid tensions between major countries".
"China and the EU firmly oppose trade unilateralism and protectionism and think these actions may bring recession and turbulence to the global economy," he said.
The two sides would seek to exchange offers on market access during negotiations on a bilateral investment treaty to be held during the upcoming China-EU summit, Liu said.
Katainen expected to see a "comprehensive and as wide as possible" offer of market access from China, but said fair treatment was a key part of the negotiations.
But they still disagreed on key issues, like China's industrial policies and restrictions on its market.
On protectionism, Katainen said the two countries "need more than just talks". Both needed to operate within international trading rules and "work on new rules in key areas relevant to the global level playing field, such as industrial subsidies", he said.
Katainen also highlighted industrial overcapacity and called for Beijing to support the Global Forum on Steel Excess Capacity – set up by the Group of 20 economies – to deal with the problem.
"It is also important for China to prevent overcapacity in other sectors, including the hi-tech sectors that are covered in the 'Made in China 2025' [policy]," he said. "We should cooperate based on equal treatment and respect of international rules."
Liu said overcapacity in China had been caused by dwindling global demand.
Beijing's policies such as Made in China 2025 – designed to support domestic industries and transform China from a maker of sports shoes and denim into a hi-tech powerhouse – are a major concern in Europe and Washington, and are at the heart of the US trade actions against China.
Katainen also warned against Beijing turning its concerns about cybersecurity into a "hurdle" for businesses operating in the country.
The two sides also agreed to sign pacts on climate change and a mutual investment fund during the China-EU summit, Liu said. This year's annual summit is expected to be held in Beijing in mid-July.
The vice-premier said they would also speed up negotiations on China joining the government procurement agreement under the WTO, which gives wider access to markets among members.
This article appeared in the South China Morning Post print edition as: China, EU to team up on WTO revamp