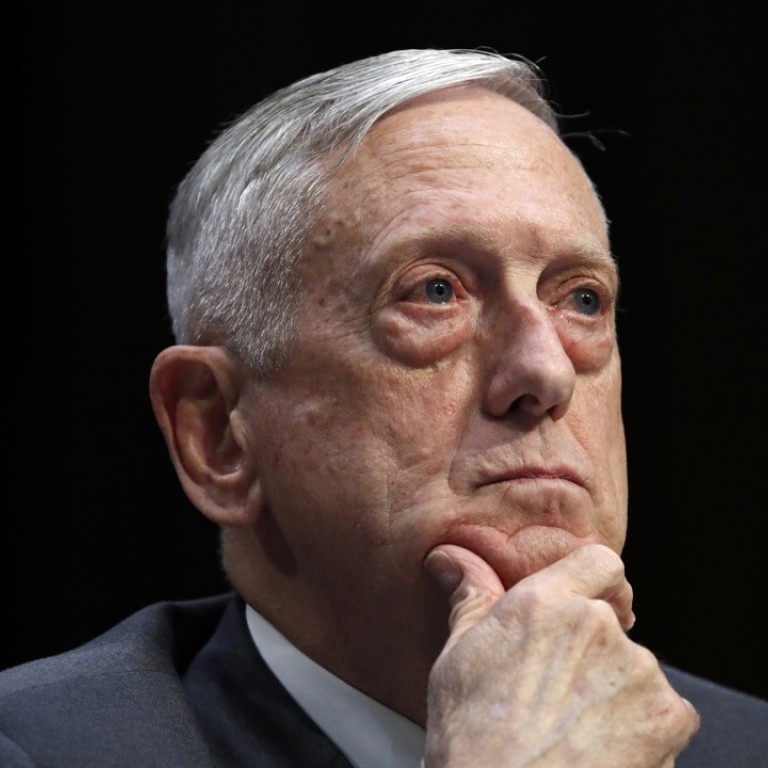 US Defence Secretary Jim Mattis in China: 5 things to watch
Beijing's militarisation of the South China Sea and the denuclearisation of the Korean peninsula are just two of the hot topics likely to be on the agenda
US Defence Secretary Jim Mattis is set to begin a three-day visit to China on Tuesday at a time of rising military tensions between the two countries.
Analysts said the visit, the first by a US defence secretary since 2014, could help the two sides find ways to deal with areas of contention.
Ren Guoqiang, Beijing's defence ministry spokesman, said he hoped that military ties between the US and China could serve as an "important stabilising factor" in the two nations' broader relations.
Mattis is expected to meet both state and military leaders during his stay. Here are five of the key subjects that may or may not be on the agenda:
South China Sea
The United States is strongly opposed to China's military build-up in the South China Sea, one of the world's busiest waterways through which an estimated US$3.4 trillion worth of international shipping trade passes every year.
Earlier this month, at the Shangri-La Dialogue in Singapore, a security forum for Asia, Mattis criticised Beijing for its militarisation of the sea. Its deployment of weapons systems was "for the purposes of intimidation and coercion", he said, adding that the US would "compete vigorously" with China as needed.
US warships and planes have conducted numerous "freedom of navigation" operations close to islands and features claimed by China – much to the annoyance of Beijing, which regards such moves as deliberate provocation.
Washington-Beijing-Taiwan relations
As Beijing has stepped up its military activities in the Taiwan Strait in recent months, including naval and air force "encirclement" exercises, so has the US indicated its continued commitment to its military ties with Taipei.
Washington has said it will help improve the self-ruled island's defence capabilities through more arms sales, while the US Senate recently passed the National Defence Authorisation Act for 2019, which calls for American troops to take part in Taiwan's annual war games. The Pentagon is also reported to be considering sending warships through the Taiwan Strait.
Beijing regards Taiwan as a wayward province to be brought back under control by force, if necessary.
Military cooperation, but not the Rim of the Pacific exercise
Mattis' visit coincides with the Rim of the Pacific exercise, the world's largest international maritime war game held every two years and led by the US. This year's event starts on Wednesday off Hawaii and will involve 25,000 troops from 26 nations.
Although China took part in the past two exercises, in 2014 and 2016, the Pentagon rescinded its invitation to Rimpac this year due to Beijing's militarisation of the South China Sea.
Rimpac aside, China and the US have been involved in other bilateral and multilateral exercises, all of which are designed to increase military contact and understanding between the giant rivals.
North Korea
The summit between US President Donald Trump and North Korean leader Kim Jong-un earlier this month in Singapore resulted in a vaguely worded declaration to push for the denuclearisation of the Korean peninsula.
While China was not present at the meeting, its alliance with North Korea is undoubted and ties between President Xi Jinping and Kim have been growing ever closer in recent weeks.
What role Beijing will play in the denuclearisation plan is yet to be decided, but analysts agree that Washington will be keen to keep China on its side.
Military inspections
When then US Defence Secretary Chuck Hagel visited China in 2014, he was invited to board the PLA's first aircraft carrier, the Liaoning. Three years earlier, shortly before Robert Gates, the US defence secretary at the time, met China's incumbent president Hu Jintao, Beijing announced it had successfully tested its J-20 stealth fighter.
China has expanded its naval fleet and air force since then, but whether Mattis will be allowed to view any of the new additions remains to be seen.