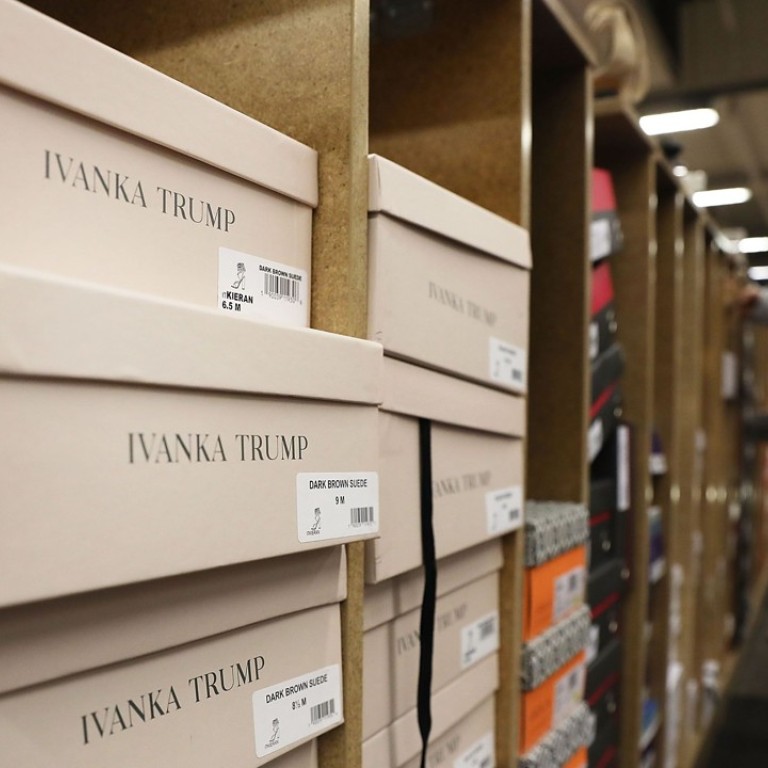 As trade war rages, the shoe biz goes on for Ivanka Trump and her Chinese suppliers
Chinese manufacturers continue to produce products for the brand but could there be a change in the supply chain?
While the United States and China are locked in a costly trade war, Ivanka Trump's clothing and shoe business is not only exempted from the tariffs – it is in the pink.
US President Donald Trump's daughter has long had her apparel and shoes made in China and thanks to a major exemption for Chinese garment and footwear in the tariffs dispute, the clothing industry looks likely to be left unscathed.
The US imposed an additional 25 per cent tariff on US$34 billion worth of Chinese goods on Friday.
Among the sectors affected were nuclear reactors, boats and aircraft, but clothing was exempted.
According to the American Apparel and Footwear Association, about a third of the clothing and 72 per cent of the shoes sold in the US are from China.
One of those importers is the eponymous fashion label of Ivanka Trump, the president's daughter and adviser.
Chengdu Kameido Shoes in Sichuan province said it had supplied shoes for the Ivanka Trump brand in the past and was aiming to do so again.
"We are trying win a contract with one of our customers," a Kameido representative said. "The entire order is for the Ivanka brand."
The representative said the company was bidding to supply 140,000 pairs of shoes. In the past, the company had fulfilled orders for at least 10,000 pairs for the brand.
A representative from Hangzhou HS Fashion in Zhejiang province said it was also still taking orders for Ivanka Trump's brand. The company reportedly manufactures products for the brand through intermediary G-III Apparel Group.
However, there could be some changes in the brand's supply chain, according to an industry analyst.
The Ivanka Trump brand has been under high scrutiny since her father ran for president on an anti-China platform, with media reports also raising questions about labour conditions at suppliers and potential conflict of interests. Ivanka Trump has distanced herself from the day-to-day operations of the brand.
Shipment data from a New York-based platform Panjiva, which covers 95 per cent of global trade flows, indicates that there have been no "Ivanka Trump" shipments from China into the US since March 11.
In the nine months up to that date, a Panjiva search for "Ivanka Trump" pointed to regular shipments into the US, most of which were from either mainland China or Hong Kong and noted as: "GIII for Ivanka Trump".
G-III did not respond to requests for comment.
Panjiva research director Chris Rogers said it was possible that the brand was changing suppliers but the available information was not definitive.
"Before January 2017 all the imports came from China, including Hong Kong. Since then there have been shipments from Indonesia, South Korea and Vietnam. If we see an increase in shipments from the latter in the coming months we will be able to say there has been a shift in the supply chain, rather than simply a change in reporting techniques," he said.
Rogers also said it was likely that the involved companies had changed how they referred to the product, for example, by using a code name.
Associated Press reported in September that information about companies importing Ivanka Trump goods to the US had become difficult to track because data that once routinely, including information about the consignee and the shipper, could no longer be found.
This article appeared in the South China Morning Post print edition as: BUSINESS AS USUAL FOR IVANKA