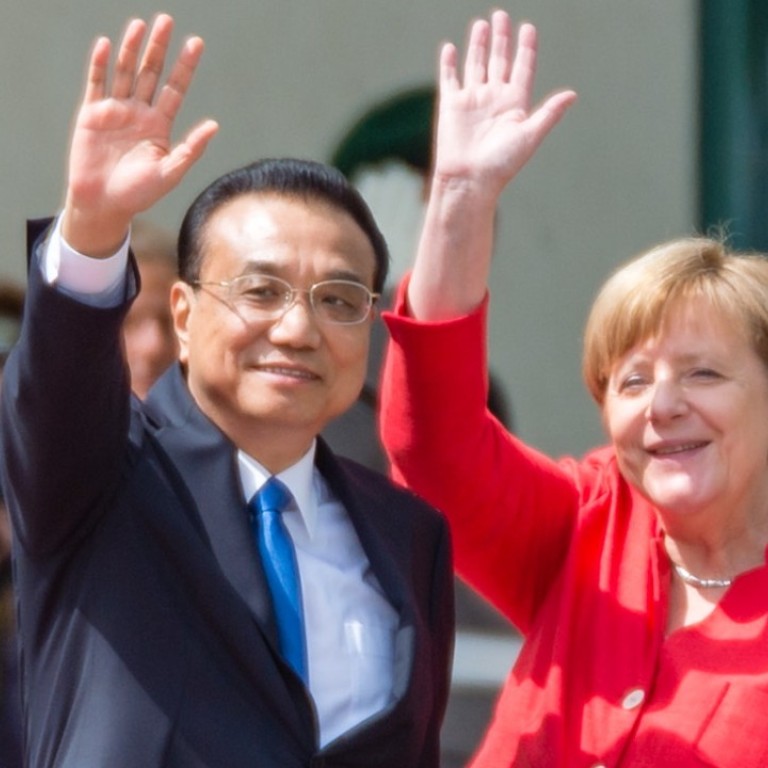 China and Germany band together against US on trade, but it's 'tenuous'
As Li Keqiang and Angela Merkel meet in Berlin, analysts say larger issues in the bilateral relationship remain unsolved and won't go away
Beijing was keen to portray two export powerhouses standing together against unilateralism and protectionism when Chinese Premier Li Keqiang and German Chancellor Angela Merkel met in Berlin on Monday, but analysts say simmering tensions remain.
Li called for a "new starting point" in relations between the two countries when he arrived in Berlin on Sunday for talks with top officials.
The meetings on Monday come at a time of heightened tensions with the United States for both China and Germany, and the trade conflict will be high on the agenda.
On Friday, China and the US slapped 25 per cent tariffs on US$34 billion of each other's goods in the opening shots of a trade war. Germany, similarly, has protested over US tariffs imposed on European aluminium and steel, and last week Merkel said Trump's threatened duties on cars could trigger a new financial crisis.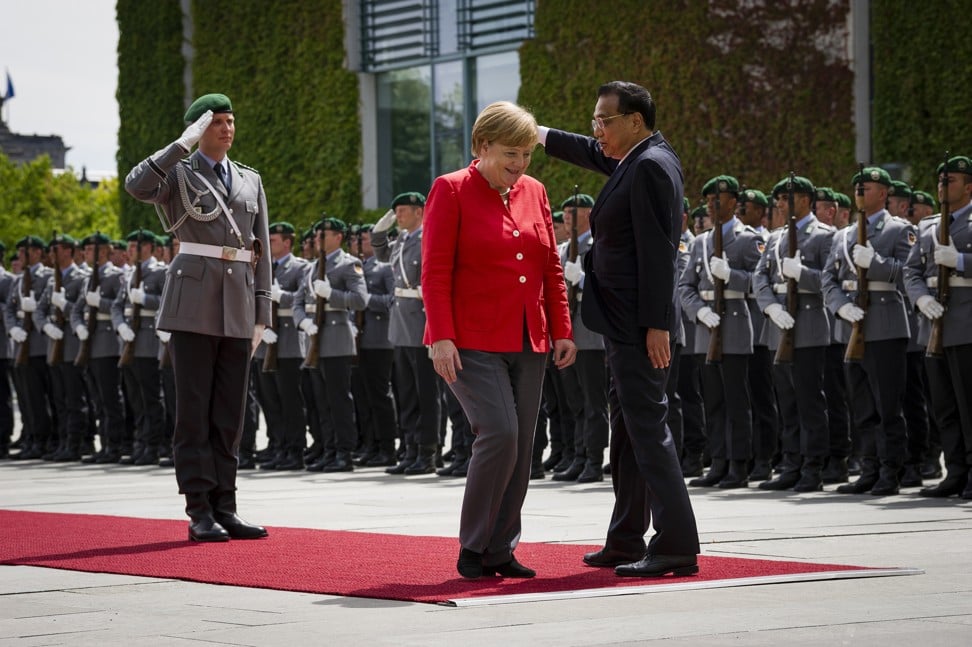 China's ambassador to the European Union told Handelsblatt newspaper that China and Europe are prepared to do whatever it takes to retaliate and show the US that a policy of escalating the trade conflict would be harmful.
"China has tried extensively to stop the trade conflict with the United States escalating into a trade war but it takes two hands to clap," Zhang Ming was quoted as saying, adding that no one would profit from a global trade dispute.
"The Chinese are peaceful people and I think the Europeans as well, but we must demonstrate to the trade war's initiator that its action is wrong," he said.
Monday's meetings give China and Germany a chance to stand together in their shared frustration with the Trump administration, but analysts say coordinated action against the US will not solve their own deep-rooted grievances.
"With the problems in US-German relations and the trade war, it's an opportunity for China and Germany to band together, but this is going to be tenuous," said Garima Mohan of the Global Public Policy Institute in Berlin.
Larger issues in the relationship remain unsolved, like how to address increasing Chinese investment in Germany and Europe, and demands for market access for German companies in China. "These issues may be mentioned in the meetings, but are likely to remain untouched, and they are not going to go away," Mohan added.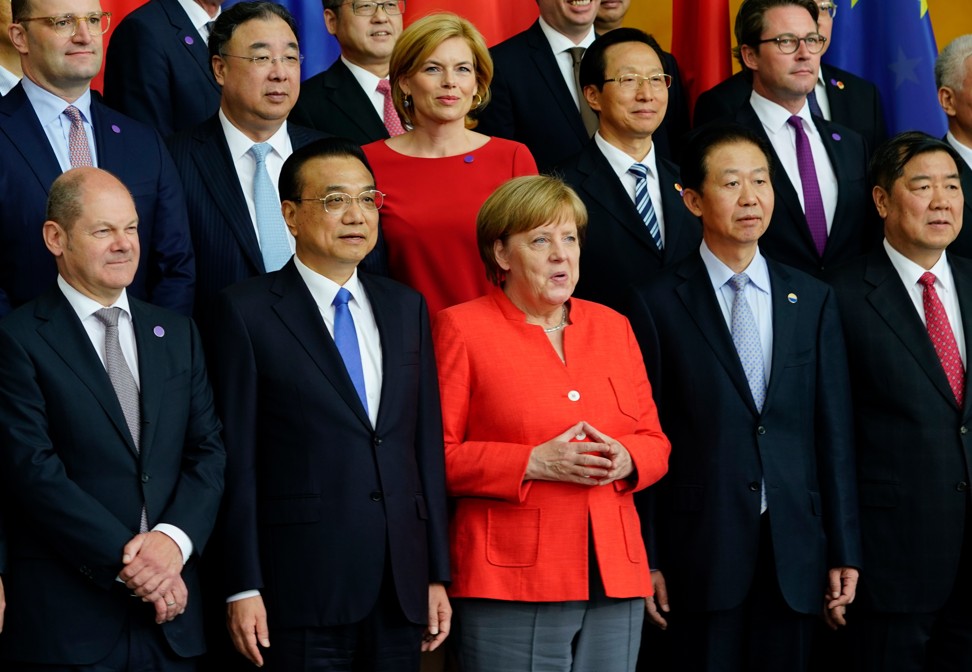 BMW boss Markus Duesmann announced just ahead of Li and Merkel's meeting on Monday that the carmaker plans to source €4 billion (US$5.5 billion) worth of battery cells from Chinese battery maker Contemporary Amperex Technology (CATL) over the next few years.
The long-term contract will see €1.5 billion of battery cells supplied to the carmaker by a new CATL plant in the central German city of Erfurt. A contract to build the new plant is due to be signed during Li's visit.
In an article in the Frankfurter Allgemeine Zeitung on Saturday, Li said German companies would be early beneficiaries of China's commitment to further open and reform its economy.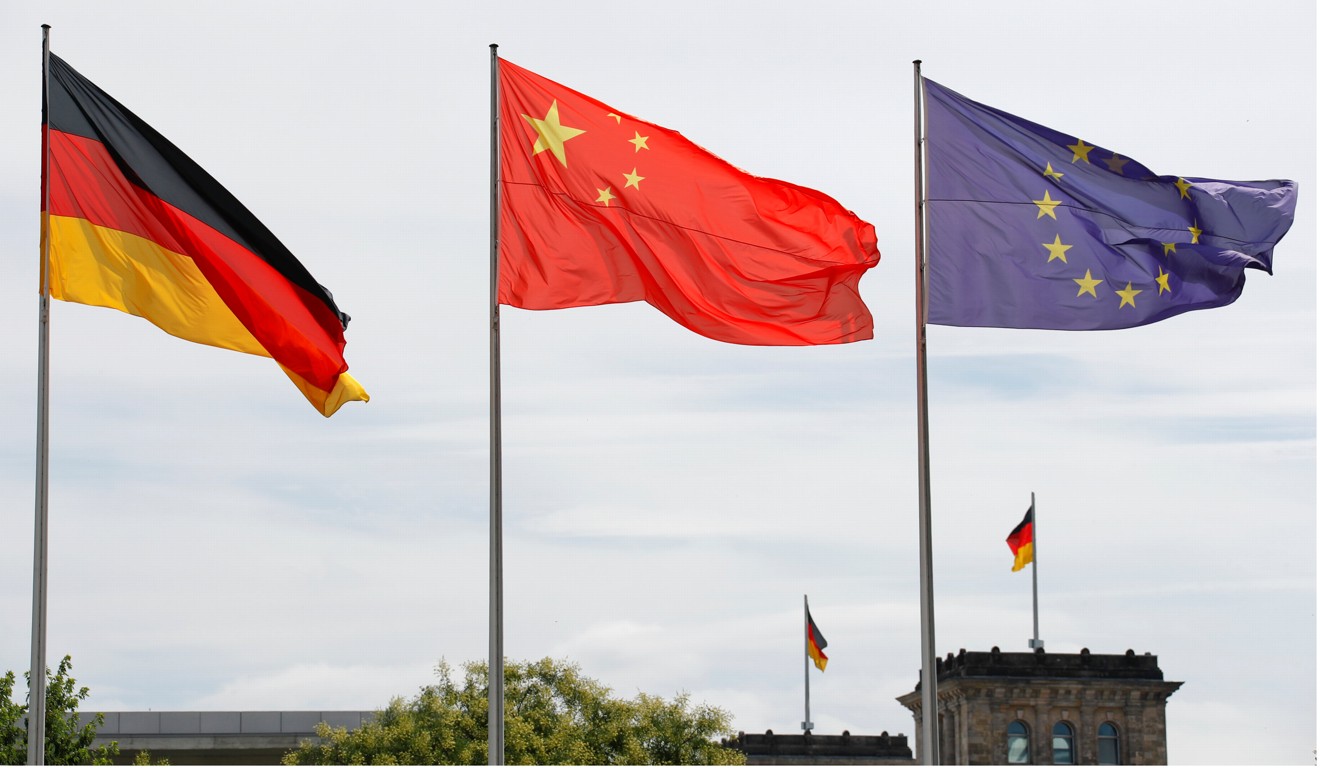 While Trump's trade actions against both China and Europe have pressured Beijing to work more closely with Berlin and the EU, mutual antagonisms have flared up amid the handshaking.
On Wednesday last week, the day before Li began his six-day visit to Europe, Chinese Foreign Minister Wang Yi said he hoped Europe would not "stab China in the back", fearing that a European deal with the US would deflate the base EU-China cooperation.
China also fears that Germany is not doing enough to counteract the growing perception of the "China threat", voiced by China's ambassador to Germany Shi Mingde, who greeted Li and met German officials at the airport when he arrived on Sunday.
Prior to Merkel's last visit to China in May, the ambassador warned against a "protectionist tendency" in Germany, as the country considers an investment screening mechanism – and pushes for similar measures at the EU level – which may be used against Chinese companies.
"China must deepen its opening and reform, expand market access, protection of intellectual property" in order to address Germany's concerns, said Ding Chun, an economics professor at the Centre for European Studies at Fudan University. "Germany, on the other hand, can approach China's economic rise and manufacturing improvements with fair treatment."
Merkel and Li have repeatedly called for a return to the World Trade Organisation and multilateral mechanisms to resolve conflicts, criticising unilateral actions taken by the US.
"They are both major manufacturing and export countries, and the main targets of Trump in the trade war. Under the background of trade protectionism and reversing globalisation, the two parties are attempting a common stand against these trends," Ding said.
Additional reporting by Reuters
This article appeared in the South China Morning Post print edition as: U.S. tariffs unite China and Germany, for now