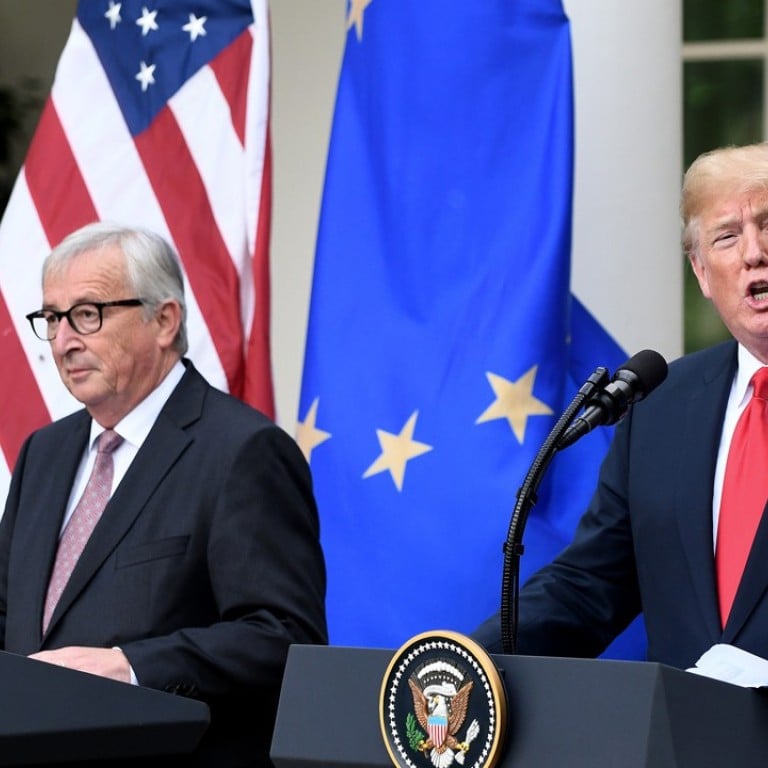 Donald Trump set to turn all trade war fire on China after US deal with EU to suspend tariffs
Both sides agree to suspend tariffs in deal that leaves Washington free to focus on dispute with China
China is set to become the focus of Donald Trump's global crusade for "free and fair trade" after reaching a deal with the EU to suspend new tariffs and expand European imports of US goods.
Both sides pledged on Wednesday to lower some industrial tariffs and increase Europe's purchases of US soybeans and liquefied natural gas – both potential weapons for Beijing in its trade war with Washington – while moving to re-examine existing US tariffs on steel and aluminium and retaliatory ones from Europe.
The deal between Trump and European Commission President Jean-Claude Juncker eases months of escalating tensions between the US and Europe, pitting Washington against not only its strategic competitors like China but also historical allies in the West.
But it now pivots the White House focus on to its escalating trade war with China, where negotiations have stalled over billions in tariffs and retaliatory tariffs, with duties on an additional US$200 billion of Chinese goods set to be enacted in August.
"[The] trade war has probably now turned [to a] 100 per cent focus on China," Stephen Innes, head of Asia-Pacific trading at New York-based foreign exchange company Oanda, said in a note to his clients. "Keeping in mind that the US and the EU continue to share intellectual property grievances against China at the [World Trade Organisation]."
While Beijing courted Europe to take its side against the US on the trade front during high-level meetings earlier this month, Europe continues to share US concerns about Chinese industrial policies such as its "Made in China 2025" plan to leapfrog into a technological superpower, said Julian Evans-Pritchard, senior China economist at London consultancy Capital Economics.
"The Chinese have not fully succeeded in really winning the EU over to their side," he said.
"The EU obviously agrees with China that the US shouldn't be unilaterally taking these tariff measures, so it's been willing to kind of voice support for China in that respect, but it … hasn't gone any further."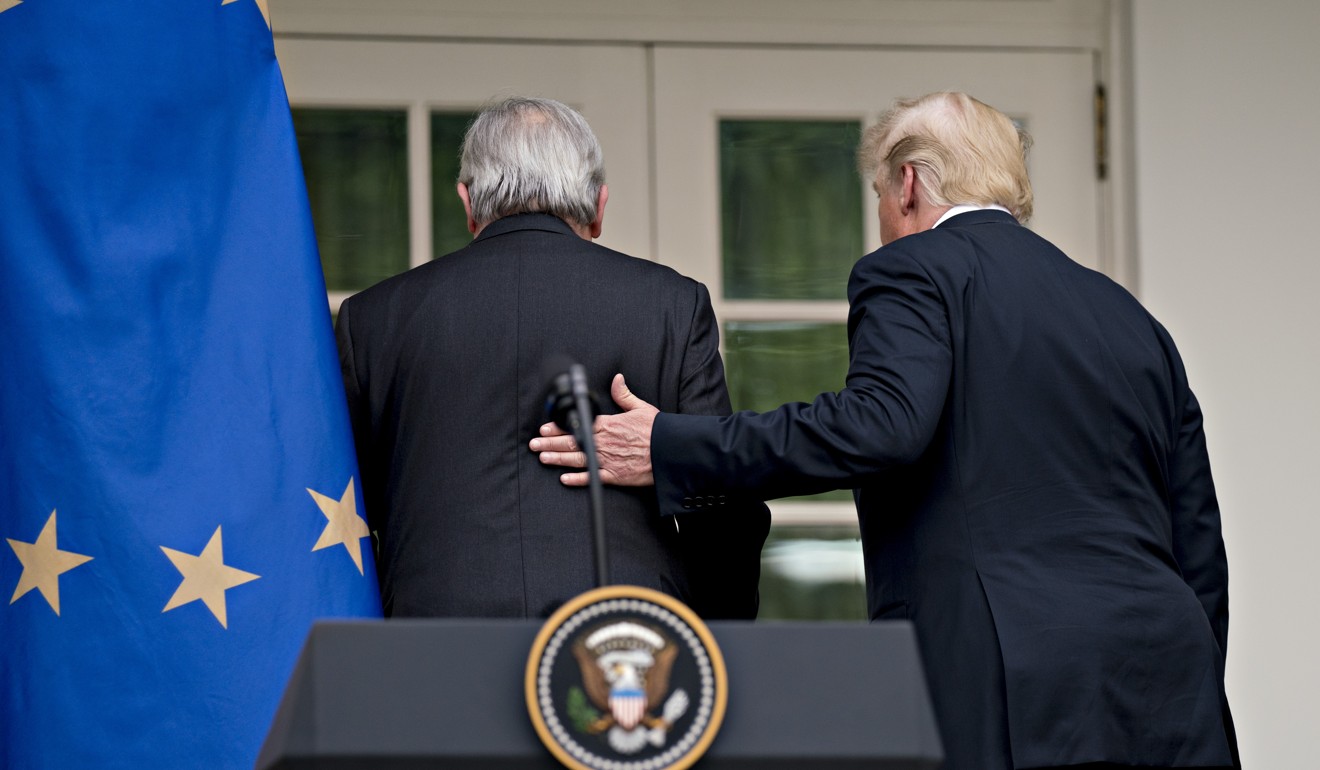 Evans-Pritchard said the US-EU agreement will allow Washington to take "a more focused approach" with regards to China, but that it would be difficult to find a resolution to the China-US trade war given the Chinese government's reluctance to shift its industrial policies.
"Although there have been some signs that both sides might be willing to start talking again, they are still very far apart, whereas the disagreements between the EU and the US are much more narrow in scope," he said. "There's this general perception [from China] that they cannot really trust US negotiations anyway."
Trump fired off fresh salvoes against Beijing on Wednesday via a tweet, decrying China's "targeting" of US farmers and insisting that the US will no longer "play nice".
"China is targeting our farmers, who they know I love and respect, as a way of getting me to continue allowing them to take advantage of the US," he said. "They are being vicious in what will be their failed attempt."
Europe's fresh commitments to buy more American soybeans, also quickly lauded by Trump, will help absorb the impact of Chinese countermeasures in their trade dispute with the US.
There has already been considerable realignment in the soybean markets, as China – the largest importer of soybeans – buys up more of the goods from places such as Brazil, analysts said.
Gustavo Oliveira, an assistant professor of international studies at the University of California, Irvine, said the soybean part of the US-EU deal was not surprising, coming on the heels of Washington's announcement of US$12 billion in subsidies for farmers to sustain agricultural prices.
"That indicates [the US] will likely stand ground with the tariffs against China through the fourth quarter, when there are midterm elections in the US and soy harvests begin in the northern hemisphere, and into the spring of 2019," he said. "This goes hand in hand with the EU deal."
Aaron Putze, director of communications for the Iowa Soybean Association, said the deal offered some positivity, but continued to call for progress on resolving the trade dispute with China.
"News like this … offers some positive energy in an otherwise down agricultural market," he said. "But as is often said, the devil is in the details. We look forward to learning more as additional information is made available."
Additional reporting by Keegan Elmer
This article appeared in the South China Morning Post print edition as: Trump to focus 'mainly on china'