Asean
Get more with myNEWS
A personalised news feed of stories that matter to you
Learn more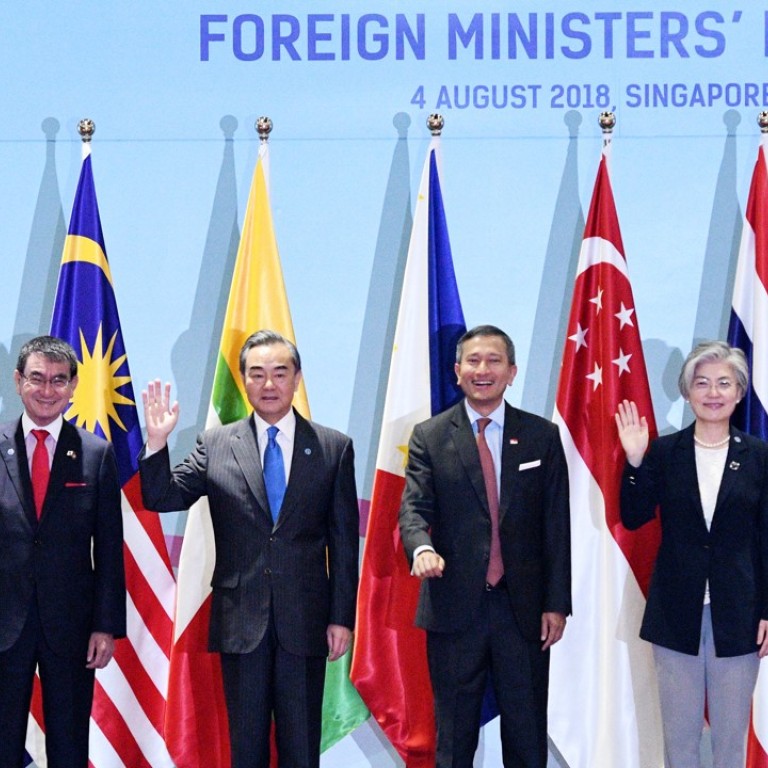 Divided Asean spins its wheels as great powers become back-seat drivers in Southeast Asia
Brahma Chellaney says recent multilateral discussions in Singapore did little to advance preventive diplomacy or conflict resolution
Despite its lack of cohesiveness and geopolitical heft, the 10-member Association of Southeast Asian Nations likes to be in the driver's seat even on initiatives that extend beyond its region. But having placed itself at the wheel, Asean usually needs instructions from back-seat drivers on how to proceed and where to go.
One such example is the Asean Regional Forum, which provides a setting for annual ministerial discussions on peace and security issues across the Asia-Pacific. Established in 1994, it draws together 27 member-states, including key players such as the United States, China, India, Japan, Russia, Australia and the two Koreas.
The forum's latest discussions were held this month along with three other meetings – the 18-nation East Asia Summit (whose membership extends from the US and New Zealand to India and Russia), the Asean Plus Three (China, Japan and South Korea) and Asean's own annual ministerial discussions. These meetings, all at foreign minister level and held in rapid succession in Singapore, advertised the vaunted "centrality" of Asean, which represents a strategic region connecting the Pacific and Indian oceans.
But as Asean increasingly seeks to play an extra-regional role, its project to build a robust Southeast Asian community appears to have lost momentum. Indeed, its internal challenges are mounting.
The association has not been able to moderate great-power competition in its own region. Rival Chinese and US pressures on Asean have actually crimped its room to manoeuvre.
More fundamentally, the Asean-centred extra-regional initiatives, characterised by consensual decision making and minimal institutionalisation, serve mainly as "talk shops" for confidence building and improved cooperation. Like in Asean itself, the politics of lowest common denominator tends to prevail.
Consequently, these forums have not moved to preventive diplomacy or conflict resolution. They have also not been able to tangibly contribute to building a rules-based order or rein in aggressive unilateralism by their own members like China, the US and Russia.
Despite their limitations, the forums are seen by members as offering good value for promoting their foreign policy objectives and for making progress towards an Asia-Pacific security, political and economic architecture.
The latest spate of multilateral discussions in Singapore focused on issues ranging from North Korea's denuclearisation – with US Secretary of State Mike Pompeo urging all states to "strictly enforce all sanctions" on Pyongyang – to the impending Regional Comprehensive Economic Partnership agreement, which would create the world's largest trading bloc.
The discussions helped underscore the competing geopolitical interests at play. China, which views the US-led strategy for a "free and open Indo-Pacific" region as directed at it, mocked Pompeo's separate announcements of US$113 million and US$300 million in funding for economic and security cooperation in the Indo-Pacific, respectively.
China's state media compared these "paltry" US commitments with Beijing's planned investment of US$900 billion in its "Belt and Road Initiative", and Chinese Foreign Minister Wang Yi took a dig at Pompeo, saying: "The US is the sole superpower in today's world, with a GDP totalling US$16 trillion. So when I first heard this figure of US$113 million I thought I heard wrong."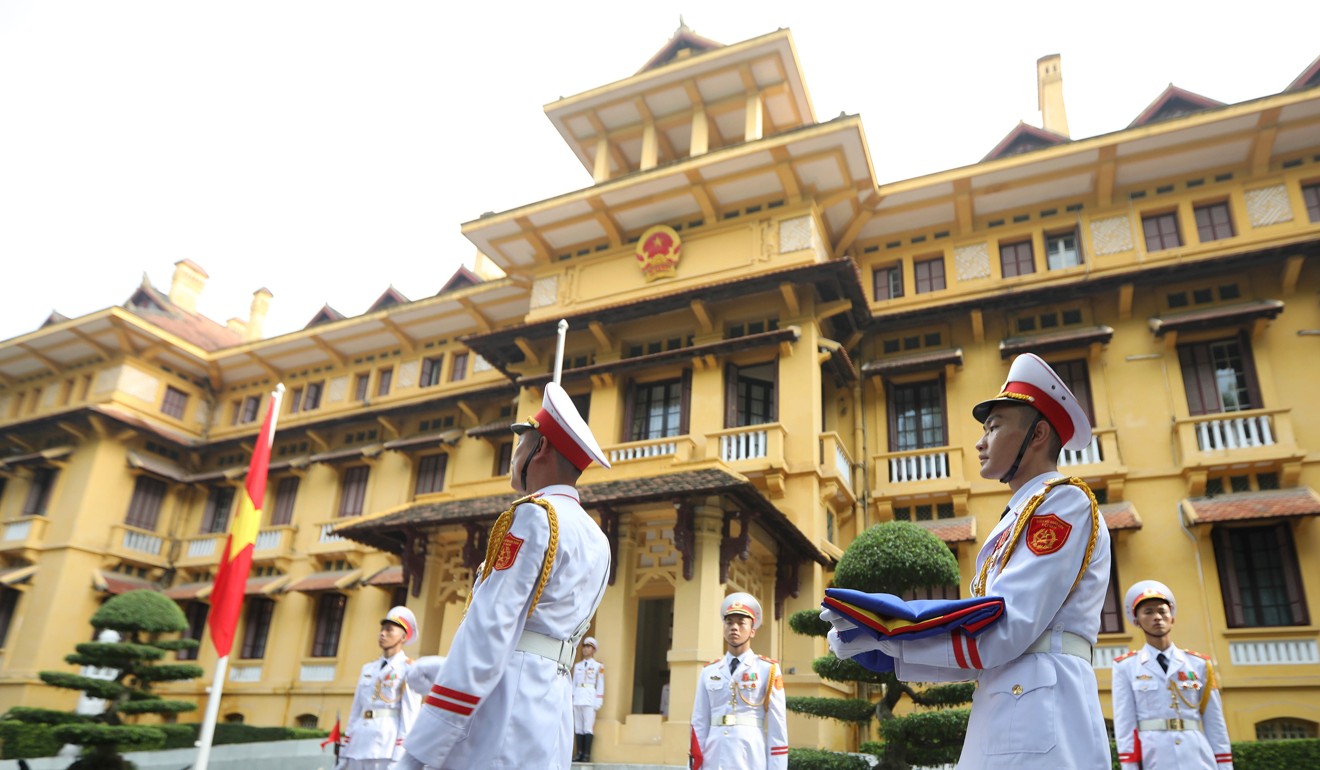 The highlight of the Singapore meetings, however, was the announcement by China and Asean that they had agreed on a draft document that will serve as a basis for further negotiations for a code of conduct in the South China Sea, one of the world's busiest waterways.
A code was mandated by the 2002 Declaration on the Conduct of Parties in the South China Sea, which exhorted all parties "to exercise self-restraint" with regard to "activities that would complicate or escalate disputes". But that appeal was essentially ignored by China, which in recent years has fundamentally changed the status quo in the South China Sea in its favour, without incurring any international costs.
Sixteen years after that declaration, just a draft to negotiate a code of conduct has been announced. By the time the actual code emerges, China would have fully consolidated its control in the South China Sea, with the code only serving to reinforce the new reality. This explains why Beijing has delayed a code of conduct while it presses ahead in the South China Sea with frenzied construction and militarisation.
Today, the South China Sea has emerged as Asean's Achilles' heel, with the association's failure to take a unified stance serving to aid Beijing's divide-and-rule strategy. China has used inducement and coercion to split Asean and try to dictate terms to it.
The rift between pro-China Asean members and the rest has now become difficult to set right. By conveying disunity and weakness, Asean has emboldened China's territorial and maritime revisionism, which, in turn, has made the South China Sea the world's most critical hotspot.
Against this background, the much-hyped announcement of a single draft document for future negotiations, with Singaporean Foreign Minister Vivian Balakrishnan hailing it as "yet another milestone in the code of conduct process", was just the latest example of how Asean has been playing right into China's hands.
In fact, that announcement came soon after the second anniversary of the landmark ruling of an international arbitral tribunal, which knocked the bottom out of China's grandiose territorial claims in the South China Sea. Since that ruling, which is now part of international law, China has only accelerated its expansionism, as if it is working to make the verdict totally meaningless.
This is a reminder that international law by itself is no answer to China's expansionism. There needs to be a concerted international campaign to pressure and shame China. If Southeast Asia, a region of nearly 640 million people, is coerced into accepting Chinese hegemony, it will have a cascading geopolitical impact across the Indo-Pacific.
Yet, as if to advertise Asean's inherent weakness, a meeting of its foreign ministers held just after the international tribunal's ruling failed to issue even an agreed statement.
Asean was established in 1967 during the height of the cold war as a five-nation political organisation to help combat the potential threat of communist insurgencies in the region. At the time, the authoritarian-leaning, pro-capitalist governments of its founding members – Indonesia, Malaysia, Philippines, Singapore and Thailand – were facing internal and external threats. After the cold war ended, Asean expanded to cover much of Southeast Asia, from Myanmar to its former foe Vietnam.
Since then, the triumphs of an expanded Asean have largely been in the economic area. Politically, of course, Asean has been able to build greater interstate cooperation and stability in Southeast Asia, while collectively turning its members into a force to reckon with in international relations. This is no mean achievement.
Today, however, Asean's challenges are being compounded by the widening gap between economics and politics in Southeast Asia. The region is integrating economically, with its economic vibrancy on open display. But its political diversity and divisions have exacerbated in the absence of common political norms.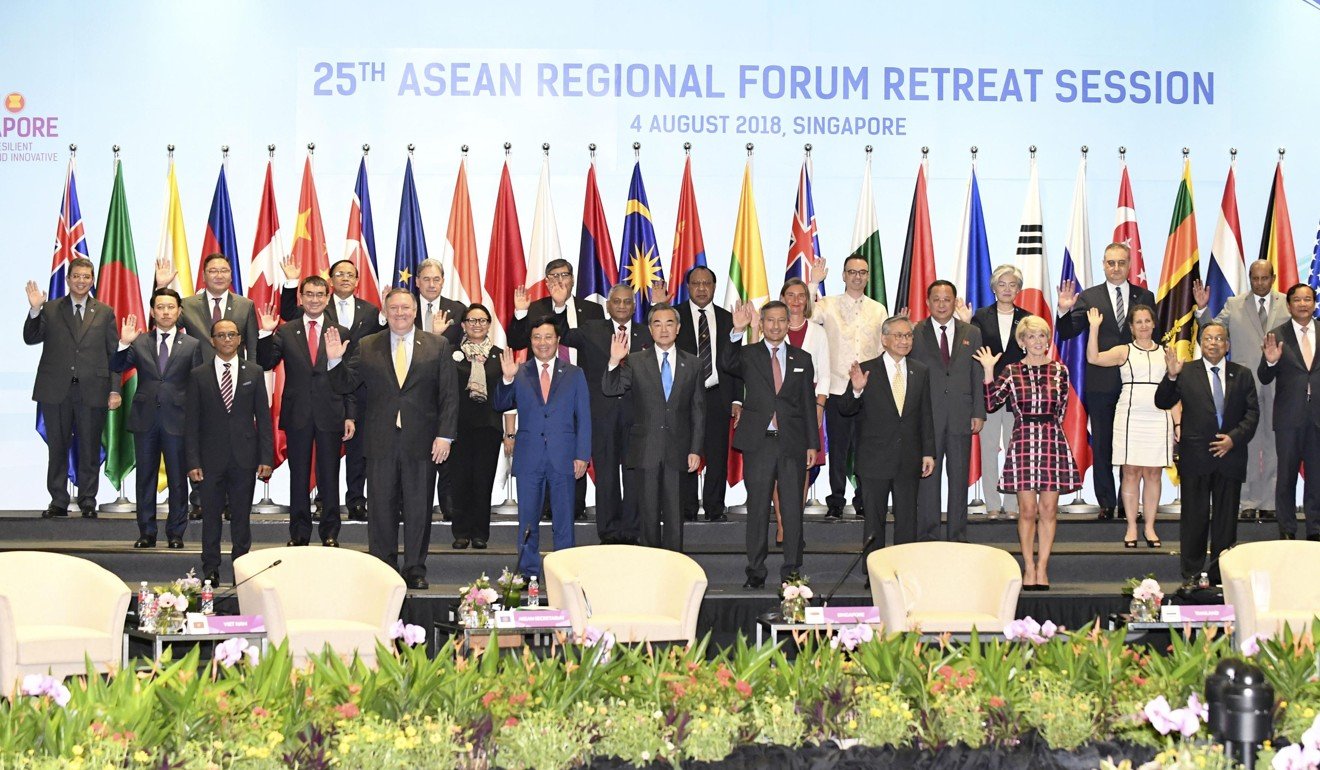 This has raised questions about Asean's capacity to safeguard peace and security in its own region. Such concerns have been heightened by the lack of an effective response to Myanmar's Rohingya crisis, despite its transnational effects. Asean is also struggling to cope with other pressing regional problems – from human rights abuses in some member-states and transnational human trafficking to the degradation of coastal and other marine ecosystems.
In fact, Asean has left itself little room for reflection and reform by elaborately staging its summits and foreign-minister meetings in conjunction with the extra-regional initiatives that bring leaders of outside powers. This not only allows outsiders to press their own objectives but also keeps the focus on larger international issues, with Asean notionally in the driver's seat.
As Asean seeks to enlarge its extra-regional profile, its "centrality" in broader initiatives is exacting an increasing price internally and laying bare its limitations. Its internal stasis underscores the imperative for it to reform and become a more cohesive, dynamic and result-oriented institution that helps underpin a stable rules-based order in Southeast Asia.
Brahma Chellaney is a geostrategist and the author of nine books, including the award-winning "Water: Asia's New Battleground"
This article appeared in the South China Morning Post print edition as: Asean's wheels spin as China becomes back-seat driver