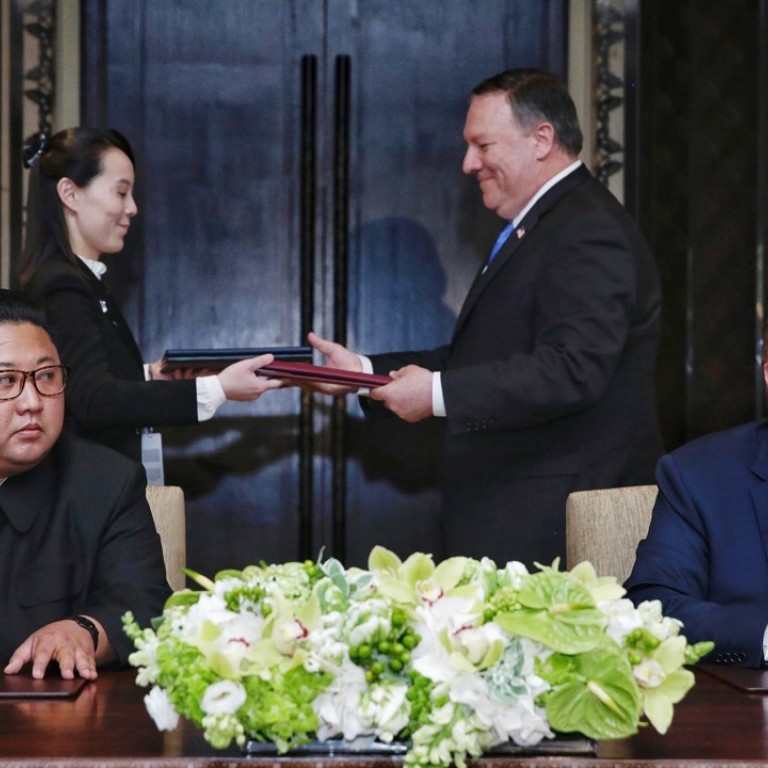 China protests against Donald Trump's claim it is holding back North Korean denuclearisation
Foreign ministry says accusation not based on facts and is 'irresponsible'
Beijing on Saturday protested to the United States after President Donald Trump blamed China for holding back denuclearisation on the Korean peninsula.
In a statement, Chinese foreign ministry spokesman Lu Kang said the US claim was not based on facts and was "irresponsible".
"We are seriously concerned and have made solemn representations to the US side," Lu said.
The statement came after Trump on Friday said he had asked US Secretary of State Mike Pompeo to cancel his trip to North Korea because there had not been significant progress on denuclearisation.
In further tweets, Trump said he "[did] not believe" China was helping with the process of denuclearisation "because of our much tougher trading stance".
Lu said China's stance on denuclearisation had been consistent, and it supported the US and North Korea to push forward the agreements reached during their landmark summit in Singapore in June.
"All related parties should stick to the path of political settlement … and show more sincerity and flexibility rather than being unpredictable and passing the buck to others," Lu said.
China would keep communicating with all parties and keep contributing to the stability of the Korean peninsula, Lu added.
The US and China have been locked in a trade battle for months which again escalated this week, with a further round of tariffs imposed on each other's goods. China is North Korea's biggest trade partner, and is widely believed to hold the greatest sway over Pyongyang.
On Saturday, South Korea called the US decision to cancel the trip "unfortunate" and said continued diplomacy was the most crucial part in resolving the nuclear stand-off with Pyongyang.
The US State Department never confirmed details of Pompeo's trip, but it had been expected that he would be in Pyongyang for at least several hours on Monday, according to several diplomatic sources familiar with the plan.