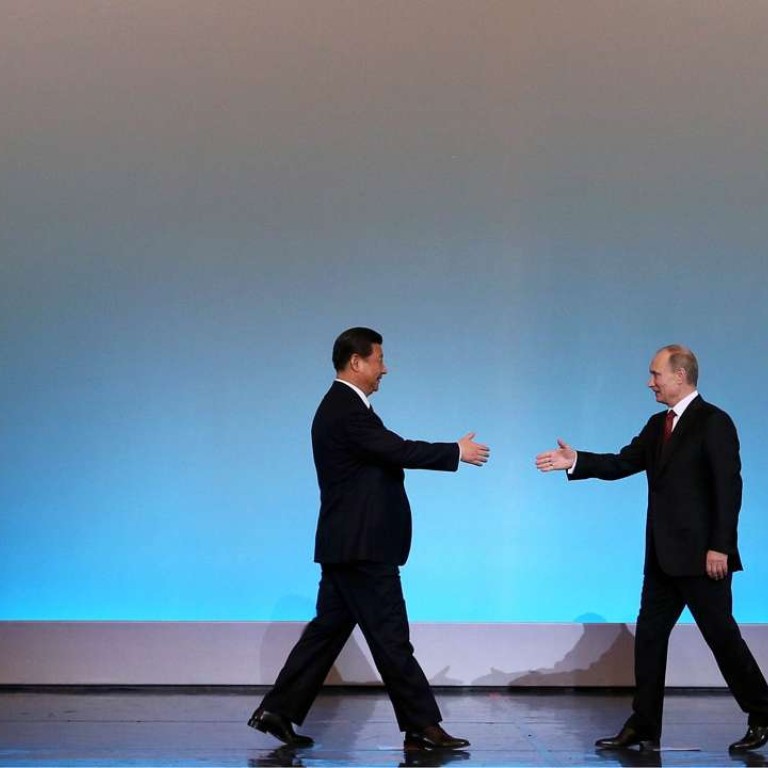 Russian President Vladimir Putin tops China's guest list for G20 summit
In the third story in a series on China's relations with other G20 members ahead of next month's summit in Hangzhou, the South China Morning Post looks at the foundations of what's been called a 'bromance' between President Xi Jinping and his Russian counterpart
When Russia and China celebrated the 70th anniversary of the end of the second world war with grand military parades in Moscow and Beijing last year, Russian President Vladimir Putin and President Xi Jinping stood shoulder to shoulder, front and centre, on the reviewing stands.
Those images have prompted many to speculate that Putin will again feature prominently alongside Xi when China hosts Group of 20 leaders at the G20 summit in Hangzhou, Zhejiang province, next month.
A senior Chinese diplomat made no secret China's intentions this month, telling media that Putin would be guest No 1 at the annual gathering of leaders from the world's most influential nations and largest economies.
It will be a marked contrast to the reception Putin received at the 2014 G20 summit in Brisbane, Australia, which he left early after coming under concerted Western fire over the Ukraine crisis. Putin left those talks before the final communique was issued, saying he needed to get some sleep.
Others who will be attending this year's most important gathering of global leaders include US President Barack Obama, British Prime Minister Theresa May, German Chancellor Angela Merkel, French President Francois Hollande and Japanese Prime Minister Shinzo Abe.
Xi and Putin have met more than a dozen times in recent years and appear to have developed a personal friendship as they have exchanged views on various global issues. Many observers have noted signs of a budding "bromance" between the two leaders, which has helped push the state-to-state relationship to new heights.
"Chinese protocol will treat Putin well in terms of a spot for the group photo of G20 leaders, etcetera," said Alexander Gabuev, a senior associate and chair of the Russia in the Asia-Pacific programme at the Carnegie Moscow Centre.
Some observers have likened the improvement in Sino-Russian ties as a result of the two leaders' friendship to the turnaround in the Sino-US relationship following then US president Richard Nixon's historic trip to China in 1972, when a de facto Sino-US alliance was formed to check an expansionist Soviet Union. They also say it has once again raised the prospect of the formation of a new alliance to challenge the domination of global affairs by the US-led West.
The fact that no leaders from the other major wartime allies – the US, Britain and France – attended the two parades last year suggests the world is increasingly becoming divided into two major camps, with China and Russia on one side, and the US-led West on the other.
While that remains a subject of debate, most observers agree that China and Russia have now found more reasons than before to forge ahead with cooperation in the pursuit of common interests. They expect Xi will use his position as host of the G20 summit to showcase Sino-Russian friendship as a shining example of good diplomacy, while also boosting the two countries' status on the global stage.
"With China being the host this year, efforts will be made to show that Putin is an active player and that he is not isolated," Gabuev said, contrasting that to last year's G20 summit in Antalya, Turkey, where he said Putin was also marginalised.
Diplomats will be focused on the interaction between Xi and Putin at the summit, looking for any clues on the development of one of the world's most important bilateral relationships.
Wang Xianju, deputy director of the Renmin University-St Petersburg State University Research Centre, said developments since Putin's visit to China in June would only increase the level of interest.
Chief among them is the escalation of tension in the South China Sea following the Permanent Court of Arbitration's landmark ruling in The Hague on July 12 that denied China's claim to sovereignty over most of the South China Sea. Another recent development of note is cooling of the relationship between China and South Korea following Seoul's decision to allow the US to deploy its Terminal High-Altitude Area Defence (THAAD) anti-missile system in South Korea in response to North Korea's ambitious nuclear programme. Relations between China and Japan have also deteriorated due to increasing confrontation over a territorial dispute in the East China Sea.
Wang said those issues would be high on the agenda in talks between Xi and Putin at the G20 summit.
A series a geopolitical changes have contributed to the improvement in Sino-Russian ties, with escalating tension between China and US over the regional security implications of Obama's "pivot to Asia" at centre stage. Another key factor has been rising tension between Russia and the US-led West after Washington and the European Union, headquartered in Brussels, imposed sanctions on Russia in response to its annexation of Crimea and the crisis in eastern Ukraine.
The Sino-Russian relationship has officially been upgraded three times since the collapse of the Soviet Union in late 1991, an event which brought a de facto US-China alliance to an end.
In 1992, the two countries declared they were pursuing a "constructive partnership". In 1996, they promoted their relationship to the status of a "strategic partnership". And in 2001, they agreed to a "comprehensive partnership" by signing a Treaty of Good-Neighbourliness and Friendly Cooperation.
But the relationship only really began to flower after Xi became Communist Party general secretary in late 2012. In the first overseas trip of his presidency, in March 2013, just over a week after he became China's head of state, Xi and Putin agreed in Moscow to forge "a special relationship" with increased security, economic, diplomatic and military cooperation.
However, most analysts view the relationship as being founded on realpolitik rather than a real strategic and political alliance similar to the one established shortly after the founding of communist China in 1949. Russia needed China's market and capital, especially as Western sanctions over Ukraine bite, while Beijing saw Moscow as a source of diplomatic support and vital energy resources.
Benjamin Herscovitch, a senior analyst at Wikistrat, a geostrategic analysis and business consultancy headquartered in the US, said the burgeoning Sino-Russian relationship was "a product of a marriage of convenience rather than genuine romance".
"Beijing and Moscow are increasingly diplomatically and economically close because of the imperatives of realpolitik," he said.
For a strategically isolated Moscow, China was a welcome economic partner that would not punish Russia for its aggression in Ukraine, Herscovitch said. While the US-led West imposed sanctions and castigated Russia diplomatically, Beijing would happily do business with Moscow and voice qualified support for it.
Economic cooperation between China and Russia has boomed this century, with the volume of bilateral trade rising more than sixfold from US$15.8 billion in 2003 to US$95.3 billion in 2014, according to Chinese customs figures. China is Russia's second largest trading partner, after the European Union, and Russia has launched major oil and gas projects with China, becoming one of its leading oil suppliers.
Some observers say the strategic partnership between China and Russia has recently gone way beyond a mere alliance of economic and political convenience.
Chinese and Russian officials say the key is Eurasian integration, starting with Xi's "One Belt, One Road" initiative to improve regional transport infrastructure, and linking up with the Eurasian Economic Union (EEU), which came into being last year and includes Russia, Belarus, Kazakhstan, Armenia and Kyrgyzstan. Beijing and Moscow also plan to expand the six-nation Shanghai Cooperation Organisation, making it a security alliance similar to Nato.
The strategic partnership has also covered cooperation in the development of the BRICS grouping, which also includes the developing giants of India, Brazil and South Africa, support for China-led institutions such as the New Development Bank and Asian Infrastructure Investment Bank, seen as a challenge to US-led Breton Woods institutions like the World Bank and International Monetary Fund, and coordination in the G20, UN and other major international institutions.
Some Western analysts have viewed the recent, rapid enhancement of such collaboration as the beginning of a partnership set on destabilising the US-led world order and diminishing Washington's capacity to influence strategic outcomes. However, only a few analysts believe that a China-Russia axis is being formed.
"I don't think there's going to be a demonstration of some special axis between Russia and China," Gabuev said. "The two countries are not likely to become allies."
He said Russia was likely to increase its sale of sophisticated weaponry to China, such as last year's deal on the S-400 air defence system, while China would become a supplier of some critical parts for Russian military equipment, such as providing microelectronics for use in its space programme. "This part of their relationship will mature and continue," Gabuev said.
While Putin has, by and large, been viewed unfavourably in the West, surveys have found that Russia's strongman leader has many fans in China. However, not many Chinese believe he is a true friend of China. Having witnessed numerous shifts of diplomatic friends and enemies over the years, they see such intimacy as a product of diplomatic pragmatism.
Some are worried the Sino-Russian relationship might stall if Putin resigns, as expected, in 2018, due to the crucial role the personal ties between Xi and Putin have played in advancing bilateral relations.
Analysts said the key element in the friendship between China and Russia friendship was a shared desire to rein in America's role as the world's sole superpower by building a multipolar world – with both countries seeking global leadership roles.
Gabuev said the essentially non-democratic political systems of the two countries meant their interests were aligned, but the personal relationship between Xi and Putin was also important "because the two leaders are the major pushers in advancing bilateral ties".
Additional reporting by Catherine Wong
Sino-Russian relations timeline
1949 – The Soviet Union recognises the People's Republic of China
1950 – Chinese leader Mao Zedong signs a Treaty of Friendship, Alliance and Mutual Assistance with the Soviet Union in Moscow
1954 – Soviet leader Nikita Khrushchev visits China and offers to return Port Arthur, now Dalian's Lushunkou district
1960 – Mao and Khrushchev quarrel and insult each other at the Romanian Communist Party Congress. Khrushchev withdraws Soviet technical experts from China
1962 – The Soviet Union offends Mao by maintaining relations with India and not supporting China in the Sino-Indian war
1964 – China builds an atomic bomb. The Chinese and Soviet communist parties sever ties
1969 – Border tensions escalate into small-scale warfare. The two countries restore minimal diplomatic dialogue with border-demarcation talks
1970 – Mao turns to the US for backup against the Soviets
1976 – Mao dies and Deng Xiaoping emerges as the de facto leader of China
1979 – China enters alliance with Pakistan and the US to end the Soviet war in Afghanistan
1982 – Sino-Soviet relations resume at vice-ministerial level
1985 – Soviet leader Mikhail Gorbachev attempts to mend relations with China but fails because the matter of the Soviet presence in Afghanistan remains unresolved
1989 – Gorbachev visits China and relations between the two countries are normalised
1991 – President Jiang Zemin visits Moscow
The Soviet Union is dissolved and a memo is signed to ensure that Russia inherits its diplomatic relations with China
1992 – Russian President Boris Yeltsin makes his first official visit to China
1994 – Russia and China sign a series of agreements, including one stating that they will not target each other with nuclear weapons
1995 – Jiang attends 50th anniversary celebration of allies' second world war victory in Moscow
2001 – The Sino-Russian Treaty of Good-Neighbourliness and Friendly Cooperation is signed
2004 – Russia and China finalise the protocol for border demarcation. Russia's Gazprom and China's CNPC sign partnership agreement
2005 – First joint Sino-Russian military exercises
2006 – Russian President Vladimir Putin visits China and the two countries sign agreement to extend energy cooperation
2008 – Russian President Dmitry Medvedev visits China
2009 – The two countries approve a regional cooperation project between Northeast China and Russia's Far East
2013 – President Xi Jinping makes Russia first stop of maiden overseas tour as Chinese head of state
2014 – A historic US$400 billion contract is signed between Gazprom and CNPC in the presence of Putin and Xi in Beijing
2016 – Putin visits China and US$50 billion worth of Sino-Russian business initiatives are approved