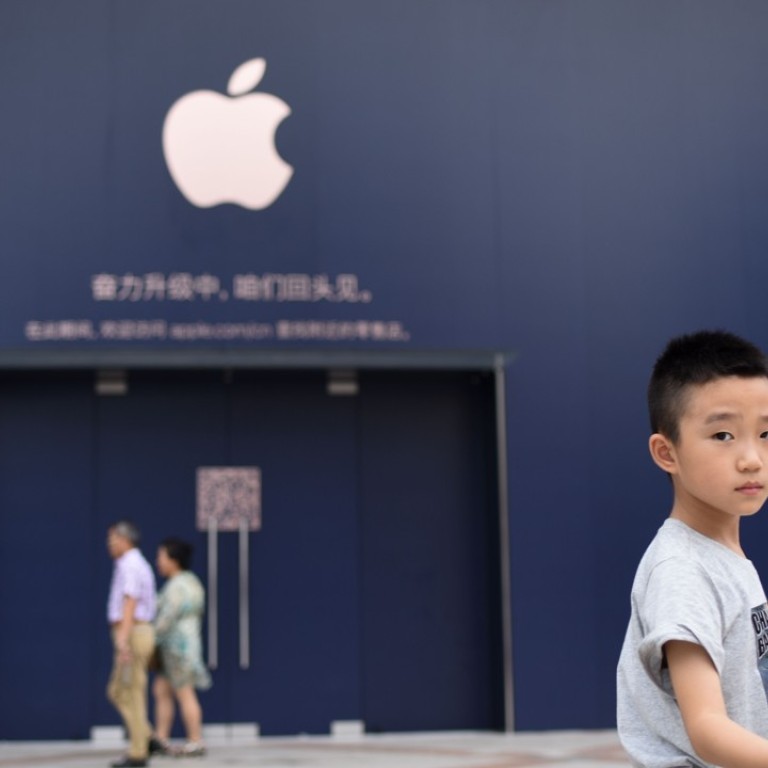 Trade war: why US and China remain so far apart on intellectual property rights
The two sides are 'speaking different languages' about what the US government sees as inadequate laws and IP theft
Among all the thorny issues of the ongoing trade war between the world's two largest economies, intellectual property rights (IPR) protection will be one of the most difficult areas in which to find breakthroughs because Beijing is not going to concede to US demands, sources have said.
United States President Donald Trump has repeatedly lashed out at China's lax IPR protection laws, forced technology transfer and alleged IP theft, saying it costs the US as much as US$600 billion per year, a charge China has denied.
China will improve its IPR protection to bolster innovation and support industries, but not as a result of US pressure, government sources told the South China Morning Post.
"Beijing thinks all the accusations of forced technology transfer and IP theft are groundless," the source said, noting that since the "discrepancy is huge and there is no common understanding on the IPR issue, China can and will do nothing to address the problems that do not exist".
From Beijing's perspective, China has made great progress in improving IPR protection in an economy with a reputation for piracy and counterfeits imitating a long list of brands ranging from shoemaker New Balance to smart gadget designer Apple.
Trading market access for technology dates back to Chinese leader Deng Xiaoping's efforts to launch reform and opening-up policies. It was not until the 1980s, after China became a member of the World Intellectual Property Organisation (WIPO), that it began to strengthen its intellectual property framework and enact related laws.
China cited its progress in IPR protection in a State Council white paper issued on Monday, saying that China's IP royalties paid to the US surged from US$3.46 billion in 2011 to US$7.2 billion last year.
This year, China was ranked among the world's top 20 most innovative economies as it moved from 22nd position to number 17 on the 2018 Global Innovation Index.
Compiled by Cornell University, INSEAD (European Institute of Business Administration) and the WIPO, the index ranks 126 economies based on 80 indicators from IP filing rates to creation of mobile applications, as well as education spending and scientific and technical publications.
"As the US ignores all the progress China has made and the huge profits American companies have earned in China market, consensus is building among Beijing officials that the US is just using IPR as an excuse to contain China," another source said. "We can still talk and negotiate, but we can achieve nothing if the US has no goodwill."
China will continue to improve IPR protection, the source said, to serve its own interests rather than bowing to US pressure.
Beijing has introduced 16 specialist IP courts across the nation, increased penalties for trademark infringement from 500,000 yuan to three million yuan (US$73,000 to US$436,000), and will continue to increase staff to handle IP applications and shorten approval periods.
Mark Cohen, a senior fellow and director of the China Initiative at the Berkeley Centre for Law and Technology, said: "No doubt China has made good steps in improving IP protection, but China is not addressing US concerns.
"The US does not trust the system: the Chinese government-dominated system, the socialist approach and Made in China 2025. They are speaking different languages."
Foreign firms have long complained that enforcing their intellectual property rights in China is difficult due to judicial protectionism, challenges in obtaining evidence, small damage awards and a perceived bias against foreign firms.
Cohen, who was also a senior counsel of the US Patent and Trademark Office and has wide experience regarding China's IPR issues, cited the example of a dispute between two semiconductor manufacturing companies, the Shanghai-based Advanced Micro-Fabrication Equipment (Amec) and New York-based Veeco Instruments.
In July 2017, Amec filed a patent infringement complaint against Veeco Instruments Shanghai with the Fujian High Court in China, alleging that Veeco's metal organic chemical vapour deposition (MOCVD) systems – for creating high-purity crystalline compound semiconducting thin films and micro or nano structures – infringed a Chinese utility model patent and seeking relief and damages.
Last December, without providing notice to Veeco and without hearing Veeco's position on the alleged infringement, the Fujian High Court issued a ruling, applicable in China, that requires Veeco Shanghai to stop importing, making, selling and offering to sell Veeco EPIK 700 model MOCVD systems which contain the accused infringing mechanism covered by Amec's patent, according to Veeco.
There are more cases which are not published by mainland courts, and the lack of court transparency has undermined foreign companies' confidence in the Chinese system, according to Cohen, especially when China underscores its ambitions with the Made in China 2025 strategic plan, a state-led industrial policy that seeks dominance in global hi-tech manufacturing.
Sourabh Gupta, a senior Asia-Pacific international relations policy specialist with the China-American Studies in Washington, said the main reason for the stand-off between China and the US over IP rights is that they have different understandings of the issue.
From China's perspective, said Gupta, it does not violate World Trade Organisation rules on IPR and it has updated its policies to be in line with WTO rules.
For the US, it is also about issues related to commercial espionage and theft of private trade secrets, as well as coerced technology transfer issues, he said.
During August trade talks, US negotiators pressed Beijing about coerced technology transfer. They cited memory-chip maker Micron Technology, which filed a lawsuit in the US District Court in California in December alleging technology theft by Fujian Jinhua Integrated Circuit Co. Jinhua sued Micron in January in a court in Fujian province – whose government partly controls Jinhua – and won a temporary order blocking some Micron subsidiaries from selling products in China that each company claims patents to.
Coerced technology transfer is barred by China's WTO accession and even the United States Trade Representative, in its investigation report in April, said China has no laws on its books that forcibly require technology transfer. But the US believes there are de facto practices that damage the commercial rights of its private companies operating in China, Gupta said.
"The privileging of the Chinese joint venture partner as the nodal point of contact with regulators during the investment approval process does lead at times to opaque deal-specific requirements that end up resulting in the leakage of the US investors' IP," he said.
China requires that foreign companies wanting to open or expand in 35 sectors do it through joint ventures. Its government procurement law also favours goods and services from domestic companies.
"By design or accident, this risk of loss of technology and know-how is exacerbated when the Chinese joint venture partner maintains parallel operations within the same business line that compete with the joint venture operation," Gupta said.
Henry Chan Hing Lee, an adjunct research fellow at the National University of Singapore's East Asia Institute, said China is more than willing to protect IPR, because China now has the highest number of patents and it makes sense for it to protect them.
Patrick Mendis, an associate-in-research at the Fairbank Centre for Chinese Studies at Harvard University, said: "China has institutionalised a number of IPR protection mechanisms, but the question is how effective it is in applying them. To achieve its own policy goals for the Made in China 2025 initiative, Beijing must demonstrate that it can walk the walk."
This article appeared in the South China Morning Post print edition as: Beijing 'will not give ground on IP rights'Beijing 'will not give ground on IP rights'