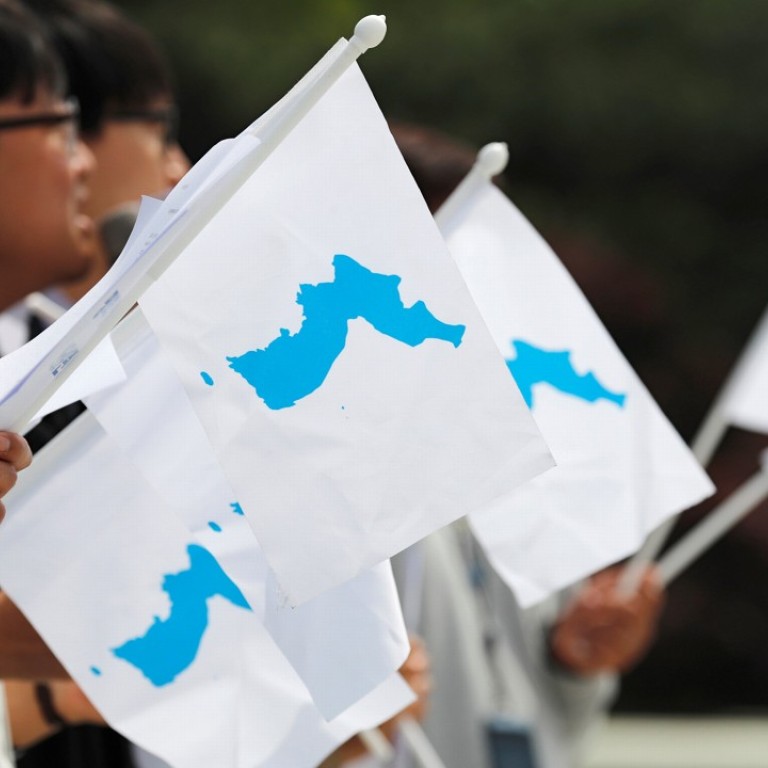 China – not North Korea – is our biggest threat to peace, South Koreans say
Poll finds steep rise in those ranking China the most threatening country to inter-Korean peace, while 91 per cent believe it does not want reunification
China is the country presenting the biggest barrier to peace on the Korean peninsula, surpassing North Korea for the first time, according to a new poll of South Korean citizens.
In the survey, released on Tuesday by the Institute for Peace and Unification Studies (IPUS) at Seoul National University, 46 per cent of respondents viewed China as "the most threatening country to peace on the Korean peninsula", a dramatic increase from 2016, when 17 per cent said China was the most threatening.
Only 33 per cent viewed North Korea as the country posing the biggest threat, well down on 64 per cent last year and the first time it had been eclipsed by China since the survey began in 2007, the institute said.
The poll of 1,200 men and women aged 19 to 74 was conducted by Gallup Korea between July 12 and August 3.
China "does not want inter-Korean reunification", according to 91 per cent of respondents, compared with 90, 88 and 53 per cent for Japan, Russia and the United States respectively.
IPUS senior researcher Choi Gyu-bin suggested the figures stemmed from the dispute over the Terminal High Altitude Area Defence (THAAD) system, an American anti-ballistic missile defence system deployed in South Korean territory since 2017.
"China's economic retaliation to Seoul's decision to allow THAAD to be deployed in South Korea has had a negative impact on South Koreans' perception of China," Choi said.
Beijing saw THAAD as a threat targeting China, compromising the country's national security by monitoring its military activities, rather than a way to deter or curb North Korea's nuclear ambitions.
China then embarked on an aggressive unofficial campaign to stop Chinese tour groups travelling to South Korea. Its boycott cost South Korea's tourism industry 7.5 trillion won (US$6.7 billion) between January and September last year, according to data compiled by the South Korean national assembly's budget office.
The Chinese government also targeted the Seoul-based multinational conglomerate Lotte – which had agreed to provide land for THAAD – by fining it for its advertising practices and shutting down a large number of its supermarkets in China for fire regulation violations. China has also intensified its customs inspections of South Korean companies.
"[The survey results] may also be a [simple] reaction due to a rapid increase in intimacy towards North Korea," Choi said.
Summits between the two Koreas, as well as between North Korea and China and between North Korea and the US, accounted for the fall in negative perceptions of North Korea, he said. North and South Korea vowed during their summits to end their seven decades of hostility.
Half of the survey's respondents considered China a country "to be cautious of", more than double the 24 per cent stating that opinion in 2015, before the THAAD dispute. Only 13 per cent considered China a partner for cooperation – the lowest figure since the survey began.
Half also said the rise of China did not help bring about peace on the Korean peninsula, whereas 22 per cent felt it would positively influence the region.
"While THAAD retaliation is considered a direct cause, US-China conflict, territorial disputes in East Asia and the assertive 'Belt and Road Initiative' are some of the indirect factors responsible for the results," Choi said.
Seoul has recently made efforts to rebuild its relations with Pyongyang, taking part in three inter-Korean summits since April with another expected in Seoul by the end of the year.
"An inter-Korean joint military committee will be activated soon to avoid accidental military collisions," the September Pyongyang Declaration stated. "The two Koreas have agreed to enhance exchanges and cooperation."
Meanwhile, 53 per cent of respondents said that South Korea must maintain a "neutral" position during the escalation of the US-China conflict, while 39 per cent and 8 per cent said Seoul must improve cooperation only with Washington and Beijing respectively.
This article appeared in the South China Morning Post print edition as: main barrier to Korean peace is Beijing, poll says