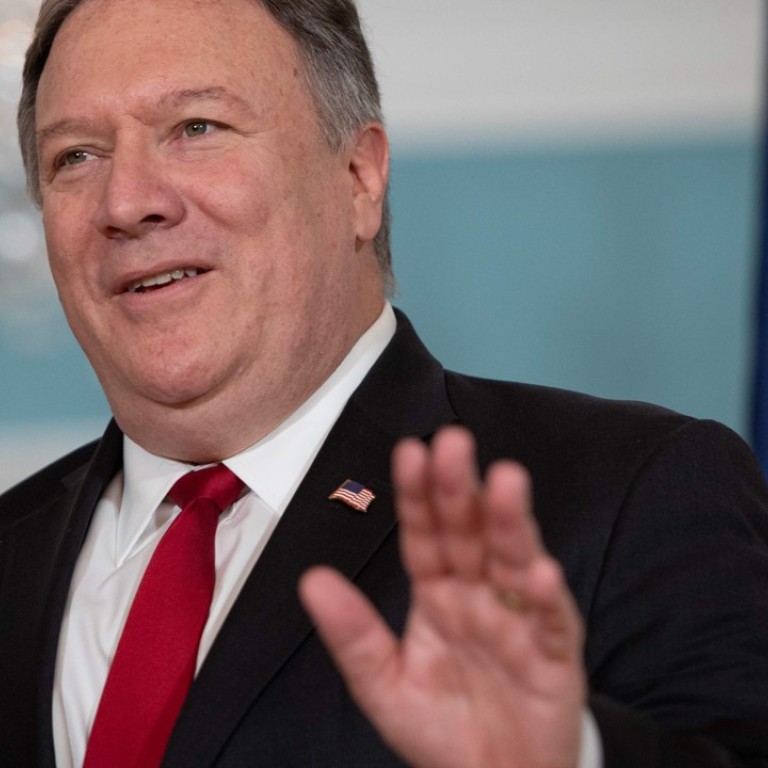 Mike Pompeo trip a chance to ease tensions as China-US ties 'near rock bottom'
US secretary of state will try to find common ground on trade and other disputes in Beijing, and North Korea will also be on agenda, analysts say
US Secretary of State Mike Pompeo's visit to Beijing next week will be a chance to de-escalate tensions between the two sides that have spilled over from trade to security, and North Korea will also be a priority, according to analysts.
Pompeo will go to Beijing on Monday after he travels to Tokyo, Pyongyang and Seoul. The Beijing trip was announced as relations deteriorate between the US and China, with the countries locked in a tit-for-tat trade war and amid other disputes including military activity in the South China Sea.
Getting Beijing to stick to Washington's policy on Pyongyang and trying to cool down tensions will be top of his agenda during the visit, said Zhao Tong, a fellow with the Nuclear Policy Programme at the Carnegie-Tsinghua Centre for Global Policy in Beijing.
"Pompeo will brief his Chinese counterparts on the results of his Pyongyang trip and try to persuade China to keep its North Korea policy in line with that of the US because the gap between the two is apparently widening," Zhao said.
"Managing the troublesome US-China bilateral relationship will be another important mission … At a time of uncertainty and mistrust, it is highly important to keep high-level communications open and effective, to avoid deeper misjudgment," he said.
Pompeo will try to find common ground on trade and other disputes, said Harry Kazianis, director of defence studies at the Centre for the National Interest in Washington.
"Why US Secretary of State Mike Pompeo is heading to China is quite simple: US-China relations are near rock bottom, while, at the same time, diplomacy with North Korea has reached a make-or-break moment," he said.
"Pompeo will likely try and gauge China's intentions towards max pressure – and what it will take to keep them on board, or, if Beijing seems to use North Korea as a bargaining chip."
Zhang Baohui, director of the Centre for Asian Pacific Studies at Lingnan University in Hong Kong, said despite the rivalry between the two powers, the US still needed China's support to resolve the North Korean nuclear issue.
"China remains central to the denuclearisation of North Korea … and the US wants China to continue to pressure North Korea to implement denuclearisation. The nuclear issue is obviously very important" to the US, Zhang said.
Strained relations "will certainly reduce China's incentives to cooperate with the US on issues important to the latter, such as sanctions against the North Korean [regime] … Pompeo may want to signal to Beijing that the US still values a cooperative relationship with China", he added.
But the visit will also be about creating a "better image" of America internationally, said Jin Chang-soo, a senior researcher at the Sejong Institute, a private think tank in Seoul.
"It is true that the US wants China's cooperation on denuclearising North Korea, but the visit is more aimed at building a public image that it is the US – not China – that is driving the effort for peace on the Korean peninsula," Jin said.
"The US also needs to build legitimacy in the US-China conflict and so it needs to pay attention to creating a favourable international image … it could also be seen [as trying to] counter China's white paper," he added.
Beijing released a trade war white paper last week accusing Washington of bullying tactics and economic intimidation that had become "the greatest source of uncertainty and risk for the recovery of the global economy".
Jin said Pompeo's visit was unlikely to have much of an effect on the conflict.
"Washington may believe that trying to coerce China into submission will be a faster way to get China to put pressure on North Korea," he said.
Zhao agreed that the dispute would be protracted. "As things stand now, Beijing looks determined to maintain a tough position. It's far from certain given the current conditions whether Pompeo will even meet China's top leadership for talks next week," he said.
This article appeared in the South China Morning Post print edition as: Pompeo to visit as ties 'near rock bottom'