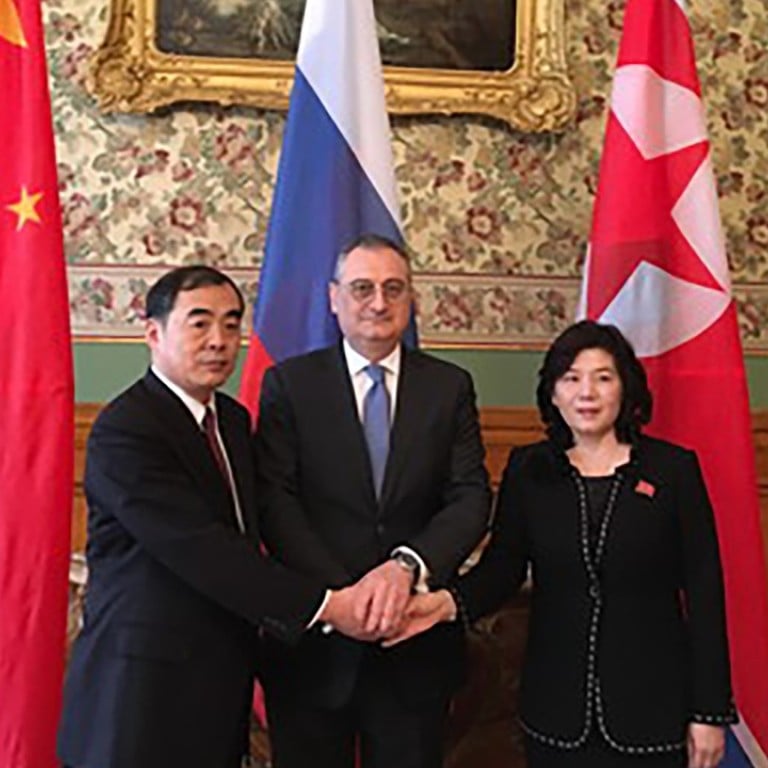 China, Russia, North Korea call for adjusted sanctions ahead of denuclearisation
Moscow meeting ends with stance at odds with US government
Chinese, Russian and North Korean deputy foreign ministers have met in Moscow to coordinate a trilateral approach to the denuclearisation process on the Korean peninsula, and called on the UN Security Council to "adjust" the current sanctions regime against Pyongyang.
This is in contrast to the Trump administration's declaration that tough sanctions would remain on North Korea until its complete denuclearisation.
"It is time to start considering the adjustment of the UN Security Council's sanction regime against the DPRK [Democratic People's Republic of Korea]. The three parties also oppose unilateral sanctions," the Chinese foreign ministry said in a statement released on Wednesday, a day after the working-level talks in Moscow.
China's foreign affairs vice-minister Kong Xuanyou, Russia's deputy foreign minister Igor Morgulov and North Korea's foreign vice-minister Choe Son-hui discussed the three countries' cooperation during the denuclearisation process.
China and Russia supported Pyongyang's favoured "phased and synchronised measures," to ensure it receives compensation from the international community during the process, rather than waiting for complete denuclearisation.
"The three parties agreed that all issues on the Korean peninsula should be resolved through peaceful political diplomacy … The three parties also discussed the need to establish a peace mechanism on the peninsula through bilateral and multilateral cooperation," the statement said.
All parties concerned should maintain the momentum of dialogue and take corresponding measures to move in the same direction, the statement said.
President Donald Trump said on Tuesday that his next summit with North Korean leader Kim Jong-un would not occur until after next month's US midterm elections.
Woo Jung-yeop, a research fellow at the Sejong Institute in Seoul, said a friendly North Korea would enhance Chinese interests in the long-term.
"China is showing off its improving bilateral relations with the North … as China may now view North Korea as a strategic interest, not a strategic burden," he said.
"The North Korean issue has become an important factor of the US-China conflict.
"China is trying to influence the situation on the Korean peninsula, so that the US will need China's help to solve the North Korean nuclear problem."
Trump last month said that he and Kim Jong-un "fell in love" in recent months and called his relations with Kim a "great relationship". He also said his friendship with Chinese President Xi Jinping may be over amid the worsening China-US relations.
North Korean state media said Pyongyang officials had positive talks with US Secretary of State Mike Pompeo on Sunday.