Mike Pompeo warns Panama and other nations about accepting China's 'belt and road' loans
The United States' own overseas investment agency is actively competing with China to finance infrastructure projects in Panama
'When China comes calling, it's not always to the good of your citizens,' the US secretary of state says
US Secretary of State Mike Pompeo has issued a warning to Panama and other nations in the region about the potential dangers of accepting Chinese investment, as Beijing expands its development projects to increasingly distant corners of the world.
"When China comes calling, it's not always to the good of your citizens," Pompeo said on Thursday, addressing reporters in Mexico City after a meeting with Panamanian President Juan Carlos Varela.
The remarks came as Washington's own overseas investment agency is actively competing with China to finance infrastructural development projects in Panama, Overseas Private Investment Corporation (OPIC) president and CEO Ray Washburne confirmed.
The US welcomed "straight-up, legitimate investment that's transparent and according to the rule of law," said Pompeo, whose two-day visit to Latin America has included meetings with top officials in Panama and Mexico. "That's called competition."
The US objects "when state-owned enterprises show up in a way that is clearly not transparent, clearly not market-driven, and is designed not to benefit the people of Panama but rather to benefit the Chinese government", he said.
The remarks came not long after the five-year anniversary of the launch of Chinese President Xi Jinping's signature "Belt and Road Initiative", a strategy to funnel government money into development projects throughout Asia and beyond. The strategy consisted initially of a land-based "belt" westward through Central Asia towards Europe and a maritime "road" through Southeast Asia towards the east coast of Africa.
The reach of the plan has extended far beyond those two channels, with the a government website listing 118 countries as having signed cooperation agreements. Panama, which has the population of a small Chinese city, became the first Latin American country to sign on to the belt and road plan last year, shortly after the country broke ties with Taiwan and established relations with mainland China.
Watch: Panama establishes diplomatic ties with Beijing
Critics of the plan say it saddles recipients with large amounts of debt, sometimes resulting in the countries' governments defaulting and ceding possession of the developed projects to China.
Earlier this year, the Centre for Global Development determined that eight of the countries involved in belt and road projects were at high debt risk, and urged China to adopt international lending standards and improve its debt practices.
State-owned enterprises carrying out projects have also been criticised for not using local labour forces, for disregarding environmental concerns and for corruption.
Xi pushed back against critics in late August, saying at a seminar that the programme was not designed to create a "China club" and that the government must "prioritise the needs of the other party and implement projects that will benefit the local people".
Pompeo gave no indication as to how Varela received his warnings about Chinese investment, but Panamanian officials have previously spoken enthusiastically about the country's involvement in the belt and road plan.
"As a place of strategic importance within the American continent, Panama hopes to become a key part of the 'Belt and Road Initiative'," the country's ambassador to China, Francisco Carlo Escobar, told Xinhua in March.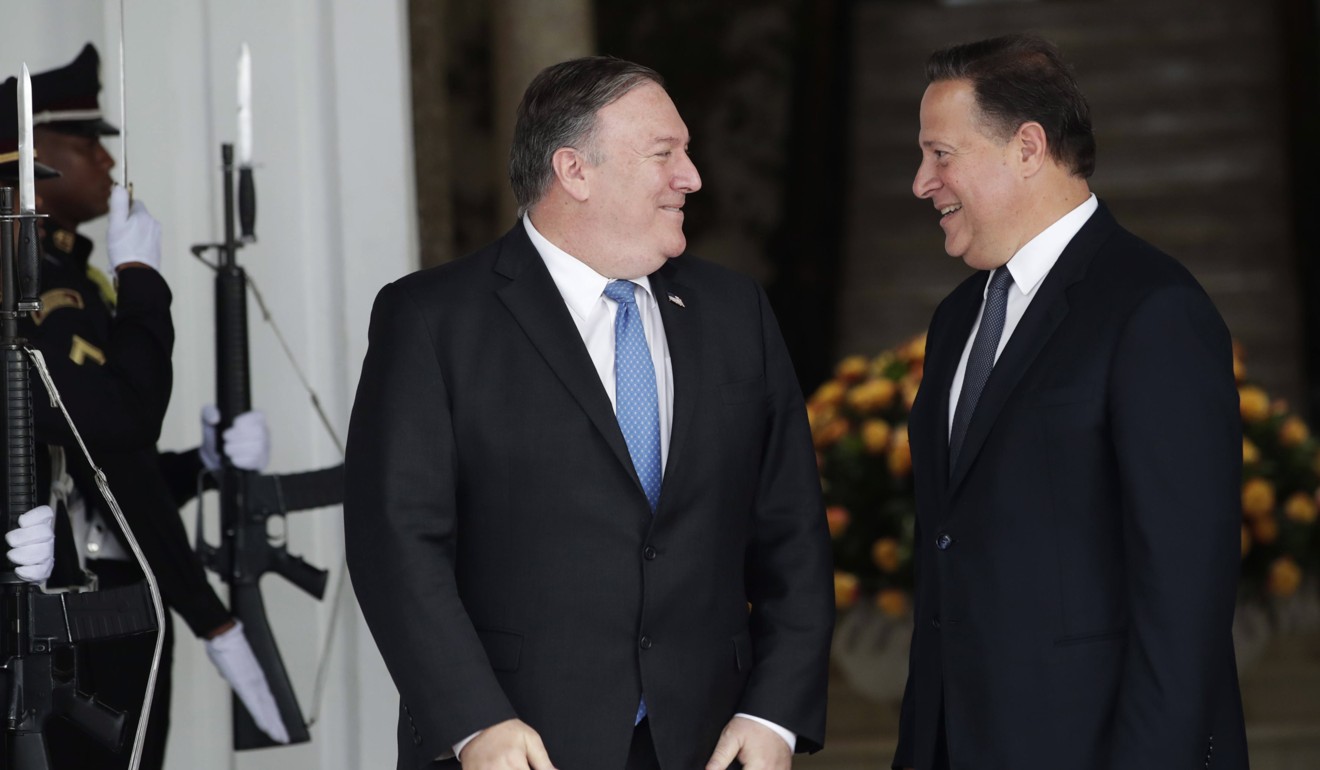 China's belt and road plan has seen the US government augment its own finance development programmes, involving those in Central America.
Washburne said on Friday that his agency was "competing straight up" with China for the financing rights to a Pacific Ocean port in Panama.
The agency has financed almost US$330 million for ventures in Panama dating from 2009, with projects ranging from solar power plants to affordable housing construction.
The 2018 fiscal year saw the commitment of another US$175 million of financing for projects in Panama and El Salvador.
OPIC was at one point earmarked for termination by the Trump administration. But in the face of China's expanding monetary presence around the world, the agency was given a lifeline, and next year is set to receive a doubling in its finance cap from US$30 billion to US$60 billion.
Unlike China's finance development model, which operates primarily through state-owned enterprises and their subsidiaries, OPIC offers financing and political risk insurance to private US firms bidding for infrastructure and development projects overseas.
"The United States encourages local governments, like for example in Panama, to use local people and to use local infrastructure to do the projects," said Washburne, who recently visited Panama.
"We have to look at projects through the lens of 'are we going to get paid back?'" he said. "We don't make loans intending to foreclose and take them back."
Washburne also confirmed that OPIC was negotiating a memorandum of understanding with India to bring it into a development partnership between the US, Japan and Australia.
In line with the US government's "Indo-Pacific Economic Vision", announced in July by Pompeo, such partnerships are designed to streamline joint development projects with allies in order to check China's growing influence in the region.
This article appeared in the South China Morning Post print edition as: U.S. WARNS PANAMA ON CHINESE INVESTMENT