Israel
Get more with myNEWS
A personalised news feed of stories that matter to you
Learn more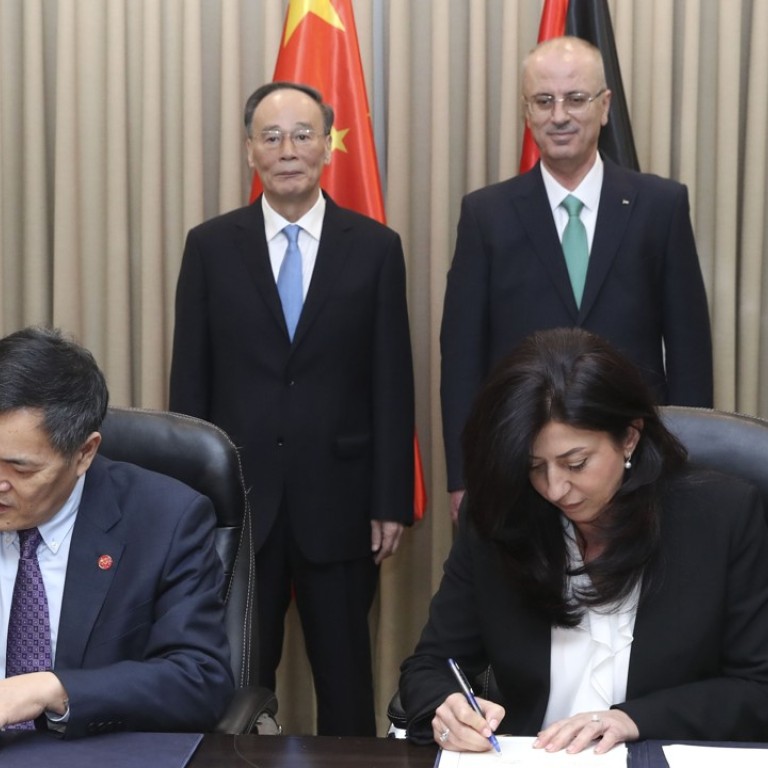 China begins free-trade talks with Palestine as it expands its influence in the Middle East
Memorandum of understanding signed during Chinese Vice-President Wang Qishan's visit to Middle East
Beijing says it supports 'two-state solution' to Palestine-Israel dispute
China has agreed to begin free-trade talks with Palestine, Beijing said on Wednesday, in the latest sign of the country trying to increase its political and economic engagement in the Middle East.
Commerce officials from the two sides signed a memorandum of understanding during Chinese Vice-President Wang Qishan's visit to the region, the first by a top level official in almost 20 years, the commerce ministry said in a statement.
Wang, who oversaw the signing ceremony with Palestinian Authority Prime Minister Rami Hamdallah, was quoted as saying that Beijing stood with the Palestinian people and continued to support peaceful negotiation and the "two-state solution" to its dispute with Israel.
According to Palestine's official WAFA news agency, Hamdallah urged Beijing to play a greater role in the Israeli-Palestinian peace process. He also called on China to back Palestinian President Mahmoud Abbas' plan to hold an international conference on peace in the Middle East.
Wang said also that China would support Palestine's development and that it was welcome to join the "Belt and Road Initiative", President Xi Jinping's ambitious plan to develop and finance infrastructure projects across Asia, Africa and Europe.
"Capable" Chinese companies were encouraged to invest in Palestine, he said.
Wang's visit comes at a time of rising tensions in the Middle East, with Iran, Syria, Iraq and Turkey all involved in geopolitical struggles alongside Israel and Palestine.
Unlike the United States, China has steered clear of getting involved in the region's political conflicts, and as a result has been able to maintain good relations with both Israel and Palestine.
Li Shaoxian, director of the China-Arab research institute at Ningxia University in northwest China, said it was a diplomatic tradition and protocol for China's top officials to visit both Israel and Palestine. It was also in China's interests to play a role in the peace process, which had stagnated since the US recognised Jerusalem as Israel's capital and relocated its embassy there.
"It's a balanced move to visit the West Bank," Li said. "Since the US moved its embassy to Jerusalem [from Tel Aviv] in May, the peace process in the Middle East is almost dead, and in that situation China would definitely want to play a role in the peace process."
Wang began his trip to the region on Monday in Israel, where he visited Jerusalem's Old City, including the Western Wall and the Church of the Holy Sepulchre.
He is also expected to co-host the 4th meeting of the China-Israel Joint Committee on Innovation Cooperation with Israeli Prime Minister Benjamin Netanyahu in Jerusalem, which Li said would help to cement Beijing's economic ties with Tel Aviv, especially in the technology sector.
"With closer economic ties, China's political influence in the region will also grow," he said.
However, the disparity in the size of their economies – the World Bank put China's at US$12.24 trillion in 2017, and West Bank and Gaza's at US$14.5 billion – any free-trade deal between the two would be more symbolic than significant to Beijing, Li said.
This article appeared in the South China Morning Post print edition as: Pact signals free-trade talks with Palestinians