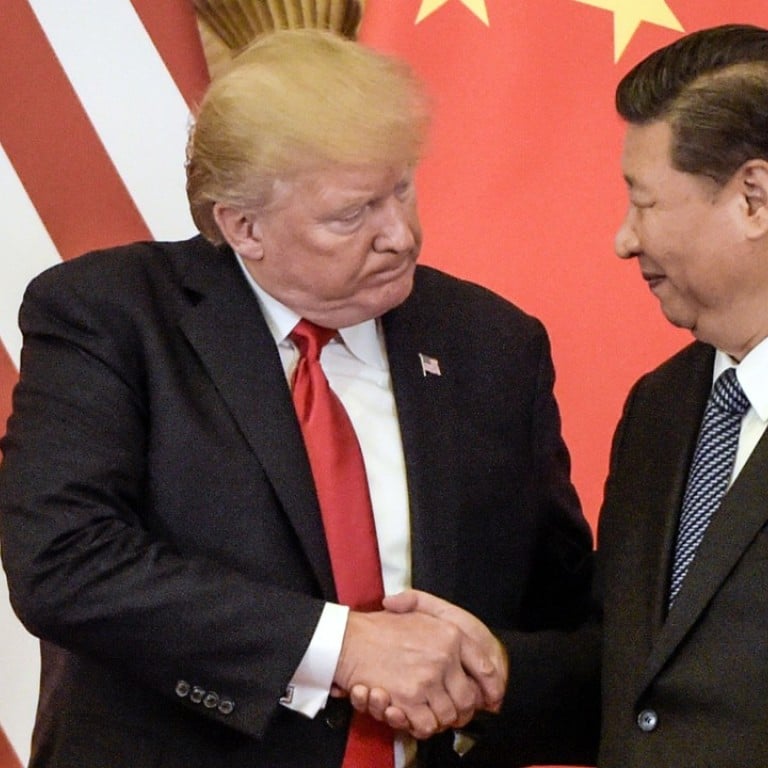 Donald Trump and Xi Jinping have 'good conversation' about trade war ahead of G20 meeting
Both leaders have confirmed the phone call, with Trump calling it a 'good conversation' and Xi saying differences must be resolved
They are expected to meet at the two-day G20 leaders' summit that begins on November 30, although a resolution to the trade war may not come so quickly
US President Donald Trump and his Chinese counterpart Xi Jinping have agreed to try to resolve their differences on bilateral trade during an upcoming G20 summit as the trade war that started in July continues.
Trump said in a tweet on Thursday that he had a "long and good [phone] conversation" with Xi about their trade issues, while Xi told Chinese media that both nations must work out a proposal to settle trade disputes.
"Over the past period, China and the US have had differences on trade, and this has caused negative impact on the industries of both nations and global trade. China doesn't want to see that," Xi was quoted as saying by Chinese state-run channel CCTV.
"China and the US have precedents of resolving difficult trade and economic issues through dialogue. The economic teams of both sides must step up communication and coordination on issues of their concern to put forward a proposal acceptable to both sides."
In his tweet, Trump said the two leaders "talked about many subjects, with a heavy emphasis on Trade," adding that "Those discussions are moving along nicely, with meetings being scheduled at the G20 in Argentina."
Xi also told CCTV that China's upcoming Import Export Expo in Shanghai can showcase his country's commitment to opening up and enlarging imports.
The expo, which will be held in Shanghai between November 5 and 10, was announced last year as part of Beijing's efforts to show its commitment to global trade, according to the event's organisers. The expo was dubbed one of the country's "four major diplomatic events at home" for 2018.

Trump's comments follow an increase in hard-line rhetoric from top officials in his administration, coming a day after Secretary of State Mike Pompeo admonished China to "behave like a normal nation on commerce".
Pompeo was referring to US government data that put China's trade surplus with America at a record US$375 billion last year, as well as recent federal indictments of Chinese government employees who allegedly tried to steal American aviation technology.
The agreement between Trump and Xi to discuss trade issues comes about a month after Vice-President Mike Pence accused Beijing of meddling in US elections and CIA Director Christopher Wray portrayed China as a bigger threat to American national security than Russia.
Tensions between the world's two largest economies have been rising since Trump slapped a first round of punitive tariffs on Chinese tariffs in July, sparking a tit-for-tat trade war that has targeted more than half of the goods shipped between the two countries.
Complaints from US companies about rising prices resulting from the tariffs may have prompted Trump to keep the talks on track, said David Adelman, a former US ambassador to Singapore.
"The impact of the tariffs have been felt quickly throughout the US and American business leaders are communicating with the Trump administration in hopes that they will find a resolution to the trade issue," said Adelman, now a New York-based partner at law firm Reed Smith.
The impact of the US-China trade war is spurring foreign and Chinese firms to consider moving parts of their supply chains out of both the US and China over the longer term and delaying or cancelling investment in both countries, according to a new survey by the American Chamber of Commerce for South China.
The survey showed 72 per cent of the 219 firms polled said they were considering moving supply chain sourcing out of China, while 77 per cent said they would move supply chains out of the US. The firms surveyed, which included Chinese and foreign businesses, said they believed the trade war would last longer than a year.
Expectations about whether Trump and Xi would meet at G20, and under what terms, had previously varied widely.
The Wall Street Journal, for example, recently cited anonymous government officials on both sides that Trump would not meet Xi unless the Chinese side was prepared to discuss rules that force foreign companies operating in China to transfer proprietary technology to their local joint venture partners.
Bloomberg News reported on Saturday, citing two anonymous sources, that the White House may exclude trade from the agenda of the summit between Trump and Xi in order to increase the likelihood of a bilateral deal.
"The whole world will be watching when [Trump and Xi] meet and the stakes are extremely high," Adelman said. "Both the US and Chinese economies are under pressure because of these trade tensions."