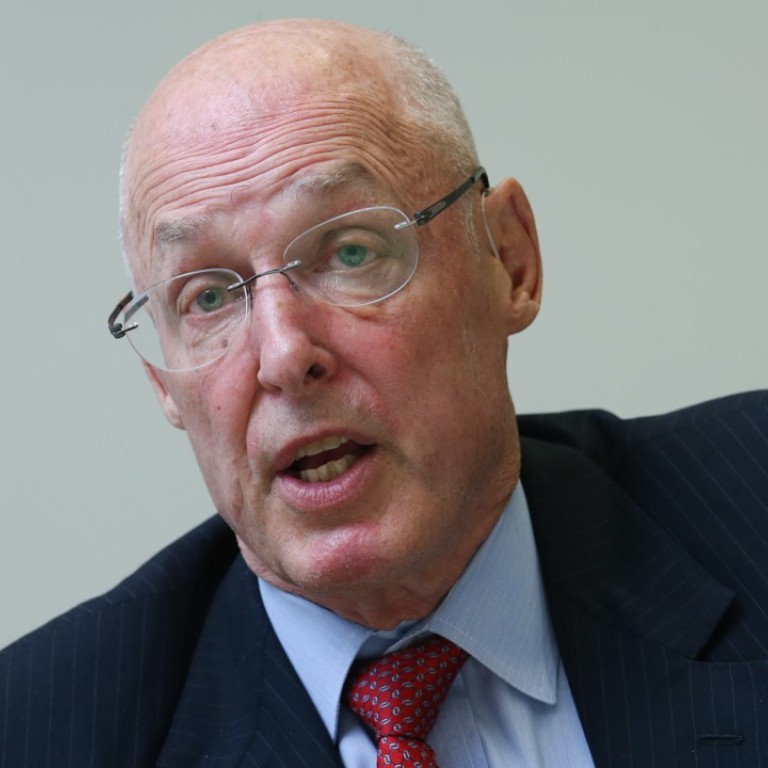 US-China divisions could lead to an economic Iron Curtain, Henry Paulson warns
Ex-US treasury boss predicts a long winter in relations if broader issues are not addressed
Calls on Beijing to implement bold reforms
Former US treasury secretary Henry Paulson warned a new "economic Iron Curtain" could descend between China and the United States as the divisions between the two nations broaden amid the escalating trade war.
Paulson also warned against attempts to isolate China, but called on leaders in Beijing to implement bold reforms like their predecessors Deng Xiaoping and Zhu Rongji.
Addressing the Bloomberg New Economy Forum in Singapore on Wednesday, Paulson said the American business community had turned from advocate to sceptic and even opponent of past US policies towards Beijing as China had been slow to open up.
And even on issues where the two nations agreed, such as North Korea, they often pursued divergent approaches, which persuaded people to believe the two did not have shared interests, he said.
"That is because the problems we face, and our divergence of views, even in the economic area, are much broader," Paulson said.
"Unless these broader and deeper issues are addressed, we are in for a long winter in US-China relations.
"And that is why I now see the prospect of an economic Iron Curtain – one that throws up new walls on each side and unmakes the global economy, as we have known it."
His message comes as Chinese President Xi Jinping is expected to meet his US counterpart Donald Trump on the sidelines of the G20 summit in Argentina later this month.
Officials and some former US heavyweights in China affairs are warning against the risk of derailing the China-US relationship.
On Tuesday, US former secretary of state Henry Kissinger said it was essential China and the US talked to each other, to know their red lines and the concessions they were willing to make.
Paulson's remarks followed Chinese Vice-President Wang Qishan's keynote speech on Tuesday at the forum where he delivered an olive branch to the US, indicating Beijing's willingness to resume trade talks.
But Wang's speech failed to impress the US, according to diplomatic observers who said it repeated the official rhetoric and lacked the concrete signals necessary to de-escalate tensions.
"Nobody is arguing against dialogue, but nearly everybody is arguing that the results of the US-China dialogue and engagement have been poor," Paulson said, referring to recent discussions of disengagement between the two economies.
According to Paulson, a new age of disruption was foreseeable, with economic tension reaching a breaking point, even though the tariff war between the two countries would eventually be concluded, "hopefully soon".
He said the underlying tensions would persist for a long time and there were rising calls in the US to "decouple" from China.
The US business community was running out of patience for China to deliver its promises of reform and opening up, Paulson said, referring to a US administration report earlier this year that described support for China's accession to the World Trade Organisation as a mistake. He also said Washington was wary of China's access to US technology.
But he said efforts to isolate China would lead to the US isolating itself. The two nations were not a couple but two major players, and no nation would follow the US in its isolation strategy, he said
"No country, in my view, will divorce a major nation that remains, even amid a slowdown, among the world's fastest growing major economies," he said.
Paulson said the US-Mexico-Canada trade agreement – which restricts members from signing trade deals with non-market economy countries – was a worrying sign of US attempts to veto efforts by its partners to open China's markets through their own trade negotiations.
"So the US can try to divorce China by restricting flows of goods, capital, technology, and people. But what if others, especially in Asia, don't want to follow suit?" he said.
"Why would Asian countries, which are negotiating the Regional Comprehensive Economic Partnership among a group of 16 that includes China, walk away from their negotiations at the behest of the country that pulled out of the Trans-Pacific Partnership?"
Paulson said Washington had to consider China's concerns, while Beijing also had to change its policies to improve relations with the US.
"What China has lost, especially over the past decade and a half, is the bold impulse to reform and open up that led leaders like Zhu Rongji to undertake significant changes to the state-led sector in the 1990s, as Beijing prepared for its WTO accession," he said.
"Zhu Rongji saw competition as a key to China's long-term economic success," said Paulson, who added that today the US viewed China as "increasingly content to pursue its own standards, privilege its domestic rules and erect rather than demolish walls for foreign competitors".
He called on Beijing to conduct competition reform and create a level playing field for private firms and foreign companies, and to support innovation.
The key to avoiding an economic Iron Curtain, Paulson said, was for China to see that its interests lay in making reforms and changes, otherwise the risks of decoupling would mount further.
This article appeared in the South China Morning Post print edition as: Paulson warns of an 'iron curtain' threat