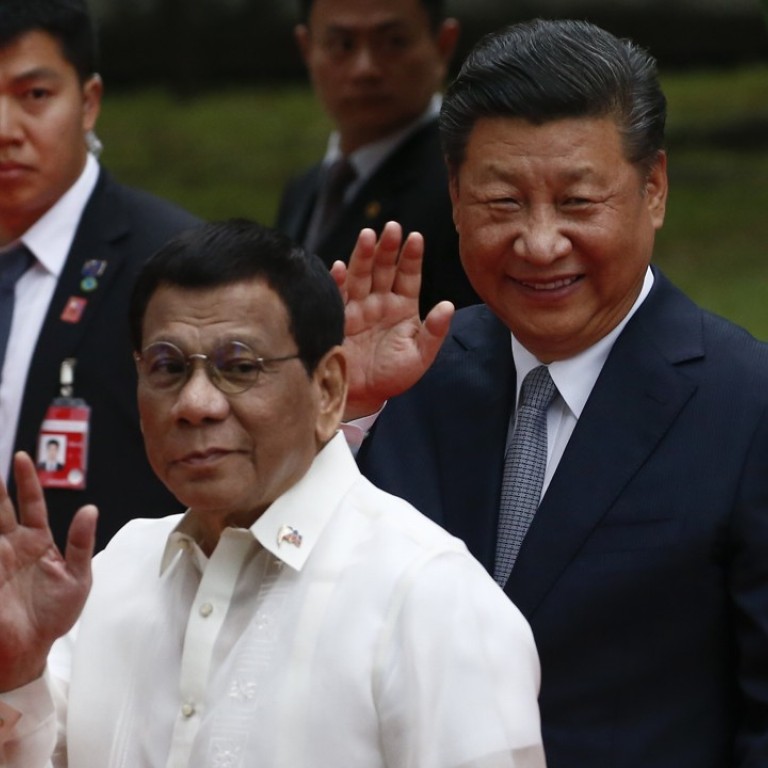 China and Philippines sign oil and gas exploration deal as Xi Jinping meets Rodrigo Duterte
Xi describes visit as 'milestone' in relations, saying they will 'continue to manage contentious issues and promote maritime consultation'
Duterte says 'there is deepening trust and confidence of government'
Beijing and Manila have agreed to a joint oil and gas exploration deal – one of 29 deals that were signed on Tuesday as Chinese President Xi Jinping began a two-day state visit to the Philippines.
The two nations also signed a memorandum of understanding to cooperate on Beijing's vast trade and infrastructure strategy, the "Belt and Road Initiative", and agreed to boost ties.
After meeting Philippine President Rodrigo Duterte for talks, Xi described the visit as a "milestone" in the countries' relations. Xi is the first Chinese leader to visit Manila in 13 years.
The trip is widely seen as part of Beijing's efforts to move closer to the Philippines – despite their long-running dispute over the South China Sea – by extending investment and aid to the United States ally.
"China and the Philippines have a lot of common interests in the South China Sea," Xi said after the talks. "We will continue to manage contentious issues and promote maritime cooperation through friendly consultation."
He also said China would work with other Southeast Asian countries to finalise a code of conduct for the disputed waters within three years.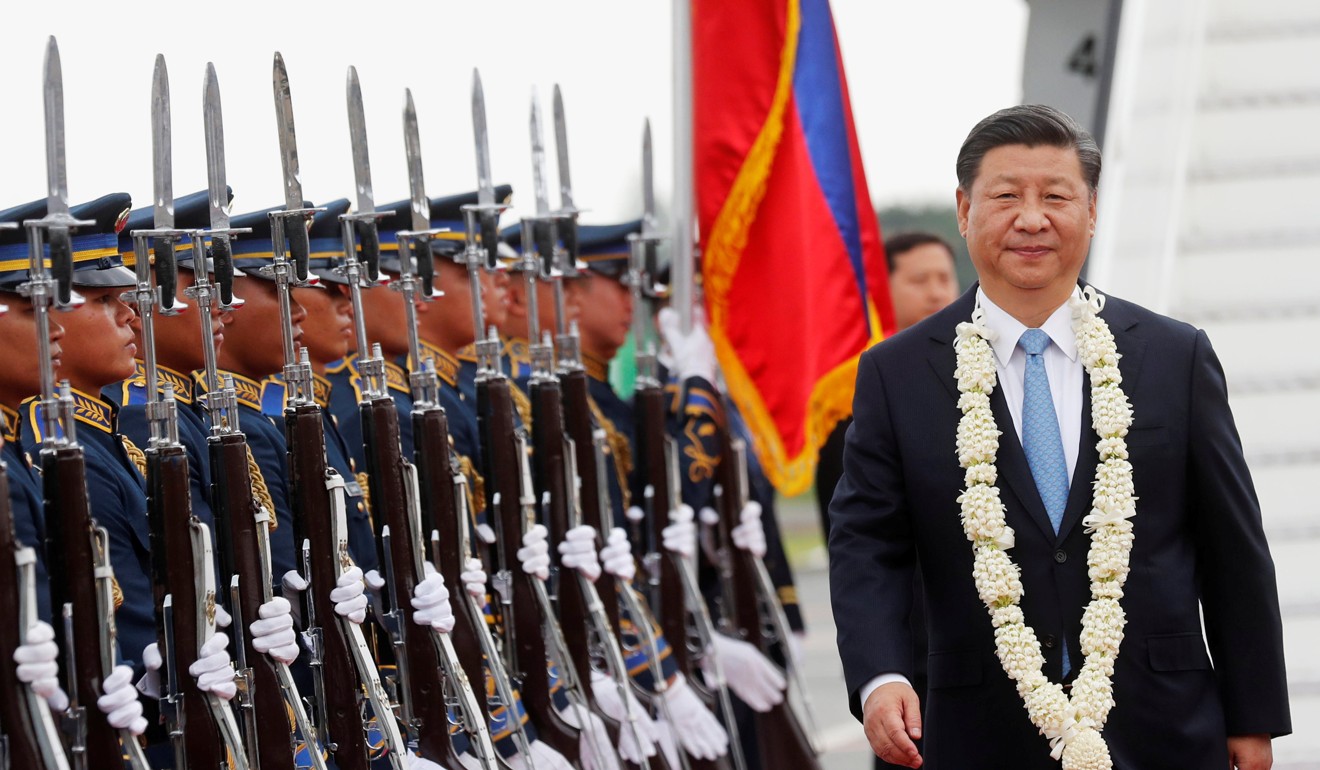 Duterte said China and the Philippines had pushed forward bilateral cooperation in a wide range of areas in recent years.
"I am pleased with the current positive momentum of the Philippine-China relations," Duterte said. "There is deepening trust and confidence of government."
Zhang Xuegang, a Southeast Asian affairs expert at the China Institutes of Contemporary International Relations, said the oil and gas exploration agreement set an example for other claimants in the South China Sea.
"These two countries that once ended up at an international tribunal have now sat down and reached a deal through talks. This has positive implications for regional peace and cooperation," Zhang said.
Details of the oil and gas deal, including its location, were not immediately disclosed, but according to a draft framework released by Philippine opposition Senator Antonio Trillanes, exploration would be carried out based on the principles of mutual respect and benefit, and would not affect the two nations' positions on sovereignty and maritime rights.
But the exploration deal is seen by some in the Philippines as undermining the country's territorial claims in the South China Sea. Before Xi arrived, hundreds of protesters descended on the Chinese embassy in Manila to voice their opposition to the Duterte administration seeking closer ties with Beijing.
"Philippines is not for sale," the marchers chanted, as some brandished signs saying "China out of Philippine waters" in reference to their dispute over the South China Sea.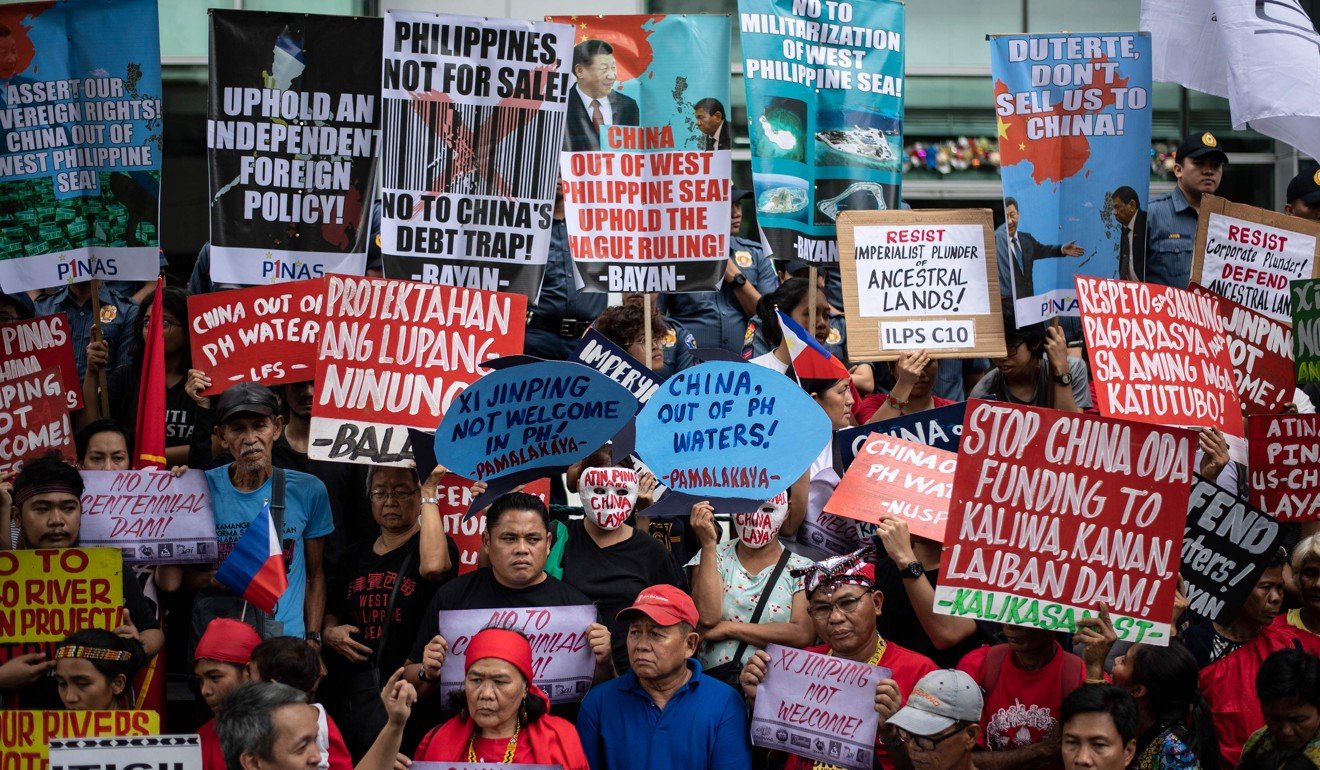 Critics are most concerned about Duterte's decision to set aside a major 2016 ruling from an international tribunal that declared Beijing's expansive claim over the waterway as being without basis, in favour of courting Chinese investment.
"The reality is that the Philippines under Duterte may have squandered the most solid legal ground it has against China in the South China Sea conflict," Philippine Senator Leila De Lima said.
A survey of 1,500 adults released by research institute Social Weather Stations found 84 per cent of Filipinos disagreed with taking a laissez-faire approach to Beijing's moves to build infrastructure and install military equipment in the strategic waters.
High-level exchanges between the two nations were suspended after Duterte's predecessor, Benigno Aquino, took the dispute to a tribunal in The Hague. But ties have warmed under Duterte, who has not challenged Beijing's territorial claims in the South China Sea and has pivoted Manila away from Washington since he came to power in 2016.
In opening remarks during their talks, Duterte described Xi's visit as a "historic occasion", while Xi said it would be a "milestone in the history of exchange between our two countries".
"Our two countries will always be good neighbours, good friends, partners and enjoy common development and prosperity," Xi said.
China and the Philippines also signed an agreement to finance the Kaliwa dam project, deals to build a 581km railway line from Los Banos to Matnog, on currency swaps, and for infrastructure development in Duterte's hometown Davao.
Xi also said the two nations would cooperate on law enforcement. China has previously donated US$22 million worth of guns and ammunition to the Philippine National Police.
Additional reporting by Agence France-Presse
This article appeared in the South China Morning Post print edition as: Xi, Duterte agree to joint energy projectXi and Duterte agree to joint energy project