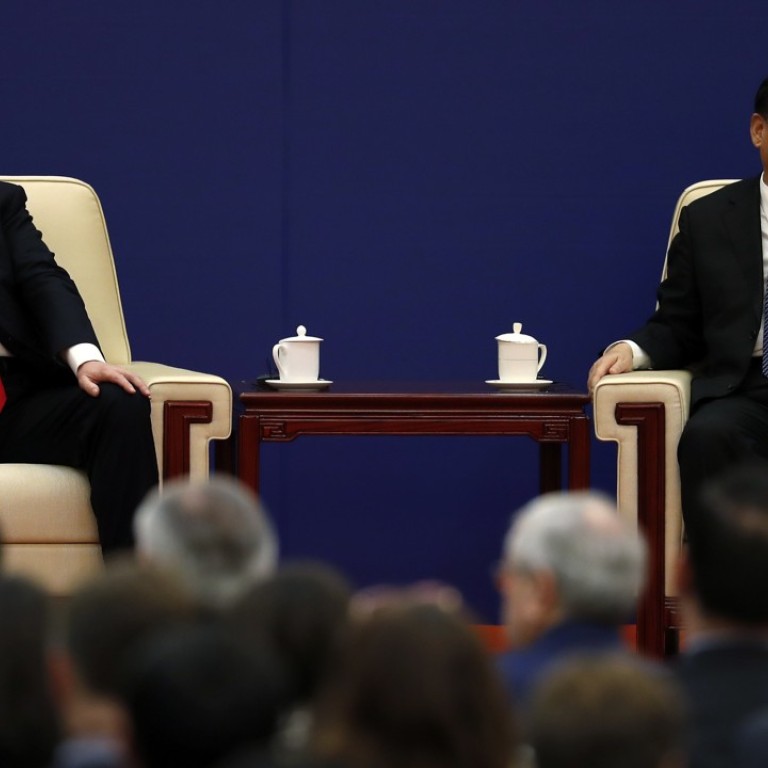 China 'won't get away with vague promises this time' in trade talks with US
Beijing will have to take action on some demands after Donald Trump added to pressure with more tariff threats ahead of G20 meeting, observers say
China will have to go further than making "vague promises" at this week's summit with the United States after President Donald Trump turned up the heat in the trade war with more tariff threats, observers say.
Just days before he meets Chinese President Xi Jinping on the sidelines of the Group of 20 gathering in Argentina, Trump has again escalated the conflict, saying he would not step back from a plan to raise tariffs on goods from China.
He told The Wall Street Journal in an interview published on Monday it was "highly unlikely" his administration would delay or suspend a plan to increase duties on US$200 billion of Chinese products from 10 per cent to 25 per cent.
Trump also threatened to apply tariffs of 10 per cent or 25 per cent on the remaining US$267 billion of Chinese imports if the two sides failed to reach a deal during their meeting in Buenos Aires.
He added that the only acceptable deal would involve China opening up to competition from the US.
Responding to Trump's comments, Chinese foreign ministry spokesman Geng Shuang on Tuesday said Beijing hoped to find a solution with Washington at the G20 summit, but maintained that China would defend its interests.
"The Chinese side is willing to resolve the trade issues [with the US] through serious dialogue that is based on the principles of equality and integrity," Geng said. "But we will also resolutely defend our interests [during the talks]."
Separately, Chinese ambassador to the US Cui Tiankai said in an interview with
The Wall Street Journal
that he hoped the Xi-Trump meeting could "give us clear strategic guidance on where the relationship is going" and make progress in resolving the trade row. Cui also questioned if the US
could weather another financial crisis
that may emerge if the trade war is prolonged.
Chinese observers see Trump's latest threat as part of his negotiation tactics ahead of the high-stakes summit, but they believe the pressure is real for China to respond to US demands.
"China will not be able to get away with general and vague promises this time. It has become clear that the Trump administration does not want more promises, it wants action," said Shi Yinhong, an expert on Sino-US relations at Renmin University of China in Beijing.
Beijing has previously said it would welcome more foreign investment and step up protection of intellectual property rights. But foreign countries and firms doing business in China say they are frustrated because these promises are never carried out and that by subsidising domestic companies Beijing continues to create an uneven playing field.
Trump's latest tariffs threat came after further pressure on China from his administration last week. An update of the US Trade Representative's Section 301 investigation into China's intellectual property and technology transfer policies said Beijing had failed to alter its "unfair, unreasonable and market-distorting practices" at the heart of the trade conflict between the world's two largest economies.
But it remains unlikely that Beijing will take any concrete action on some of Washington's key demands – particularly on subsidies, support for its state-owned enterprises and its industrial upgrade plan, according to Shi, who also advises the Chinese government on foreign policy.
Liu Weidong, from the Institute of American Studies at the state-run Chinese Academy of Social Sciences, said while the US was likely to feel the impact of the trade war in the coming months, the stakes were higher for China going into the talks.
"Trump has been sending mixed messages ahead of the summit as a way to increase pressure on China," Liu said. "China will probably put more emphasis on these talks than the US, so it is likely Beijing will be prepared to make more compromises than expected."
Those compromises could include plans to address American concerns about theft of intellectual property and widening market access for foreign companies, Liu said.
But he added it was unlikely Beijing would do anything to weaken its state-run enterprises.
Analysts warn that additional US tariffs on Chinese imports could create sharp downward pressure on the yuan, destabilise emerging markets and could even trigger a financial market meltdown.
Qinwei Wang, a senior economist at Amundi Asset Management, said extra tariff pressure could leave Beijing with no choice but to let the yuan exchange rate fall further – exactly the opposite of what Trump wants.
If the two sides can negotiate a ceasefire, it could help keep the yuan from falling below the psychological barrier of 7 per dollar, but breaching that level may trigger market panic and lead to a financial system crisis, Wang said.
Additional reporting by Karen Yeung
This article appeared in the South China Morning Post print edition as: Trump increases the pressure on Xi ahead of summit