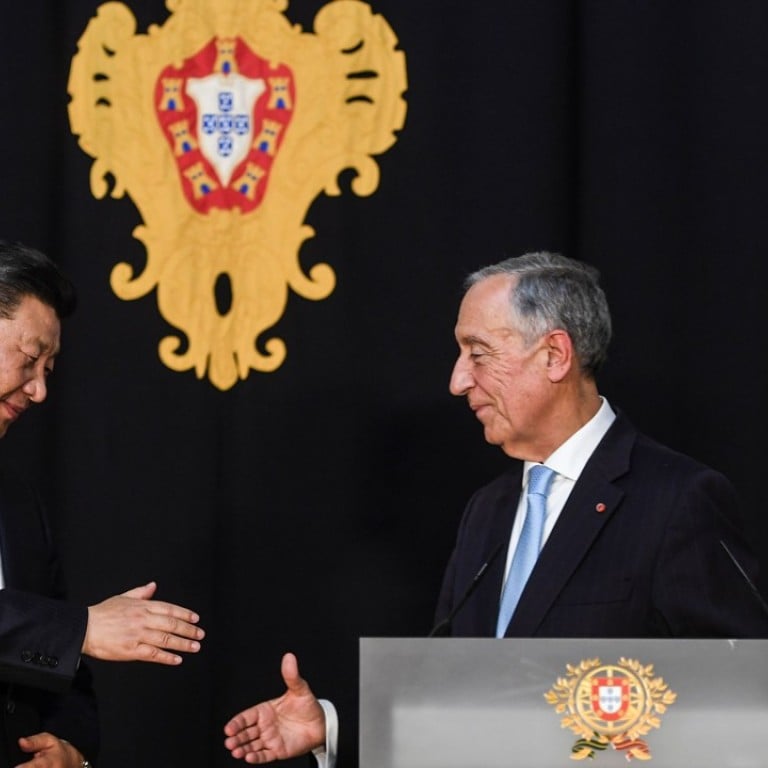 Portugal signs agreement with China on Belt and Road Initiative
President Marcelo Rebelo de Sousa set to agree to include the port of Sines in Chinese investment plans
Memorandum signed amid European scepticism about massive infrastructure strategy
Chinese President Xi Jinping pressed Portugal to formally join Beijing's "Belt and Road Initiative" during his visit to Lisbon, as the southern European nation signed a memorandum of understanding with China on the massive infrastructure plan.
The memorandum was signed on Wednesday after Xi held talks with Portugal's Prime Minister Antonio Costa.
On Tuesday, Xi told Portuguese President Marcelo Rebelo de Sousa that China wanted to deepen political and economic ties between the two nations, with Portugal having welcomed Chinese investment, and pushed it to agree to a memorandum of understanding on his transcontinental infrastructure building and financing strategy.

"We should take the signing of an intergovernment MOU on the [initiative] as an opportunity to fully enhance cooperation and connectivity under the umbrella of the [belt and road]," Xi said.
De Sousa said Portugal "supports" the initiative and would like to become a hub on land and sea for it in Europe, according to Xinhua.
The belt and road aims to boost trade and infrastructure links with Asia, Africa and Europe. China has invested hugely in ports, rail, roads, power plants and other infrastructure projects overseas. Xi has said Portugal's geographical location would offer strategic "advantages" if it joined the initiative.
In one of the agreements the two presidents were due to sign after their meeting, Portugal's southwest port of Sines was set to be included into Chinese belt and road investment plans.
"We should continue to expand and improve our existing projects, increase trade and create other areas of growth," Xi said. "We should bolster our cooperation in other markets.
"Portugal is the important junction that links the Silk Road and the maritime Silk Road," Xi said. "There are natural advantages for China and Portugal to work together on the belt and road."
Xi also did not persuade Spain to formally join the initiative during his stop in Madrid last week. Some leading European countries such as Germany have expressed their concerns about Chinese investment through the belt and road, and European Union countries last week agreed to a framework regulating foreign investment, particularly from China.
However, China has already become a major investor in Portugal, one of the least wealthy countries in western Europe, since the country's 2011 EU-IMF bailout and the privatisations that followed.
In May, China Three Gorges offered €9.1 billion (US$10.3 billion) to raise its stake in Portuguese utility EDP, which would be this year's biggest Chinese overseas acquisition if it goes through.
China State Grid also has acquired a 25 per cent stake in Portuguese energy operator REN, while Shanghai-based Fosun Group is the biggest shareholder in lender BCP with a 27 per cent stake, and controls insurer Fidelidade.
In May, Chinese Foreign Minister Wang Yi urged Portugal to "negotiate and sign the MOU as soon as possible" during his visit to Lisbon.
Xi is visiting Portugal on Tuesday and Wednesday, the final stop in a global tour including Spain, Panama and Argentina – where he also attended the G20 summit and met US President Donald Trump to agree a 90-day truce in the US-China trade war.
This article appeared in the South China Morning Post print edition as: Lisbon wavers as Xi pushes Europe on belt and road