Huawei
Get more with myNEWS
A personalised news feed of stories that matter to you
Learn more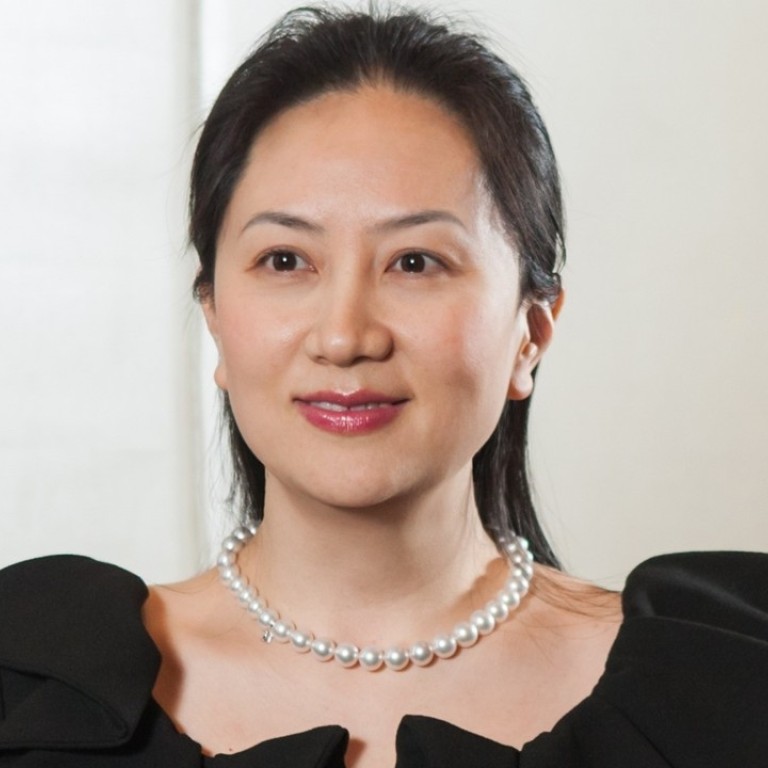 China demands clarity from US and Canada over arrest of Huawei CFO 'for violating US sanctions on Iran'
Sabrina Meng Wanzhou was arrested in Vancouver on December 1, reportedly for violating US trade sanctions against Iran
The US is seeking her extradition, and a bail hearing has been set for Friday
Beijing on Thursday demanded the US and Canada clarify why Ottawa has detained Chinese telecom equipment giant Huawei's chief financial officer Sabrina Meng Wanzhou at the request of the US government.
Chinese foreign ministry spokesman Geng Shuang said that both the US and Canadian authorities had yet to clarify their reason for arresting Meng, who is also one of Huawei's deputy chairpersons and a daughter of its founder and chief executive Ren Zhengfei.
Geng said Beijing had lodged protests with Washington and Ottawa and offered consular assistance to Meng soon after she was detained.
Her arrest in Vancouver raises more doubts about a 90-day truce on trade struck between Presidents Donald Trump and Xi Jinping on December 1, the day she was detained.
Chinese commerce ministry deflected questions that tied Huawei's crisis to the
US-China trade war
.
"I don't have information in this regard at the moment," ministry spokesman Gao Feng said.
Ottawa confirmed Meng's arrest on Wednesday.
"Wanzhou Meng was arrested in Vancouver on December 1," Ian McLeod, a Canadian Justice Department spokesman, said. "She is sought for extradition by the United States, and a bail hearing has been set for Friday.
"As there is a publication ban in effect, we cannot provide any further detail at this time. The ban was sought by Ms Meng," McLeod said.
Meng was tipped by some mainland Chinese media as a leading contender to succeed her father at the helm of the telecom giant. Meng adopted her mother's surname.
She was arrested because she attempted to evade the trade embargo placed by the US on Iran, The Globe and Mail reported, citing a Canadian source with knowledge of the arrest. No other details were available.
The Chinese government protested against the move soon after the Canadian government made the detention public.
"At the request of the US side, the Canadian side arrested a Chinese citizen [who was] not violating any American or Canadian law. The Chinese side firmly opposes and strongly protests over such kind of actions which seriously harm the human rights of the victim," China's embassy in Ottawa said.
"The Chinese side has lodged stern representations with the US and Canadian sides, urged them to immediately correct the wrongdoing and restore the personal liberty of Ms Meng Wanzhou.
"We will closely follow the development of the issue and take all measures to resolutely protect the legitimate rights and interests of Chinese citizens."
In a statement, Huawei acknowledged the detention and extradition request by the US government.
"Recently, our corporate CFO, Ms Meng Wanzhou, was provisionally detained by the Canadian authorities on behalf of the United States of America, which seeks the extradition of Ms Meng Wanzhou to face unspecified charges in the Eastern District of New York, while she was transferring flights in Canada.
"The company has been provided very little information regarding the charges and is not aware of any wrongdoing by Ms Meng. The company believes the Canadian and US legal systems will ultimately reach a just conclusion," Huawei said.
"Huawei complies with all applicable laws and regulations where it operates, including applicable export control and sanction laws and regulations of the UN, US and EU," the company said.
According to Meng's biography in the company's annual report, she joined Huawei in 1993 and held various positions in the company's finance departments. She is currently one of the board of directors' deputy chairpersons and the company's chief financial officer.
In April, The Wall Street Journal reported that Huawei was being investigated by New York prosecutors on suspicion of breaking sanctions against Iran.
The report about the US Justice Department's investigation of Huawei followed news that US prosecutors activated sanctions against another Chinese telecom equipment producer, ZTE, on charges related to its equipment sales in Iran.
ZTE was then subjected to sanctions after the US government determined that it had first attempted to trade illegally with Iran and North Korea, and then subsequently failed to follow through on remedies imposed by the US Department of Commerce.
US firms were banned from selling microchips and other components to ZTE, crippling and nearly killing the company until the ban was lifted on the orders of Donald Trump, after he was contacted by the Chinese government. As part of
a new agreement to lift the ban
, ZTE paid US$1.4 billion in penalties, reformed its management and installed US-appointed compliance officers.
US Senator Chris Van Hollen, who has co-sponsored legislation meant to keep the ban in place if further violations by ZTE are found, weighed in on Huawei soon after the announcement by Canada.
"Huawei and ZTE are two sides of the same coin – Chinese telecommunications companies that represent a fundamental risk to American national security. While the commerce department focused its attention on ZTE, this news highlights that Huawei is also violating US law," Van Hollen said.
"At a bare minimum, we must hold both companies to the same standard. More importantly, we need a comprehensive plan to hold the Chinese and their state-sponsored entities accountable for gross violations of the law and threats to our security."
David Mulroney, a former Canadian ambassador to China, said US and Canadian business executives could face reprisals in China.
"That's something we should be watching out for," he said. "It's a possibility. It's a prominent member of their society and it's a company that really embodies China's quest for global recognition as a technology power."
Mulroney said Canada should be prepared for "sustained fury" from the Chinese and said it would be portrayed in China as Canada kowtowing to Trump. He also said that the Iran allegations were very damaging to Huawei and that China would push back hard.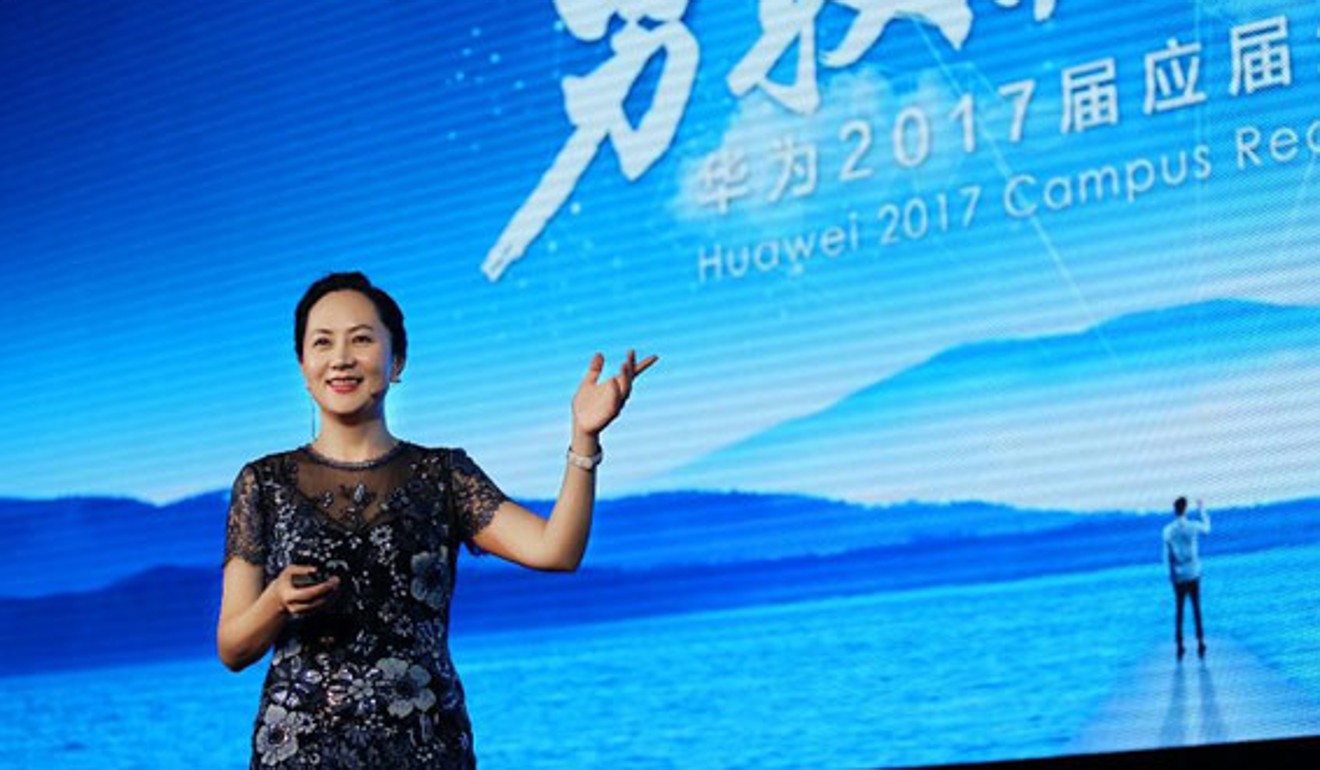 Wenran Jiang, a senior fellow at the Institute of Asian Research at the University of British Columbia, said the Chinese would interpret the arrest as a planned conspiracy to do damage.
"She was in transit though Vancouver," he said. "That means the intelligence agencies in Canada and the US were tracking her and planning to arrest her for some time."
He foresaw a crisis in relations between the three countries if Meng were extradited, and said any talk of a free-trade agreement between Canada and China would end.
Additional reporting by Catherine Wong, Amanda Lee and Associated Press
This article appeared in the South China Morning Post print edition as: BEIJING PROTESTS OVER ARREST OF HUAWEI CFOBeijing lodges protest over arrest of telecom giant's top executive in Canada