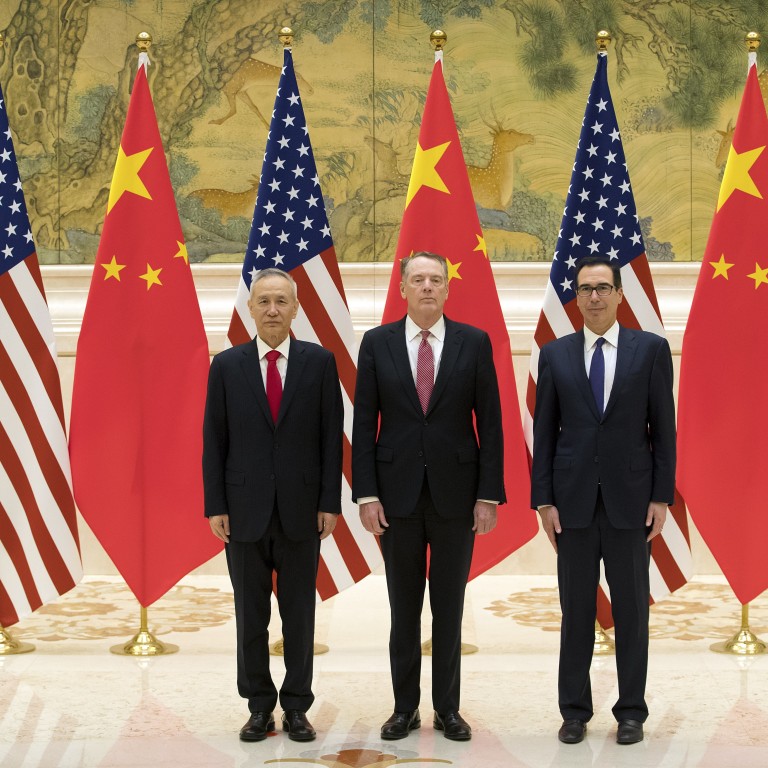 Race on in Beijing to reach China-US trade deal before time runs out on tariff truce
Top representatives from China and the US meet as deadline looms
Top trade negotiators from China and the United States have embarked on two days of talks in a test of whether Beijing can push back a looming March deadline for higher US tariffs on Chinese imports.
The talks in Beijing on Thursday were jointly chaired by Chinese Vice-Premier Liu He, US Treasury Secretary Steven Mnuchin and US Trade Representative Robert Lighthizer.
The two countries are racing to reach a deal before a 90-day truce on tariffs ends on March 1 and US duties on US$200 billion of Chinese products rise from 10 to 25 per cent.
With a full resolution unlikely before the deadline, analysts said the two sides could agree to push back the date for more negotiations.
But in the worst case, the US would go ahead with the tariff increases, a move that could raise tensions without having an immediate economic impact.
The deadline was decided in a meeting between US President Donald Trump and his Chinese counterpart Xi Jinping in December.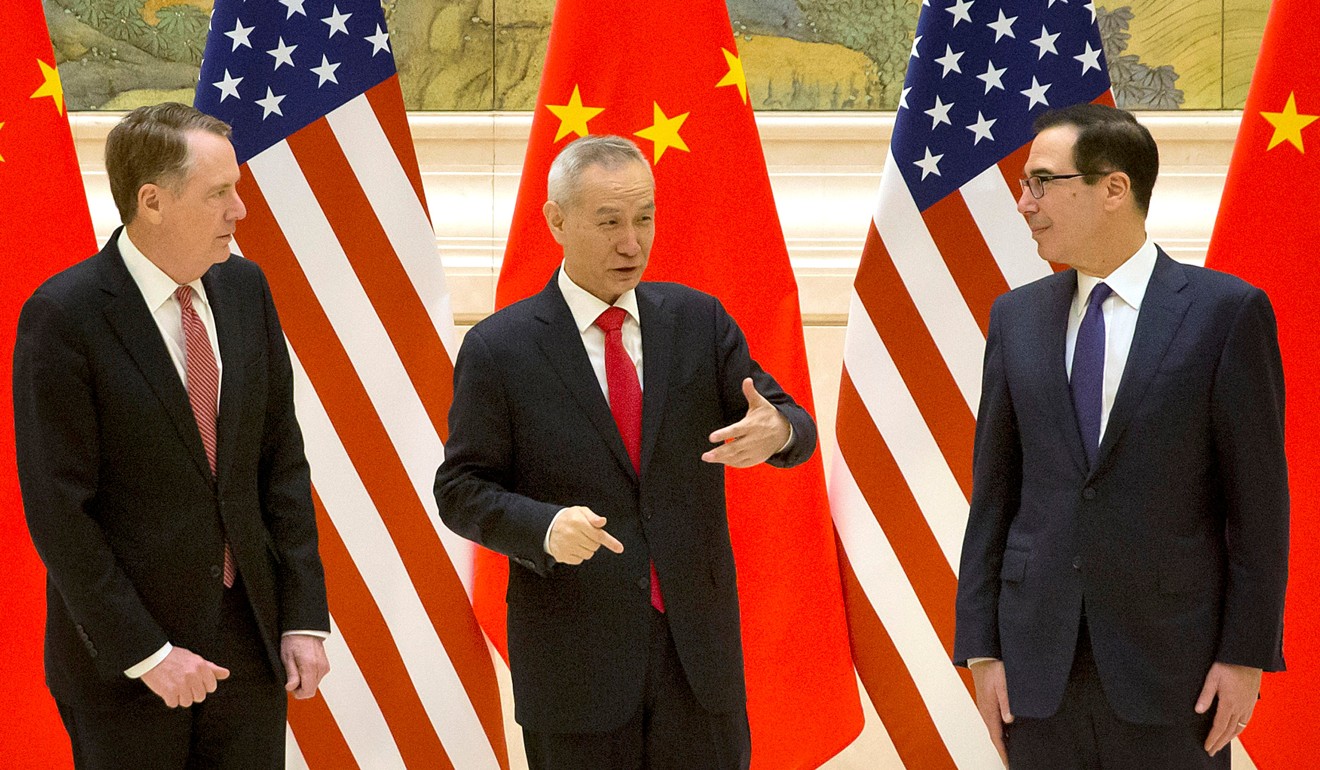 Citing unnamed sources, Bloomberg reported on Thursday that Trump was weighing whether to extend the deadline by 60 days.
Two days earlier, Trump said he would consider pushing back the deadline if both sides were close to making a deal. He said he could see himself "letting that slide for a little while", referring to the looming deadline, though he added he was not "inclined" to do so.
When asked on Thursday about the possible extension, Ministry of Commerce spokesman Gao Feng said only that talks were under way.
There were positive signs from both sides before the negotiations started in the Chinese capital.
Mnuchin said he was "looking forward to discussions today" as he left his hotel on Thursday morning.
And Chinese foreign ministry spokeswoman Hua Chunying said Beijing hoped to achieve a desirable outcome with the US.
"The best thing we could do now is to let both parties focus on the talks and to work towards a mutually beneficial and win-win outcome that is accepted by both sides," Hua said.
The talks were preceded by Liu, Mnuchin and Robert Lighthizer holding a photo session in which each of them took turns to stand in the middle.
The switching of positions was a show of respect to each other, according to a social media account affiliated with Chinese state media.
Wang Yong, a specialist of international economics at Peking University, said there was a big possibility that the two countries would have to extend their talks to address structural issues.
"As many of the structural issues will involve legislation and adjustment to China's economic system, it is very likely that the two sides may delay [the March 1 deadline]," Wang said.
Also on Thursday, the Commerce Ministry said China's foreign direct investment rose 2.8 per cent in January from a year earlier, to US$12.41 billion, including a 124.6 per cent increase from the US.
Gao said the higher numbers were the result of China's efforts to improve the business environment for foreign investment.
The South China Morning Post reported on Wednesday that Xi was expected to meet Mnuchin and Lighthizer in Beijing on Friday.
A banquet will be hosted for the US delegation in "a Chinese cuisine restaurant" in Beijing, with Liu expected to toast the US delegates.
In an editorial late on Wednesday, the Global Times said that although Washington had started the trade war, it "was now more willing to reach an agreement".
"China will never harm its fundamental interests," the editorial said. "The policy has been tested by the trade war and we have seen the change in Washington's attitude."
This article appeared in the South China Morning Post print edition as: Talks begin as tariff deadline approaches