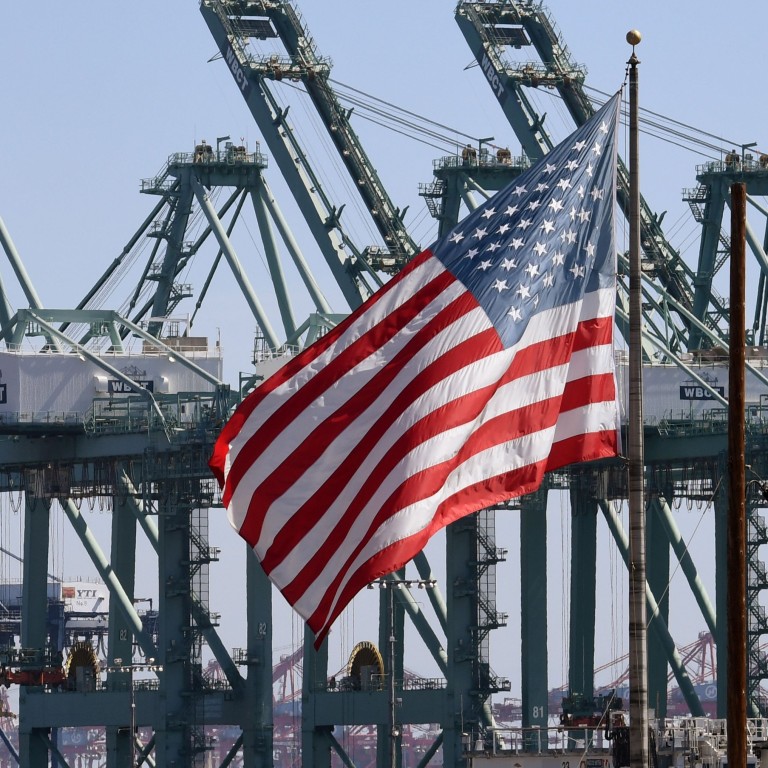 Tariff war cost US companies and consumers US$4.4 billion a month in 2018, report says
Economists find those who were exposed to the duties overseas 'paid none of the bill' – which was passed on to American importers and consumers
They say the US economy has been damaged by the dispute that has seen tariffs applied on about US$283 billion of imports
Washington's tariff war against its trading partners, particularly China, cost American companies and consumers US$4.4 billion a month last year, according to researchers.
Economists from the New York Federal Reserve and Princeton and Columbia universities assessed the impact of the duties on prices and welfare in the United States, concluding that those who were exposed to the duties overseas "paid none of the bill".
The research paper was released as the US and China, the world's two largest economies, are reportedly close to a trade agreement that could see most or all of the tariffs lifted. Chinese President Xi Jinping and his American counterpart Donald Trump are
expected to meet in Florida
in late March to seal the deal.
It also comes after US Federal Reserve chairman Jerome Powell last week warned of a slowing US economy this year and other risks, including a global slowdown, volatile financial markets and uncertainty over American trade policy.
In the paper, titled "The impact of the 2018 trade war on US prices and welfare", Mary Amiti, Stephen Redding and David Weinstein said fallout from the dispute – which has seen tariffs applied on about US$283 billion of American imports – had damaged the economy.
They said it had cost US consumers and the firms that import foreign goods an extra US$3 billion per month in added tax costs and another US$1.4 billion a month in deadweight losses – overall welfare costs to society.
The tit-for-tat exchange of duties had plunged the US into its "first episode of large-scale competitive tariff protection since the Great Depression of the 1930s", according to the paper.
Based on conventional trade models, the researchers found that "the deleterious impacts of the tariffs have been largely in line with what one might have predicted based on a simple supply and demand framework".
They said the US economy had experienced "substantial increases in the prices of intermediates and final goods, large changes to its supply chain network, reductions in availability of imported varieties, and complete pass-through of the tariffs into domestic prices of imported goods".
"The entire incidence of the tariffs fell on domestic consumers and importers up to now, with no impact so far on the prices received by foreign exporters," the economists said.
With the tariffs applied, US producers responded to reduced import competition by raising their prices, according to the paper.
Those prices were found to have gone up by an average 1 percentage point last year – nearly half the annual average rate of producer price inflation from 1990 to 2018.
Goods subject to tariffs saw prices rise 10 per cent to 30 per cent, the researchers said.
"Given that these numbers are comparable in magnitude to tariffs that were applied, it suggests that much of the tariffs were passed on to US importers and consumers," the paper said.
Giving the example of washing machines, the economists said the "US import tariffs had an almost immediate effect on prices in the US economy".
Trump announced the first wave of US tariffs in January 2018, imposing duties of 20 per cent to 50 per cent on imported washing machines and 30 per cent on solar panels.
After those duties were instituted, the cost of major appliances sharply increased after prices had fallen steadily in the previous years.
They were followed by a second wave of tariffs in March on US$18 billion of steel and aluminium imports, and a third round in June on another US$22 billion of steel and aluminium products.
But those duties were dwarfed by the tariffs Washington went on to impose on US$250 billion worth of Chinese goods, starting from July.
Over the course of 2018, the US applied duties ranging from 10 to 50 per cent on some US$283 billion of imports. In response, US trading partners – especially China – have retaliated with tariffs averaging 16 per cent on about US$121 billion of American exports.
The economists said they had also seen evidence of the large impact of US and retaliatory tariffs on global supply chains.