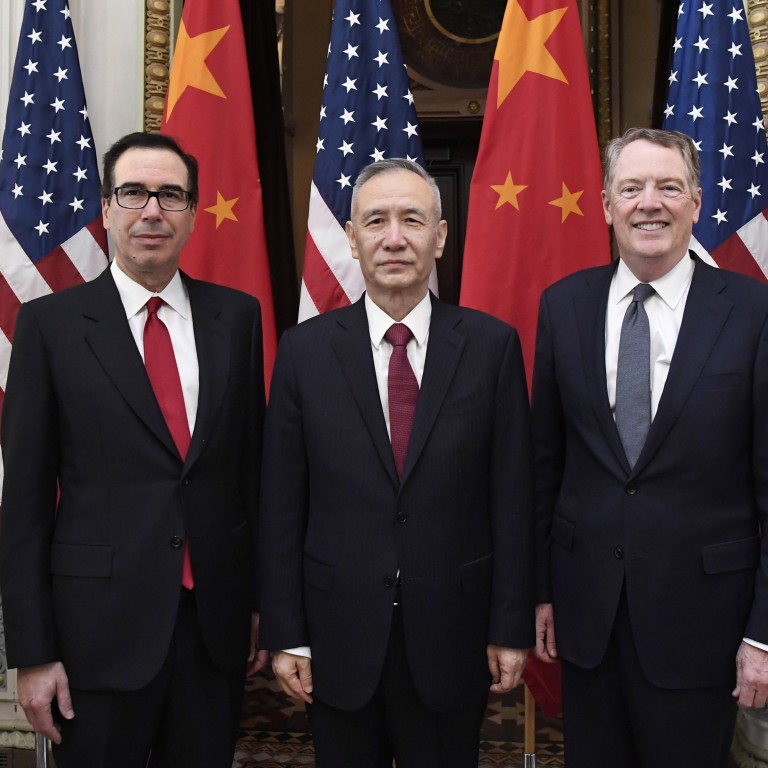 Chinese Vice-Premier Liu He discusses trade deal text with US' Robert Lighthizer and Steven Mnuchin
Xinhua reports phone call with US counterparts on Tuesday morning in which the two sides 'make plan for next stage of work'
Conversation comes after uncertainty over presidents' summit and Donald Trump hinting he could walk away from a deal
Chinese Vice-Premier Liu He discussed a trade agreement text with his US counterparts on Tuesday, seeking to end their prolonged trade war amid uncertainties over the negotiations.
State news agency Xinhua reported that Liu had a telephone conversation with US Trade Representative Robert Lighthizer and US Treasury Secretary Steven Mnuchin at 7am on Tuesday.
"Both sides had consultations on key issues regarding the text, and made a plan for the next stage of work arrangements," the report said, without giving further details.
Liu was not seen at the Great Hall of the People in Beijing on Tuesday, where Zhou Qiang, the chief of the Supreme People's Court, delivered his annual work report.
The phone conversation was held at a time of uncertainty over negotiations between China and the United States.
Chinese President Xi Jinping and his US counterpart Donald Trump had been expected to meet in late March to finalise details of a
trade deal
. But Terry Branstad, the US ambassador to China, said last week the two sides were still discussing a date for what would be the presidents' second summit to be held at the Trump-owned Mar-a-Lago resort in Florida, after their first in 2017.
]]>
Trump's spokeswoman Sarah Sanders on Tuesday said it was too early to announce a meeting with Xi.
"In terms of whether or not we have a date set, not yet," she said at the White House. "We're continuing negotiations with China. When we have an announcement for the two leaders to sit down, we'll let you know."
The press secretary also said she was unaware of any plan for Xi and Trump to speak by phone, and that Trump would not agree to anything short of a deal that benefited the US.
Contentious issues include the enforcement mechanism for a deal, and reform of China's state-owned enterprises – state subsidies and Communist Party leadership of the companies have been a key part of the frictions. Chinese officials have said enforcement must be "two-way, fair and equal".
Ker Gibbs, president of AmCham Shanghai, said the two leaders were highly motivated to sign a deal.
"The question is, what kind of a deal? Will we get the big structural reforms that we need, or will this just be a down payment on a future deal?" he said.
"American businesses are looking for more access to the market and a truly level playing field. A deal should also include an enforcement mechanism to ensure that China meets its obligations. It's hard to say if China is ready for that. Still, an agreement that accompanies a lowering of the tariffs – and tensions – would be helpful."
Wu Xinbo, director of the Centre for American Studies at Fudan University, said the phone conversation could mean the two sides were in the final stages of negotiations.
"The fact that China took the initiative to announce this progress shows that the two sides are likely to be very close to reaching a deal," Wu said. "The next step could be a Xi-Trump summit."
But he said Beijing and Washington still needed to resolve their differences over an enforcement mechanism, and the Chinese side would push for the Trump administration to lift all US tariffs on Chinese goods.
Tao Wenzhao, a researcher with the Institute of American Studies at the Chinese Academy of Social Sciences, agreed that the two sides could be nearing an agreement.
"The Chinese side tends to favour an approach in which all issues are resolved before a leaders' summit is held," Tao said. "So I believe it won't be long [before Xi and Trump meet]."
Beijing has been emphasising mutual goodwill and the desire to find common ground. One such gesture came in Washington last month, when trade talks were intense enough that Liu and Lighthizer had to dine in on takeaway, according to Chinese commerce vice-minister Wang Shouwen.
Lighthizer ordered fried chicken with eggplant, while Liu had a hamburger, Wang said.
This article appeared in the South China Morning Post print edition as: b oth sides edge a step cl oser to sealing deal