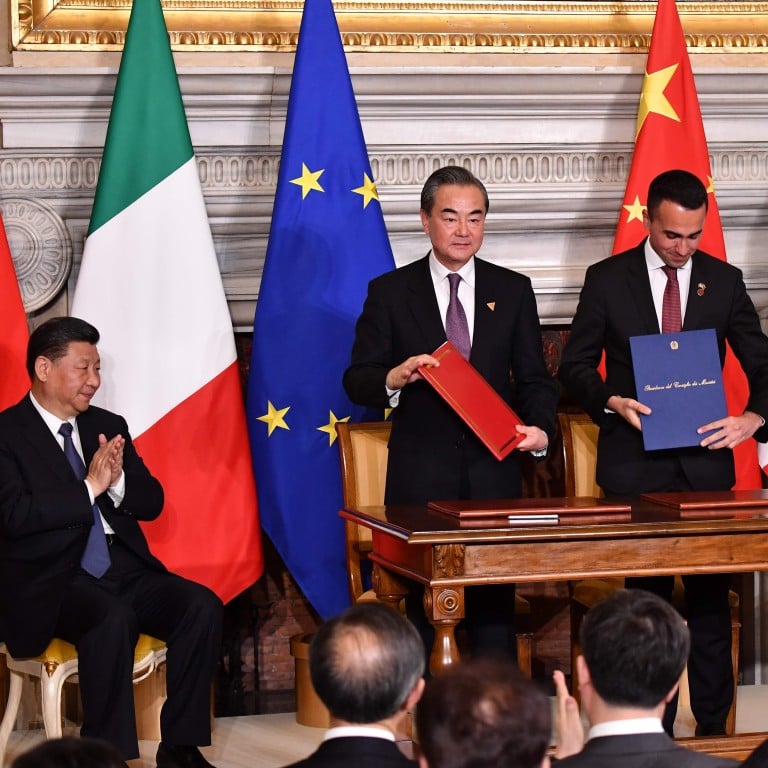 Italy becomes first Western European nation to sign up for China's belt and road plan
Italian Prime Minister Giuseppe Conte and Chinese President Xi Jinping witness signing of memorandum of understanding in Rome
Among other pacts are management deals for the ports of Trieste and Genoa
Italy has signed up for China's multibillion-dollar "Belt and Road Initiative", becoming the first Western European nation to jump on board despite scepticism from its EU counterparts and Washington.
Italian Prime Minister Giuseppe Conte and Chinese President Xi Jinping witnessed the signing of a memorandum of understanding on Beijing's trade and infrastructure scheme on Saturday in Rome.
Among the 29 other agreements signed were two port management deals between China Communications Construction and the ports of Trieste, situated in the northern Adriatic Sea, and Genoa, Italy's biggest seaport.
While Genoa is a long-established port, Trieste has the most potential for China, Italian government sources earlier told the South China Morning Post.
The port is strategically important for China because it offers a link from the Mediterranean to landlocked countries such as Austria, Hungary, the Czech Republic, Slovakia and Serbia, all of which are markets Beijing hopes to reach through its belt and road programme.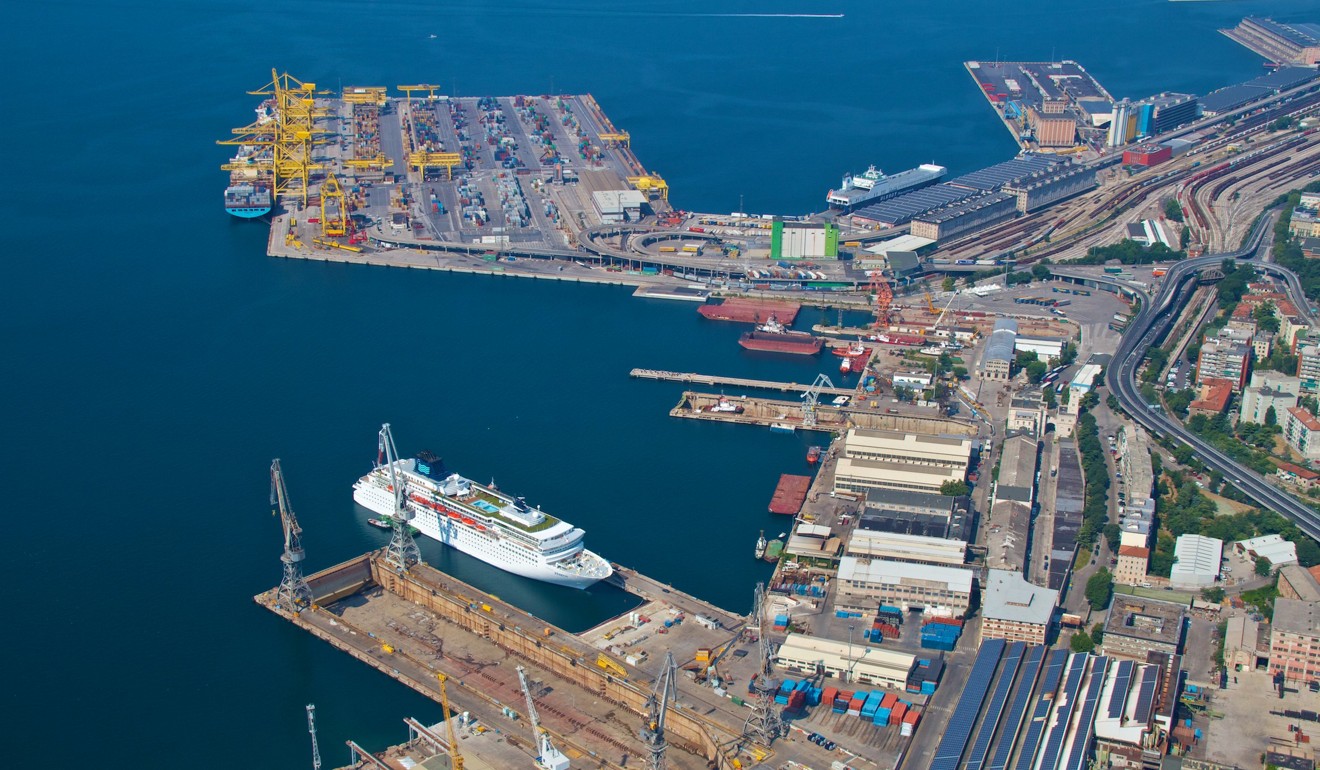 Other deals signed cover areas including satellites, e-commerce, agriculture, beef and pork imports, media, culture, banking, natural gas and steel. The two countries also agreed to boost cooperation on innovation and science, increase bilateral trade and set up a finance ministers' dialogue mechanism.
Although full details of the contracts were not given, a government source told Reuters the deals could be worth up to €20 billion (US$22.64 billion). The value was estimated at around €5 billion by Italian media.
In a joint communique released through Chinese state broadcaster CCTV after the signing ceremony, China and Italy said they were willing to "deepen cooperation on ports, logistics and maritime cooperation" and "work under the foundation of the AIIB", the Beijing-led Asian Infrastructure Investment Bank.
"Both sides welcome the signing of the [Belt and Road Initiative] MOU … [after] realising the great potential the BRI has in advancing interconnections," the statement said.
Italy is now the first Group of Seven nation – and the first founding European Union member – to sign up to the trade initiative that the US and EU have characterised as a "debt trap" or neocolonial project.
While no details were given as to how the ports would be managed, European nations have been critical of Chinese investments in the region amid concerns they could be used for naval deployments. Chinese warships have paid visits to Piraeus port, Greece's largest seaport that is majority-owned by China's Cosco Shipping.
French President Emmanuel Macron, who will meet Xi in Paris next week, said on Friday after an EU summit in Brussels that letting Chinese companies buy up European infrastructure such as ports had been a "strategic error".
Washington had meanwhile warned Rome against joining the belt and road scheme, calling it a Chinese "vanity project", after the plan was revealed in early March.
But the Italian government, grappling with the country's third recession in a decade, was keen to boost trade and try to revive the economy through the deal with China.
Facing pressure from Washington and the EU, which has called China a "systemic competitor", Italy had, however, watered down the memorandum of understanding with China, removing references to data sharing, 5G telecoms networks and strategic infrastructure, Politico reported. Washington has pressed its allies to ban Chinese tech giant Huawei Technologies from developing their 5G networks.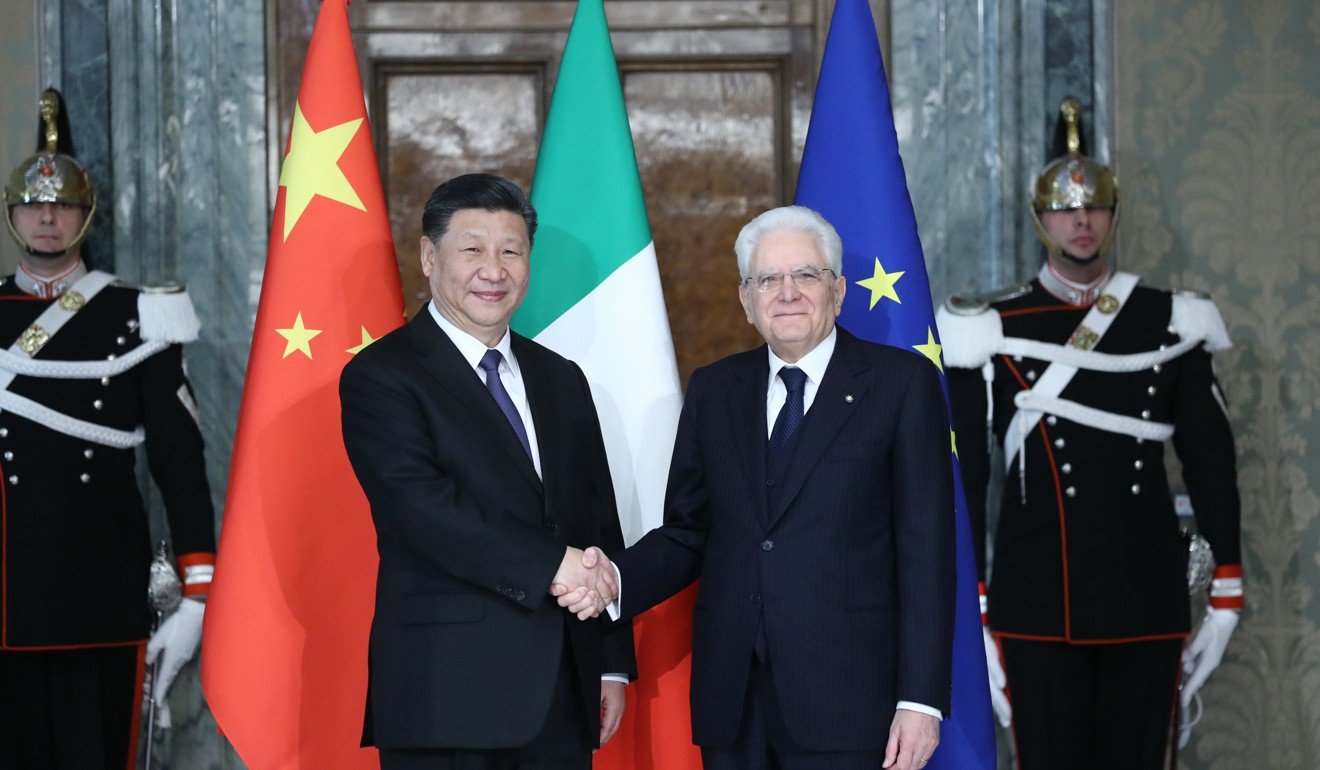 After Xi met Italian President Sergio Mattarella on Friday, Mattarella tried to address concerns that China would be the only winner from Italy's involvement in the programme.
"The New Silk Road must be a two-way street to share not only goods but also talent, ideas, knowledge, forward-looking solutions to common problems and projects for the future," Mattarella said.
Xi is on a six-day trip to Europe – including stops in Monaco and France – as he tries to ease concerns about Chinese investment in the region. He will meet Macron in Paris on Tuesday, and in a
surprise move
Macron asked German Chancellor Angela Merkel and European Commission President Jean-Claude Juncker to join the meeting, apparently to step up pressure on China.
The EU has been reviewing its China policy and last week proposed "10 actions" to its member states, including requiring reciprocity in market access and investment, and raising awareness of national security risks "posed by foreign investment in critical assets, technologies and infrastructure".
"China today for us is a competitor, a partner, a rival," Juncker said on Friday, after a summit with EU leaders in Brussels. "We can't construct something stable on the basis of persistent imbalances."
Additional reporting by Liu Zhen
This article appeared in the South China Morning Post print edition as: Italy signs up to belt and road scheme