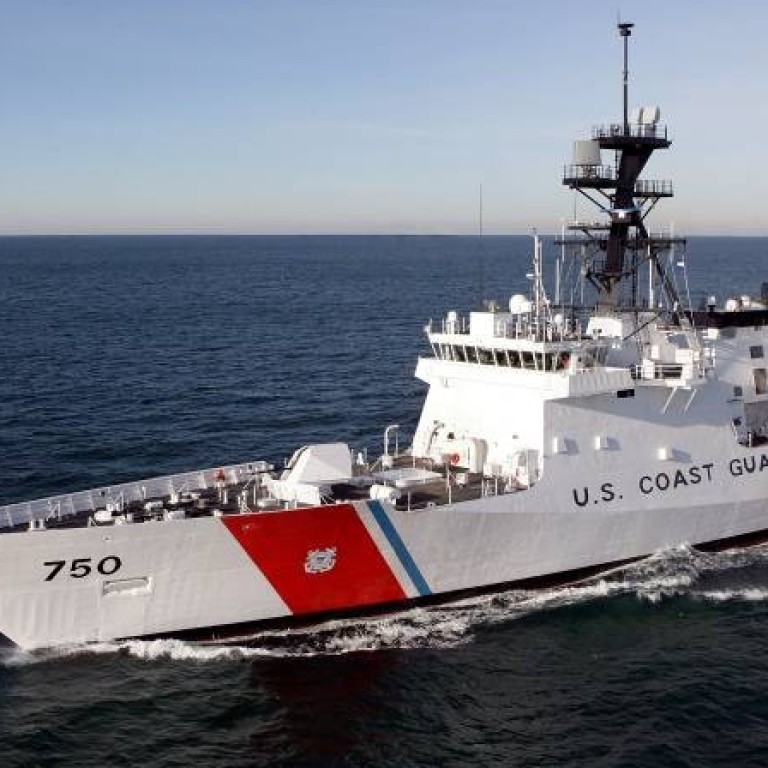 US coastguard cutter takes part in 'freedom of navigation' in Taiwan Strait for the first time
Vessel was in region as part of UN sanctions enforcement operation against North Korea, analyst says
The United States sent a guided-missile destroyer and a coastguard vessel through the Taiwan Strait at the weekend, the US Seventh Fleet said.
It was the first such voyage involving a coastguard ship.
"USS Curtis Wilbur and the coastguard cutter USCGC Bertholf conducted a routine Taiwan Strait transit [on] March 24-25 in accordance with international law," US Seventh Fleet spokesman Lieutenant Joseph Keiley said on Monday.
"The ships' transit through the Taiwan Strait demonstrates the US' commitment to a free and open Indo-Pacific. The US will continue to fly, sail and operate anywhere international law allows."
On Monday, the Chinese foreign ministry said it was monitoring the warships and had "lodged a representation to the US".
"China has closely monitored and been fully aware of American warships sailing through the Taiwan Strait," ministry spokesman Geng Shuang said.
"We urge the US to abide by the one-China principle and ... handle Taiwan-related issues in a prudent and proper manner, so as not to harm China-US relations as well as peace and stability across the Taiwan Strait," Geng said.
In the past year, the US has increased the frequency of what it called "freedom of navigation operations" in the Pacific Ocean and the congested waterways in the South China Sea by sending warships including aircraft carriers and destroyers to sail in the region. Despite warnings by Beijing, Washington has also sent warships to sail through the Taiwan Strait – the latest voyage was the third such operation this year.
Song Zhongping, a Hong Kong-based military analyst and a former instructor with the PLA's Second Artillery Corps, warned of Washington's provocation in the Taiwan Strait involving a coastguard vessel.
"US ships, particularly paramilitary vessels, sailing through the Taiwan Strait is an action of provocation," Song said. "The coastguard is responsible for the defence of US' coast, not another country's coast."
According to Song, Bertholf was sent to take part in a joint exercise with the South Korean coastguard in a mission to help enforce sanctions against North Korea by the United Nations.
The cutter's home port is Alameda, on San Francisco Bay. South Korea's Yonhap news agency reported that the Bertholf was scheduled to arrive at a military-civilian port on Jeju Island on Monday.