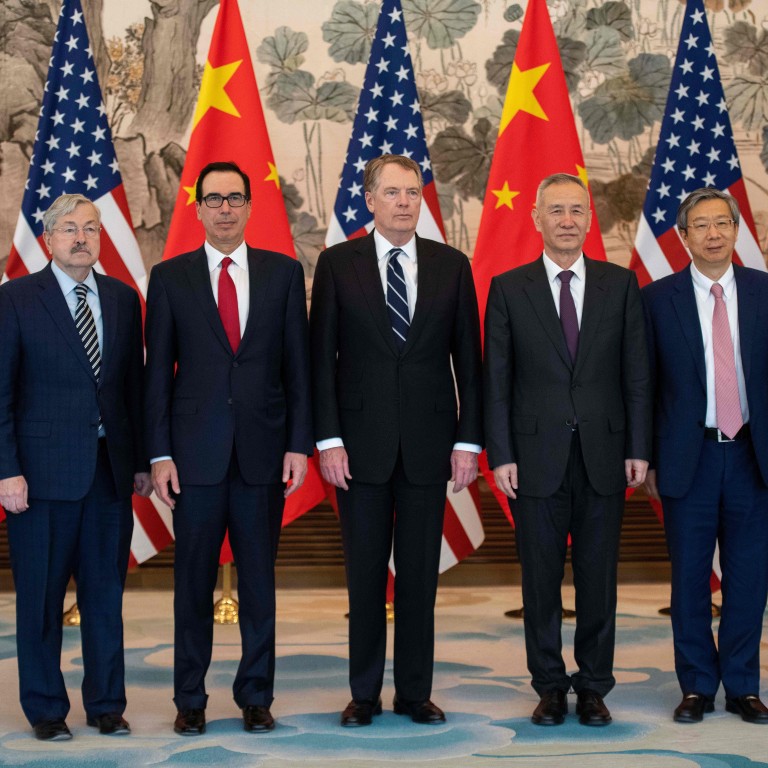 US and China wrap up 'constructive' trade talks with pledge to meet again next week
US Treasury Secretary Steven Mnuchin says he looks forward to continuing discussions in Washington next Thursday
Both sides hail progress, but Beijing's official mouthpiece warns China won't strike a deal for the sake of it
The US and China wrapped up a full day of "constructive" talks in Beijing on Friday, according to one of the most senior US negotiators, and will resume their discussions in Washington next week.
US Treasury Secretary Steven Mnuchin posted a message on Twitter in which he said he looked forward to welcoming China's chief negotiator, Vice-Premier Liu He, to America next week.
The message also included a photo of the two sides standing in front of their national flags and said the two sides had concluded "constructive talks in Beijing".
The White House later released a statement saying both sides "continued to make progress during candid and constructive discussions on the negotiations and important next steps", while China's official Xinhua news agency reported that the two sides "held discussions on the text of the agreement and achieved new progress".
Even though Donald Trump has said the two sides are close to a deal, there are still reported to be differences over an enforcement mechanism to address American complaints about unfair trade practices and technology theft.
People's Daily, Beijing's official mouthpiece, published two commentaries on the topic earlier on Friday, both warning China would not blink first and race to strike a deal for the sake of it.
"At this stage of the talks, we must have a 'bottom line mindset', and be prepared to not be able to reach a deal. It's good if we have agreement, but there is no need to force one," one commentary said.
The other said: "We believe the Chinese government would sign a deal that can be held up to the scrutiny of the people, and will not settle for one that will jeopardise our long-term security and interests."
On Thursday, Chinese Commerce Ministry spokesman Gao Feng said that there was still a "large amount of work" to be done.
White House economic adviser Larry Kudlow said ahead of the talks on Thursday that the talks were not "time-dependent" and could last weeks, or even months, if necessary.
"We have to see what the track record is and we're not going to give up our leverage," Kudlow told Bloomberg, adding that "some of the tariffs will be kept".
Zhang Zhexin, a US affairs specialist at the Shanghai Institute for International Studies, said that although the talks in Beijing lasted less than two full days, there would have been enough time to cover all the main issues.
He said this indicated both teams had been given the maximum possible leverage in the negotiations and, while deep differences remained, it appeared they were committed to reaching an agreement.
"[Liu's upcoming visit will] just be an inch-by-inch tug of war, depending on how much leaders from both sides can convince their domestic constituents and the main stakeholders," Zhang said.
"Both sides have entered a make-or-break stage of the negotiations," Yuan Zheng, an expert on China-US affairs at the Chinese Academy of Social Sciences, said.
"It is still more likely that a deal can be reached, but both sides are facing a lot of pressure," Yuan continued, adding that he believed the best case scenario would see Trump inviting his Chinese counterpart Xi Jinping for a state visit to the US.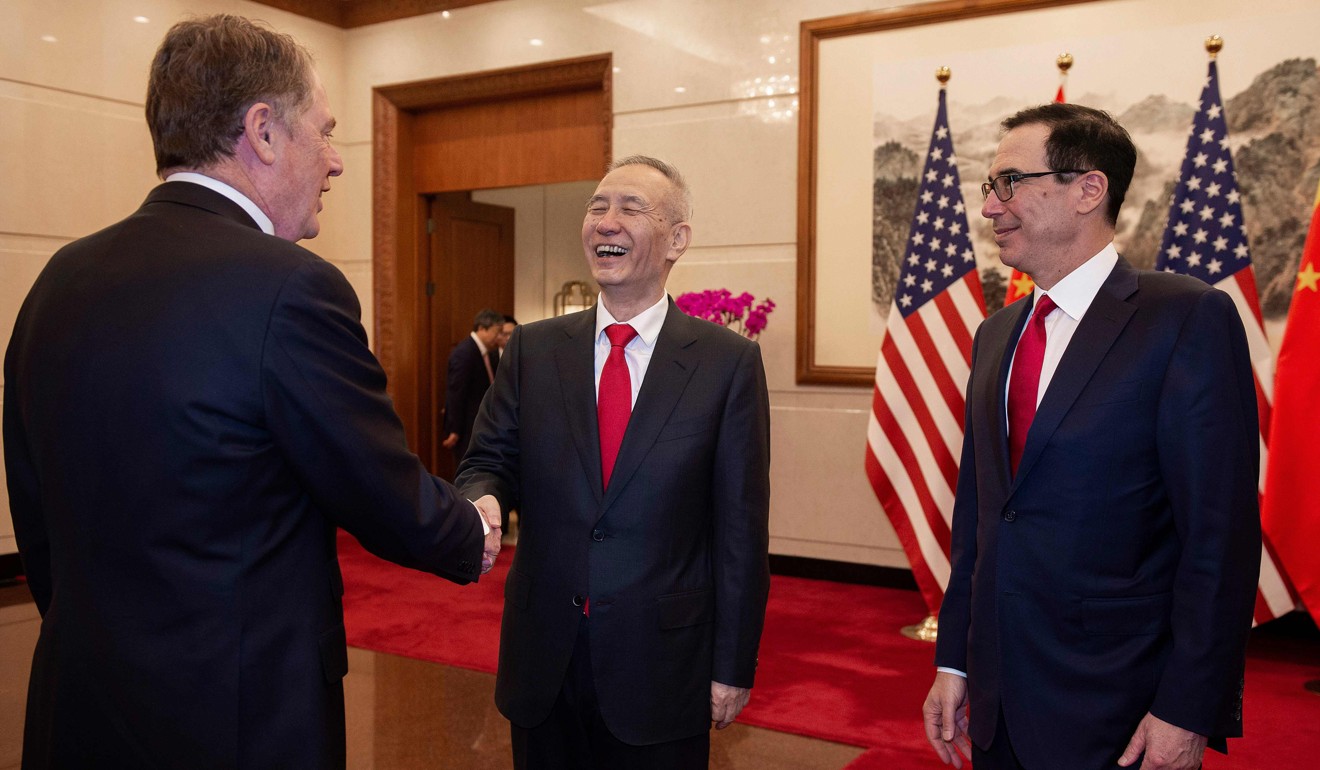 The two sides agreed a truce in the trade war after Trump and Xi's last meeting in early December.
But although Washington has since agreed to put back a March deadline for raising tariffs on US$200 billion worth of Chinese goods, Trump suggested last week that some tariffs should stay in place even after a deal is struck to ensure China us keeping its end of the bargain.
Beijing has already taken a number of measures to address American concerns, including passing a foreign investment law earlier this month and agreeing to buy more US agricultural products.
A trade deal, if reached, is expected to significantly increase China's imports of American goods, which would help lower the trade deficit, which reached a record level of US$419.2 billion last year.
Zhou Xiaochuan, a former governor of the People's Bank of China, said recent signals from the ongoing talks have become "more and more positive".
But he told reporters at the Boao Forum in Hainan on Friday: "If trade negotiations cannot reach a good result, it will create lots of problem for Chinese economy, for US economy, and for the global economy."
Another speaker at the forum, Zheng Yongnian, director of the East Asian Institute of National University of Singapore, said that the trade war was one of only three conflicts taking place between the two countries. The others were the "technology war" led by the US Congress and a traditional "cold war" led by the security industry and military.
He continued: "The trade war, that is the war of Donald Trump, is the easier one … With or without Trump, the latter two battles will go ahead anyway."
Additional reporting by Sarah Zheng and Liu Zhen
This article appeared in the South China Morning Post print edition as: 'Constructive' trade talks to resume in Washington