Taiwan
Get more with myNEWS
A personalised news feed of stories that matter to you
Learn more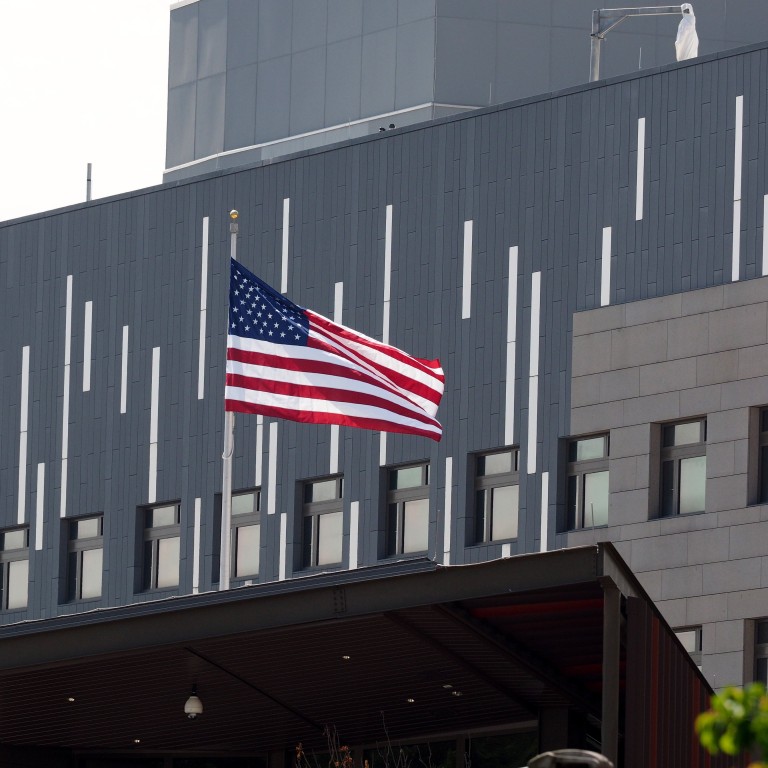 US prepares to open new de facto embassy in Taipei amid 'policy shift' on Taiwan
Nearly 500 staff – including military personnel – will move to the US$255 million American Institute in Taiwan complex on May 6
Analysts say AIT has become 'a lot more high-profile' since Donald Trump became president, as calls grow for Washington to elevate ties with the island
The United States will move its de facto embassy in Taiwan to a new site next month, amid what analysts see as a shift in US policy on the self-ruled island since Washington switched diplomatic recognition from Taipei to Beijing 40 years ago.
Nearly 500 staff – including active US military personnel – will relocate to the brand new US$255 million hillside complex in the Neihu district of Taipei on May 6.
They will leave behind the old premises on the former site of the US Military Assistance Advisory Group that was set up to defend Taiwan against any military action from Beijing before 1979.
The new American Institute in Taiwan (AIT), which took more than nine years to build, will occupy a five-floor office and other buildings that take up about one-third of the 6.5-hectare (16-acre) site.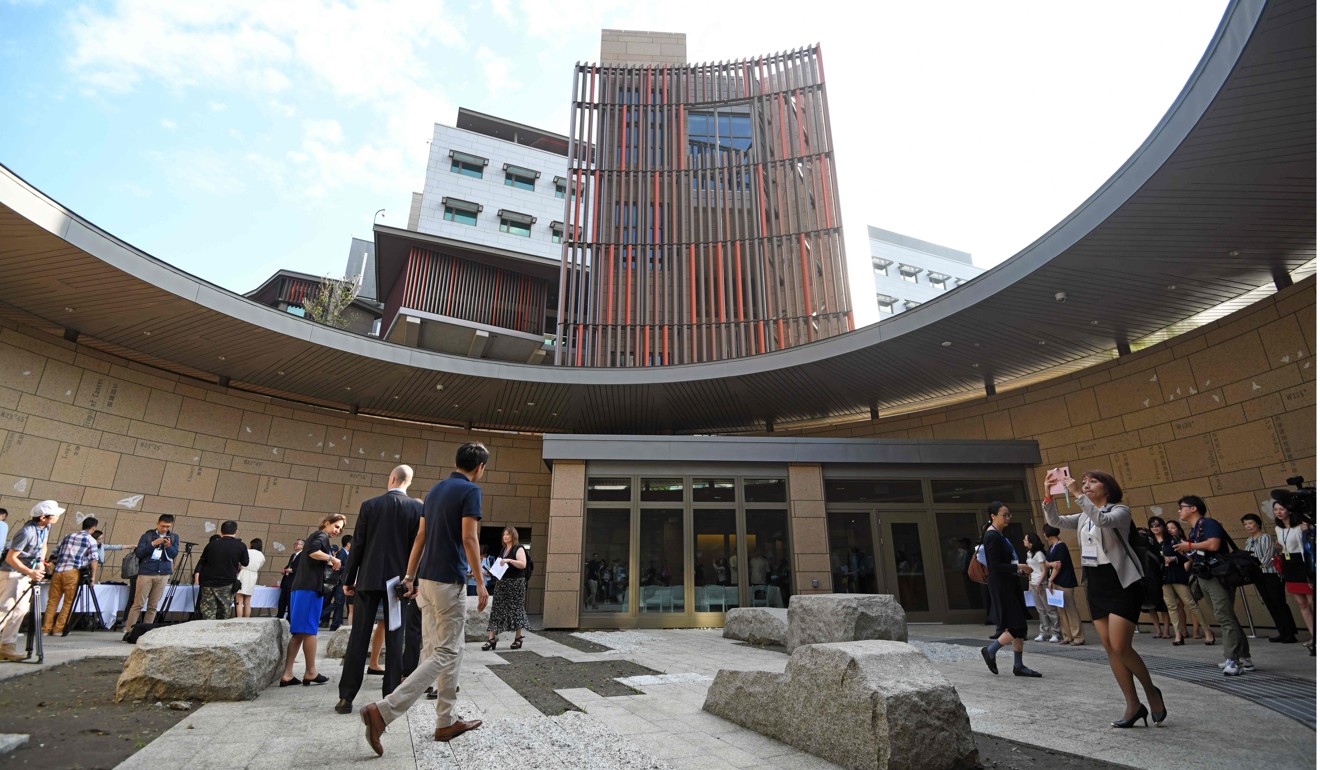 The first consular facility to be entirely planned and built by a foreign representative office in Taiwan, it was described as a "symbol of the strength and vibrancy of US-Taiwan partnership in the 21st century" by Marie Royce, US assistant secretary of state for educational and cultural affairs, during a dedication ceremony in June.
Analysts say it also represents a shift in US policy on Taiwan affairs amid growing diplomatic challenges and military threats from mainland China, and with more calls from US Congress for the administration of US President Donald Trump to elevate ties with the island.
Wang Kung-yi, a political-science professor at Chinese Culture University in Taipei, said there had been a change in approach by the AIT.
"The US representative office in Taiwan has become a lot more high-profile since Trump became president in 2016, compared to the previous period when it did all it could to stay as low-key as possible," Wang said.
Washington has been cautious about Taipei since it established formal ties with Beijing in 1979. Beijing sees Taiwan as a wayward province to be taken back by force if necessary. It has repeatedly warned Washington to stop any official contact and cut off all military ties with Taiwan – the US is the democratically ruled island's major arms supplier and it is bound by law to help defend it. As a result, the AIT has stayed as low-key as possible to avoid disputes between Washington and Beijing.
But since Brent Christensen became the de facto ambassador last year, he has been far more active than his predecessors. That has included frequent words of support for Taiwan – and rebukes of the mainland – on the AIT's official social media accounts over Beijing's diplomatic squeeze and military intimidation of the island.
The AIT has also held a series of activities – including on investment, science and security cooperation – to mark the 40th anniversary of the Taiwan Relations Act, which has defined ties with the island since it took effect on April 10, 1979.
Last month, Christensen became the first AIT director to hold a joint news conference at Taiwan's foreign ministry to announce the launch of a new dialogue mechanism, something his predecessors had not done to avoid annoying Beijing. The new mechanism – Indo-Pacific Democratic Governance Consultations – aims to explore ways to increase exchanges between the US and Taiwan and to pursue joint projects to help regional partners.
Meanwhile, the AIT confirmed on Wednesday for the first time that active US military personnel had been stationed at its Taipei office since 2005, saying that would continue after the move.
"Since 2005, US government personnel detailed to AIT have included active duty military, including service members from the army, navy, air force and marines," spokeswoman Amanda Mansour told reporters as the AIT announced its relocation date.
Although it was an open secret in Taipei, the de facto embassy had never previously confirmed the military presence, saying only that a "small number of US personnel coordinating with Taiwanese security staff" were posted at the office for internal security.
The announcement prompted ruling Democratic Progressive Party lawmaker Wang Ting-yu, chair of the legislature's foreign affairs and defence committee, to suggest the US was "gradually normalising" its interactions with Taiwan, which he said was in line with US Secretary of State Mike Pompeo's comments last week.
In a US House of Representatives hearing on March 27, Pompeo said the Trump administration had "taken a much fuller view than previous administrations" about the risk China presented to American wealth and democracy and about efforts to help Taiwan maintain its diplomatic allies. He also vowed to take more action on the Taiwan Travel Act passed by Congress early last year – which permits high-level visits to Taiwan and vice versa – to elevate relations between Washington and Taipei.
Pompeo made the comments after US congressman Steve Chabot on March 21 urged the Trump administration to challenge the one-China principle and uphold the Taiwan Relations Act. On Monday, members of the House of Representatives also introduced a resolution to reaffirm the US' commitment to the act.
Freddy Lim, a lawmaker with the pro-independence New Power Party in Taiwan, said all the signs were pointing towards a gradual normalisation of ties with the US.
But analysts said while US-Taiwan ties had been elevated in a way not seen since 1979, it should not be viewed as an attempt by the Trump administration to normalise bilateral relations.
"The shift has more to do with Trump's Indo-Pacific strategy, which is a departure from past American policies in the region," said Yen Chen-shen, a research fellow with the Institute of International Relations at National Chengchi University in Taipei.
"It is driven by competition with China, and it is a US tool to counter Beijing's economic and military expansion in the region – so there's a need for the Trump administration to further strengthen ties with Taiwan," Yen said.
Alexander Huang, a professor of international relations and strategic studies at Tamkang University in Taipei, said the US was seeking to strengthen ties with the island as the "balance across the Taiwan Strait tilts heavily towards Beijing".
He said Trump also needed to do something – including signing into law the travel act and the National Defence Authorisation Act on arms sales and military exchanges – to satisfy growing calls from Congress to elevate ties with Taiwan.
But analysts also said Taipei should be wary of any shift in policy.
"Taiwan remains a pawn for the US to compete with China, and in dealing with the increasingly complex US-Taiwan-China relations, the Tsai Ing-wen administration could risk losing everything if it overuses the US card," said Wang from Chinese Culture University.
Tsai, of the independence-leaning DPP, has taken a hardline stance on Beijing since mainland President Xi Jinping in January called for cross-strait unification under the "one country, two systems" model used in Hong Kong and Macau. Cross-strait ties have deteriorated since Tsai became president in 2016 and refused to accept the one-China principle.
This article appeared in the South China Morning Post print edition as: De facto American embassy in Taipei moving to new site