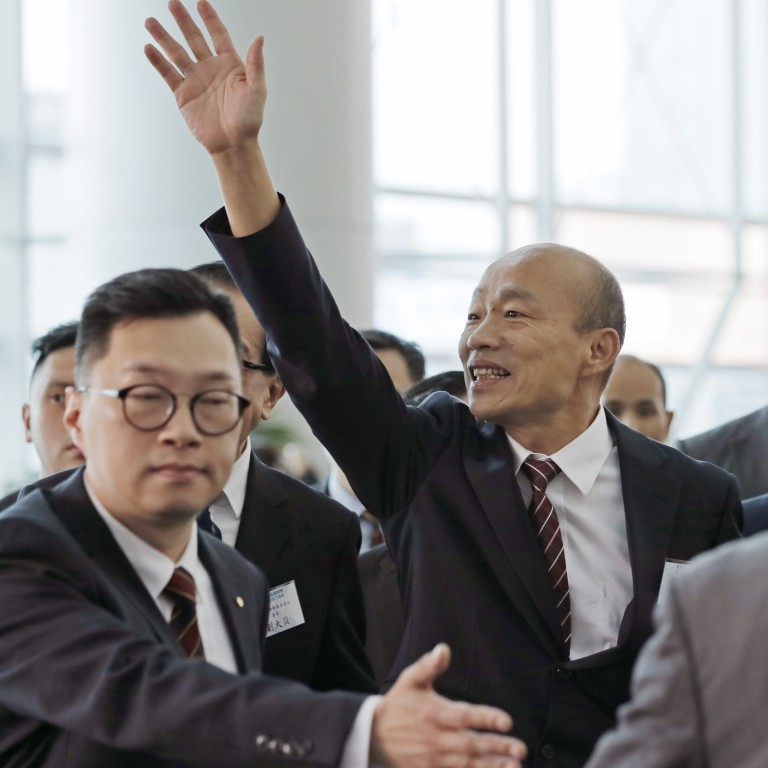 Taiwanese mayor Han Kuo-yu heads to US as he seeks to boost profile
Beijing-friendly politician has drawn attention in the United States after his landslide win in Kaohsiung's November election
His trip comes ahead of Taiwan's 2020 presidential race, though he has yet to say whether he will run for the top job
Taiwan's popular mayor Han Kuo-yu will begin a nine-day visit to the United States on Tuesday as he seeks to raise his profile ahead of the island's presidential elections next year.
Mainland-friendly Han has drawn attention after his landslide win in the November mayoral race in Kaohsiung, a city long regarded as a pro-independence stronghold.
Five Harvard University professors visited the southern city in January, inviting Han to speak in the US on the impact of the November 19 local elections on democratic politics on the self-ruled island, according to the Kaohsiung city government.
Soon after, Brent Christensen, the de facto US ambassador to Taiwan, visited Han to discuss his priorities for the next four years, it said.
Han, 61, from the opposition Kuomintang, became a household name in Taiwan after he easily defeated his opponent from the independence-leaning Democractic Progressive Party. His popularity even gave other KMT candidates a boost at the polls, resulting in the party taking 15 of the 22 local government seats for the first time in many years.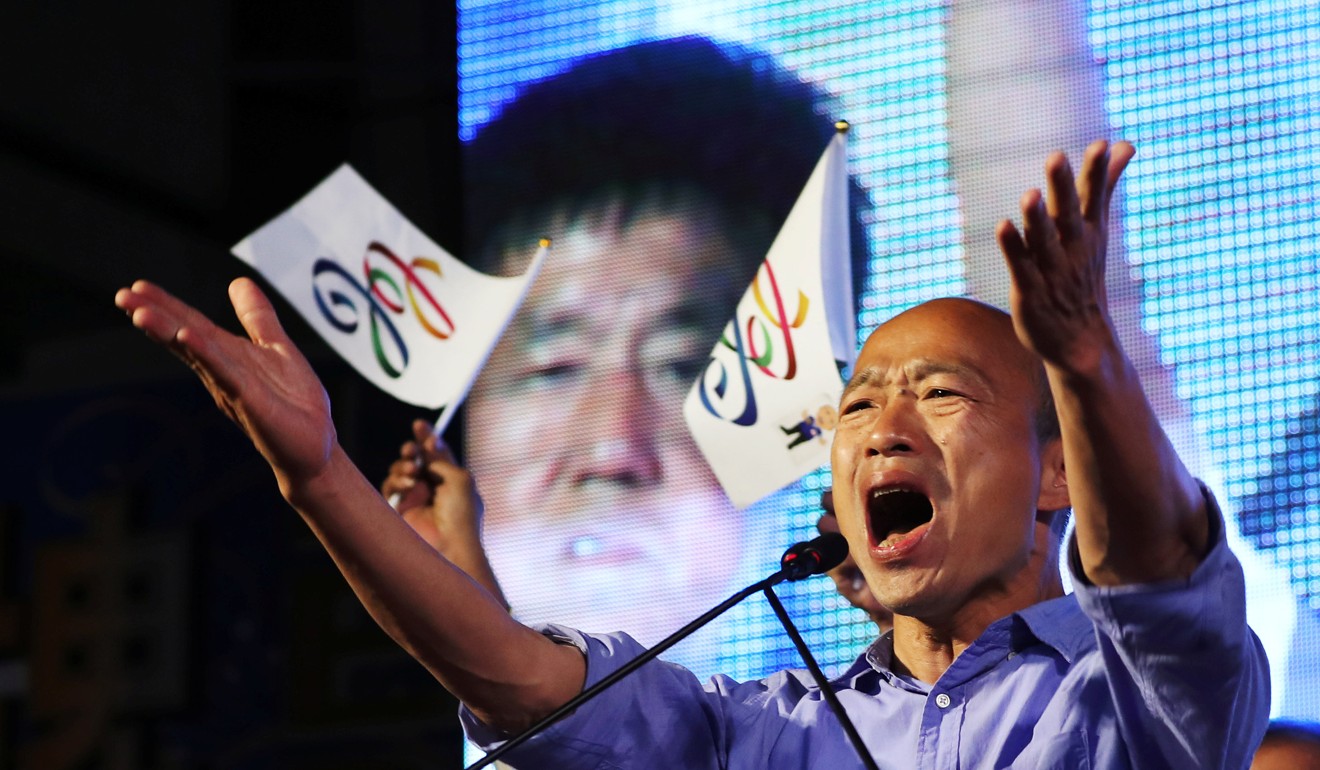 The Harvard invitation and visit from Christensen reflected a growing US interest in Han, who has gone from being relatively unknown to the KMT's biggest hope for the 2020 presidential race, according to observers.
Han has yet to say whether he will run for the top job, but opinion polls have put him ahead of other major candidates, including President Tsai Ing-wen, who is seeking a second term.
Soon after Harvard's Fairbank Centre for Chinese Studies issued an official invitation for Han to give a speech at the university, Stanford University also asked him to share his vision for Kaohsiung and experiences as mayor, the city government said.
"The mayor's itinerary will cover Boston, Los Angeles and the Silicon Valley, where he will seek to encourage US investment in Kaohsiung," the government said in a statement.
Han will also visit hi-tech industry players and learn more about venture capital investment and new economic trends "in the hope of raising the international profile of Kaohsiung and welcoming the world to participate in Kaohsiung's coming development", it said.
"The Monte Jade Global Science and Technology Association has kindly agreed to assist with part of the arrangements in California, including attending its 2019 Economic Forum," the statement said.
Tickets costing US$120 to attend a dinner in San Gabriel to welcome Han, organised by Monte Jade, a Taiwanese association based in southern California, sold out in three days, according to local media reports.
Han also asked the association to make 1,000 seats available for Taiwanese to attend a speech he will deliver in the city on April 14.
He is also expected to meet two Democratic members of Congress, Ted Lieu and Judy Chu; a deputy mayor of Los Angeles, Nina Hachigian; as well as Taiwanese supporters and businesspeople.
"The meeting with the deputy LA mayor is more like a private visit as it will take place on a holiday, when the city government is closed for the weekend," Han's spokeswoman Annie Wang said.
She dismissed speculation that Han's trip was political, saying he would not hold any private meetings with US officials in Washington.
Taiwanese media have reported that Han was going to America to "get US consent" for his possible presidential bid, as they did when former New Taipei mayor Eric Chu visited in February and when Taipei mayor Ko Wen-je went to the US in March. It has become a formality for Taiwanese politicians – including Tsai of the DPP and former president Ma Ying-jeou from the KMT – to travel to the US and meet officials to seek their "consent" months before they run for the presidency.
Yen Chen-shen, a research fellow with the Institute of International Relations at National Chengchi University in Taipei, said it was important for the US to know who might be taking power in Taiwan.
"After all, Washington is Taiwan's biggest arms supplier and unofficial ally in countering China. So it is natural for the US to know beforehand the political stance of any Taiwanese presidential candidate so that if he or she becomes president, they won't stray from the US strategic interests," Yen said.
Those strategic interests did not involve the DPP declaring independence or the KMT seeking unification with the mainland, Yen added.
Han drew sharp criticism from Taiwan's pro-independence camp for "trying to sell out Taiwan" when he visited Hong Kong, Macau, Shenzhen and Xiamen last month. But Han's mainland-friendly approach was welcomed by Beijing – he supports the one-China principle that forms the basis of cross-strait relations.
Analysts noted that Han had not dismissed the suggestion he would join the 2020 presidential race.
"While all [Taiwanese] mayors or politicians would want to visit the US to build up their profiles and to better understand the US view on security, defence and other issues, we need to see who Han meets and where he actually goes in the US before we can comment on whether the mayor has any [special] political motive for this trip," said Doong Sy-chi, director of international relations at Taiwan Thinktank.
Beijing considers Taiwan a wayward province that must be reunited with the mainland, by force if necessary. It has previously warned Washington against allowing senior Taiwanese officials from visiting on the grounds that the US has formal diplomatic ties with Beijing, not Taipei.
This article appeared in the South China Morning Post print edition as: KMT mayor heads to U.S. to raise his profile