Chinese Premier Li Keqiang tells EU that subsidies are for protecting workers, not industrial advantage
China agrees 'breakthrough' to work with Europe on WTO reform and subsidies
Li calls on Brussels to treat Chinese companies the way it would treat its own
Chinese Premier Li Keqiang told European leaders state subsidies were for protecting workers and not a form of illegal support for industries as he defended China's industrial practices from criticism.
In a meeting with the European Union, Li called on the bloc to treat Chinese companies as it would treat its own.
China's industrial subsidies almost spoiled the signing of a joint statement at the EU China summit, an annual gathering between the two sides that now trade around €1.5 billion (US$1.7 billion) a day.
"Some of the subsidies we give are for laid-off workers, so that they do not lose their livelihoods," said Li, answering questions from journalists at a press conference to conclude the summit on Tuesday. "They [the subsidies] are not for industrial competitiveness."
Li said that China respected World Trade Organisation rules and would work with the EU and other entities to reform it and address the issue of subsidies.
The EU, along with the US, Japan and other major economic powers have long accused China of giving unfair subsidies to support industries, like the "Made in China 2025" programme to develop world-class capacity in manufacturing, technology and other industries.
Days before the summit, the big EU economies of Germany, France and Britain said they could not endorse a joint statement put forward by Beijing if it did not include commitments to address subsidies.
The agreement on subsidies included in the final statement was described as a "breakthrough" by European Council President Donald Tusk at the same press conference. "For the first time, China has agreed to engage with Europe on this key priority for WTO reform."
Tusk said that he hoped talks on subsidies would progress speedily before the G20 summit on Osaka, Japan in June, where China is likely to face again pressure from major economies.
Last year, China and the EU pledged to work together on WTO reform, although the issue of subsidies was a sticking point.
Trade ministers of the EU, US and Japan meet regularly to coordinate on world trade rules, and in January they said they expected to agree a statement on subsidies to take to the WTO. Ministers will next meet at the G20.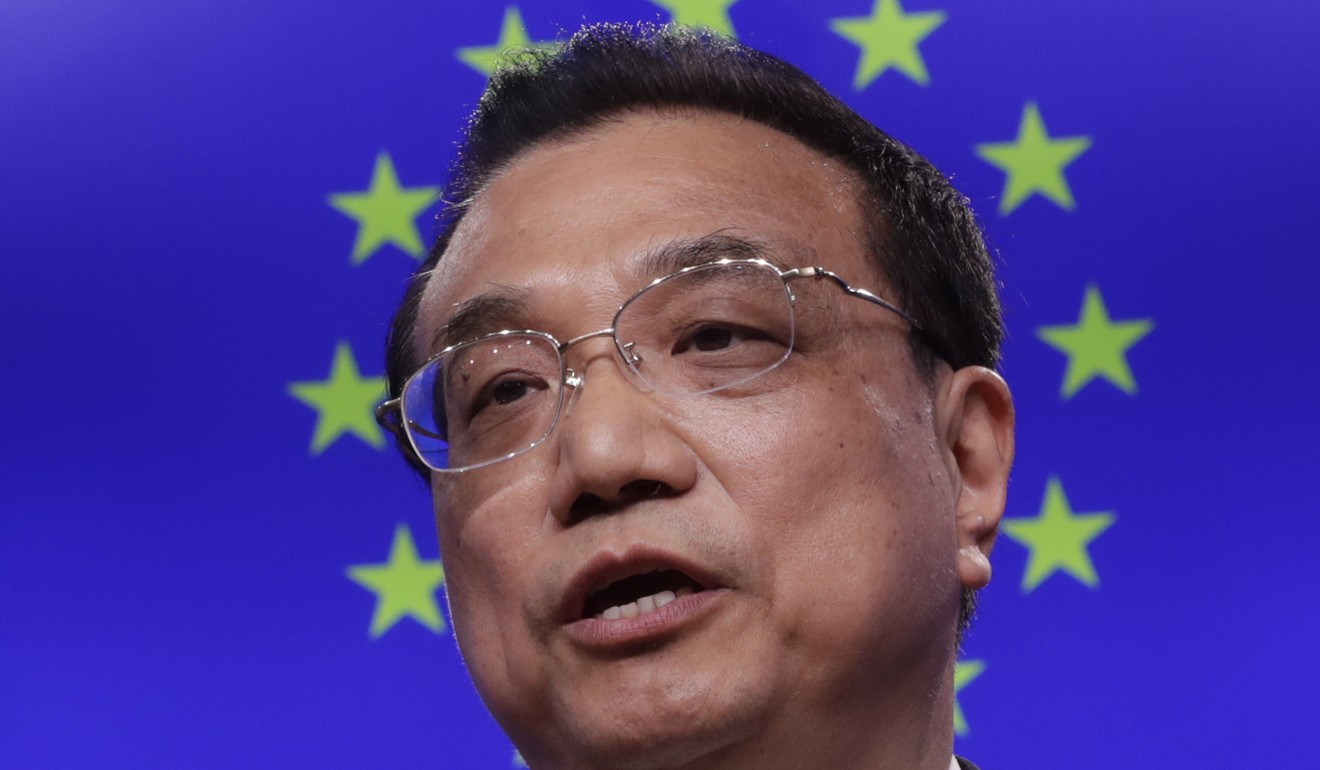 Li also demanded that the 28-member bloc treat Chinese companies equally on European soil, as the EU stepped up its foreign investment screening, and Chinese investment in Europe continues to fall.
"We hope for equal and fair treatment in Europe," said Li, speaking about China's enterprises. Li said accusations against Chinese companies should be supported by evidence, especially where fifth generation technology was concerned.
The EU has said that it is concerned by Chinese companies and 5G security but said that it had seen no evidence of spying by firms such as Huawei. Last month, the EU said it would ignore US calls for a bloc-wide ban on Huawei but would continue to assess 5G in the light of security developments.
Li said states should not operate by "presumption of guilt, but from a legal perspective, it should be presumption of innocence".
China's investment in Europe fell 40 per cent from a year earlier in 2018, according to a Merics study, and the figure represented half the level of investment in 2016.
New EU rules on investment screening came into force on April 1, seen by many as a response to Chinese takeovers of European tech and energy companies.
This article appeared in the South China Morning Post print edition as: State subsidies are to protect the livelihood of workers, Li insists