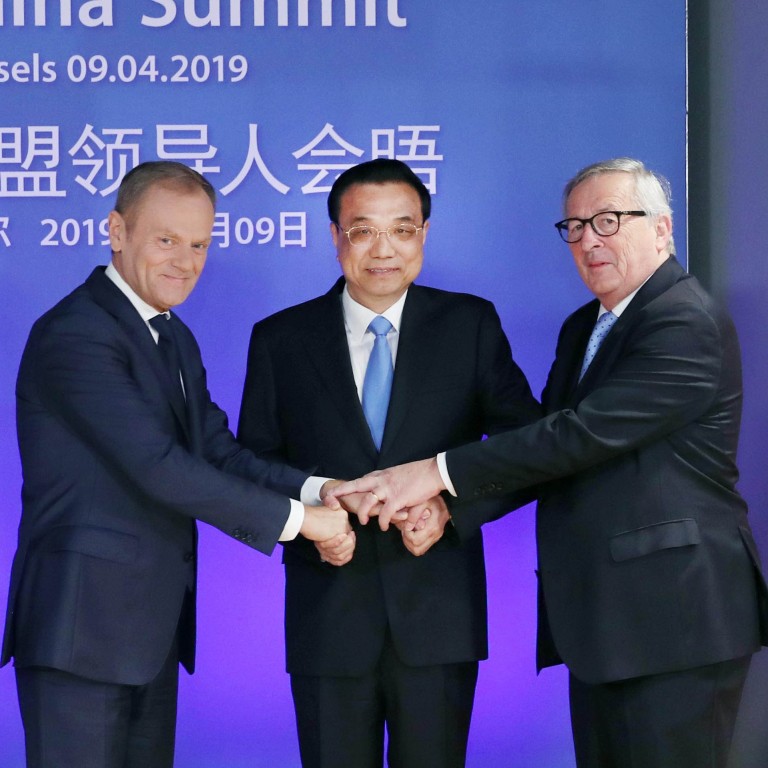 Hopes high that EU-China joint statement on opening up is more than just words
Observers say that given pre-summit tensions, the release of a statement and commitment to a timetable for developing a monitoring mechanism is an achievement
Concessions made by Chinese Premier Li Keqiang evidence of Beijing's desire to keep EU onside ahead of G20 summit in June, expert says
After overcoming the threat of a walkout by European negotiators, China and the European Union managed to conclude their annual summit in Brussels by agreeing to create a mechanism for monitoring each other's pledges regarding the opening up of their markets.
In a joint statement issued by Chinese Premier Li Keqiang, European Council President Donald Tusk and European Commission President Jean-Claude Juncker, the two sides said they would "establish a political mechanism to continuously monitor the progress in the negotiations and to report to leaders by the end of the year on the progress made".
The move is a big step towards the creation of an EU-China Comprehensive Investment Agreement by next year to improve market access and eliminate practices that discriminate against foreign investors.
China agreed that "there should not be forced transfers of technology" – a long-time bugbear for European and other companies that have entered into joint ventures with Chinese partners – while Li reiterated his promise to give EU businesses greater access to China's markets.
He did not mention specific industries, but the telecoms, education and medical services sectors have been mentioned in the past.
"When we
say it
, we have got to do it," Li said.
Diplomatic observers said that given the
pre-summit tensions
, the release of the joint statement and commitment to a clear timetable for the development of the monitoring mechanism was a significant achievement.
"This year's joint statement is quite different from previous years', which were always just vague announcements of intent without any plan of action," said Ding Chun, an economics professor at the Centre for European Studies at Fudan University in Shanghai.
"The EU has been growing increasingly impatient with China's attitude, but this time China has responded."
This statement came after the EU last month labelled China a systemic rival and published its 10 proposals for dealing with Beijing, and as negotiations continue to bring an end to the Sino-US trade war.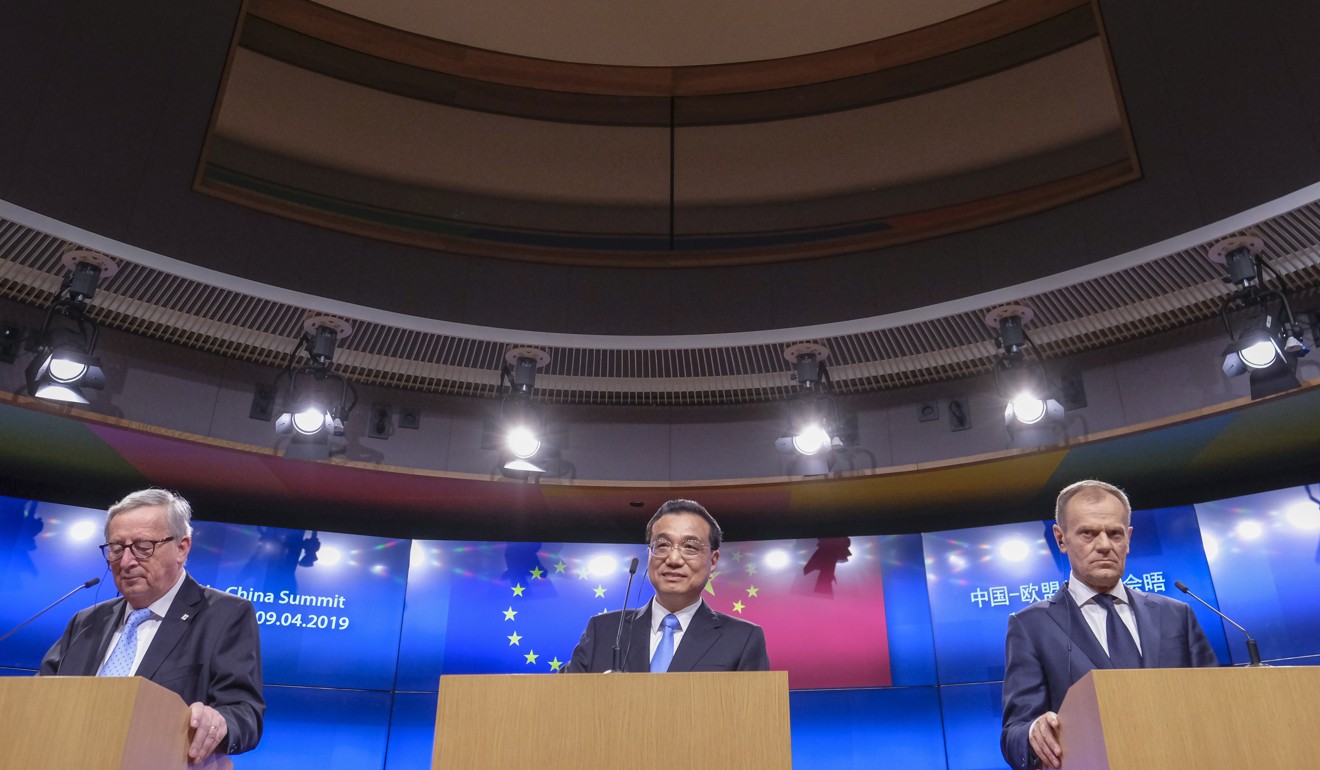 According to Wang Yiwei, a professor of international relations at Renmin University in Beijing, it was important for China to make concessions towards the EU to keep it onside ahead of the G20 summit in June, at which the world's biggest economies will discuss many issues, including changes to the World Trade Organisation and China's developing nation status within it.
"It is important to have the EU's support," he said. "Meanwhile, the EU also made some compromises on issues like cybersecurity, Huawei and the 'Belt and Road [Initiative]'. This is diplomacy."
Ding said that China's commitments on opening up were likely to be extended to the US.
"It wouldn't be possible to have exclusive terms with either the Europeans or the Americans," he said.
Officials in Brussels also agreed to look for ways to make China's belt and road plan and the EU's Connecting Europe & Asia programme and planned Trans-European Transport Networks work together.
The Belgian summit came amid growing scepticism in the EU about China's economic might and its intentions, with companies like telecoms giant Huawei Technologies – which has been accused of sharing information with the Chinese government – coming under close scrutiny as it looks to expand overseas.
Li, however, insisted that Beijing did not support any attempts by Chinese firms to steal technologies or other intellectual property.
While this year's summit was the last for Tusk and Juncker, whose terms end in November, the consensus reached in Brussels would mean they had left a positive legacy for the EU's new leaders, Ding said.
This article appeared in the South China Morning Post print edition as: China, EU agree on targets to open up each other's markets