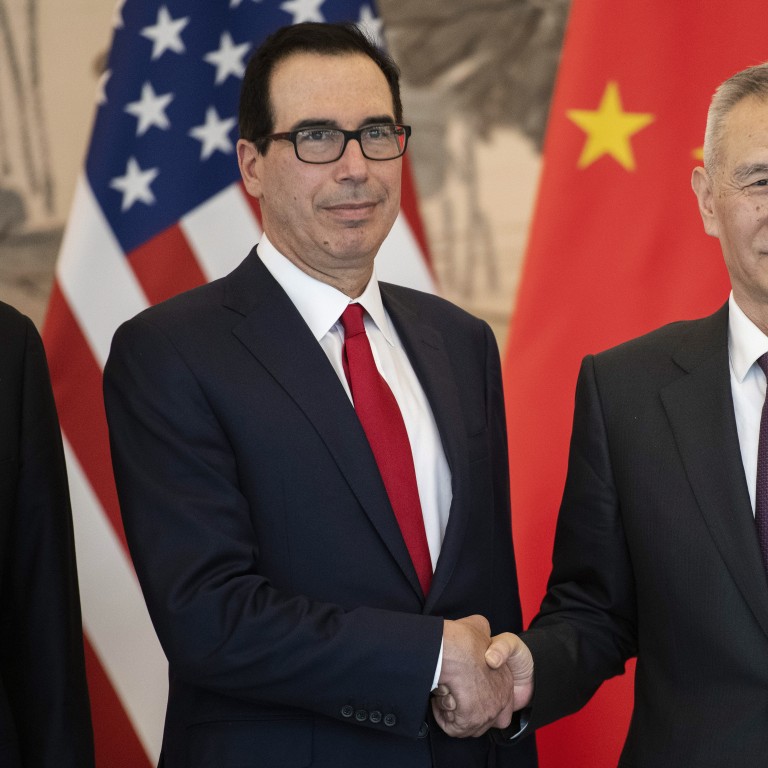 China and US reach milestone agreement on road to trade peace
Major hurdle overcome as both sides agree to monitoring and enforcement of trade pledges
No time frame for deal, but US Treasury Secretary Steven Mnuchin hopes it can be done quickly
China and the United States have agreed to set up enforcement offices to monitor implementation of trade pledges, making a breakthrough that paves the way for ending their tariff war.
The enforcement mechanism and the establishment of the offices have been major hurdles to an accord between the two nations, with China concerned that checks on its policies by US officials would be an infringement of sovereignty.
But the agreement will also allow China to monitor US behaviour, a reciprocal concession which analysts said showed determination from both sides to reach a trade deal.
US Treasury Secretary Steven Mnuchin said he had a "productive" phone conversation with Chinese Vice-Premier Liu He on Tuesday night, with another conversation planned for Thursday.
"We've pretty much agreed on an enforcement mechanism; we've agreed that both sides will establish enforcement offices that will deal with the ongoing matters," Mnuchin told CNBC on Thursday, adding that there were still important issues to be addressed.
"We are really focused on the execution of the documents," he said.
Mnuchin said the trade deal ran to more than 150 pages and these were under discussion. There was no time frame for the deal but, he said, they hoped to do it quickly.
Chinese Commerce Ministry spokesman Gao Feng said senior officials from both sides discussed issues that remained to be tackled in the phone call.
"Both sides will maintain close communication and work at full speed to continue the negotiations," he said on Thursday.
China and the US have been embroiled in a tariff war since July 6, but agreed to suspend further tariff rises following a meeting between Chinese President Xi Jinping and his US counterpart Donald Trump in December. The two sides have been engaged in a series of negotiations to resolve the dispute since then.
The US has insisted that any deal and reform pledges by China must be enforceable, and a mechanism should be adopted to monitor progress. But China has responded with concerns that this would allow US interference in its policies, and that the US could still raise penalty tariffs at any time.
Mnuchin did not say whether US officials would be based in China as a result of the agreement, but analysts said the new offices would allow both sides to improve communications.
"This is a reciprocal agreement that can facilitate consultation," said Wang Huiyao, president of the Centre for China and Globalisation, a non-government think tank in China.
"We will have officials focusing on the implementation of the trade deal," he said.
"China can use the office to monitor whether Chinese companies in the US are being discriminated against – for example, investment deals that are not approved by the Committee on Foreign Investment in the US."
Yuan Zheng, an expert in China-US relations at the state-backed Chinese Academy of Social Sciences, said the arrangement was "no surprise" and signalled that both sides were close to sealing a trade deal.
"All along, China has not been against an enforcement mechanism but [against] one-sided monitoring from the United States on trade matters," Yuan said.
"Setting up 'enforcement offices' is an arrangement to be carried out by both sides, and it also gives China 'face' to say that we are also entitled to monitor the US.
"While the US enforcement offices might be more demanding than the Chinese ones, China sees its own interest in these offices, too. For example, the US is increasingly sceptical about Chinese investments and tech companies operating in their country.
"We would need to make sure the US market was reciprocally open for us as well," Yuan said, adding that disputes over individual companies, such as Huawei, could be dealt through these enforcement offices.
Yuan said he believed the offices would operate like working groups under government departments, pulling in the expertise of officials as well as professional personnel on Sino-US trade matters, like the Chinese commerce department.
"These offices are likely to be given the responsibility of promoting healthy development in Sino-US trade relations. While these offices will not solve all Sino-US trade problems for sure, they are at least symbolic, showing that we are willing to deal through communication and not through a trade war," he said.
Zhang Zhexin, a US affairs expert at the Shanghai Institute for International Studies, said the agreement on setting up the offices showed China had done its best "with utmost sincerity and determination to reach a deal with the US".
Zhang said that, with both sides reaching consensus on the details of the enforcement offices – down to the definition of their function and structure –"the biggest barrier [to reaching a deal] has been cleared".
Zhang believes the offices will be "cross-bureaucracies" managed through a joint committee drawn from major government departments. The Chinese one could be chaired directly under the State Council, while the US may choose to have its group under the White House.
"They will have the greatest mandate from both sides," he said.
However, Zhang said the offices would not be able to prevent the US imposing unilateral sanctions against China, nor would they be able to minimise strategic competition between the two states.
"But they will at least provide a standing and regular platform for settling future disputes in a constructive, responsible and bilateral platform," he said.
This article appeared in the South China Morning Post print edition as: Monitoring agreement clears major obstacle to deal