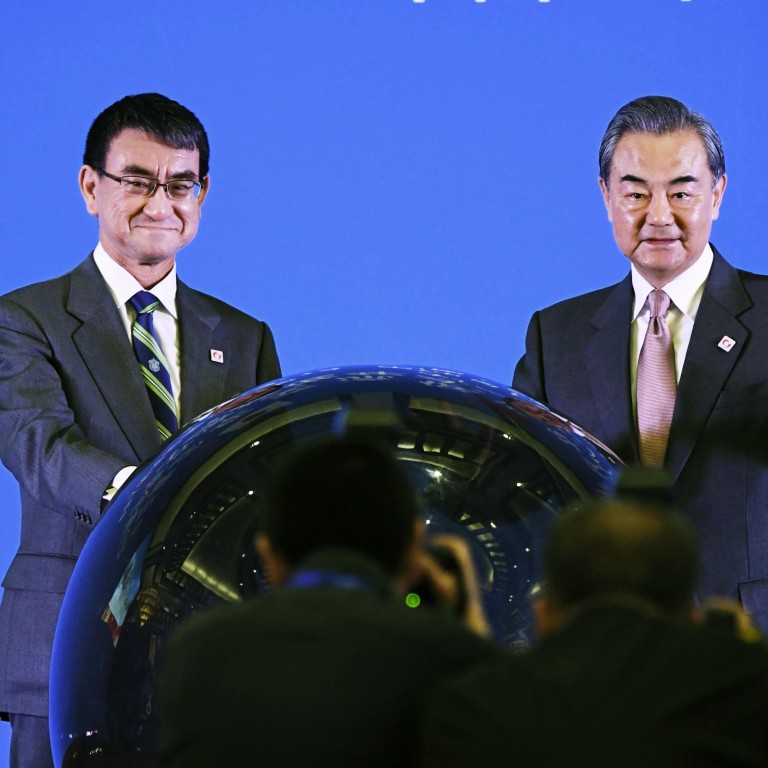 Japan, China cover forced tech transfers and Huawei during talks in Beijing
Japan's Foreign Minister Taro Kono says two countries have the opportunity to 'take charge of the economic field' at a time of global uncertainty
Japanese delegation also raised intellectual property and data protection and Chinese industrial subsidies during the meeting
China and Japan held an expanded ministerial meeting on Sunday, focusing on economic issues ranging from trade and investment to better protection of intellectual property rights, amid a dimming global growth outlook.
The high-level economic dialogue, led by Chinese Foreign Minister Wang Yi and his Japanese counterpart Taro Kono, was held in Beijing at a time when the Asian powers are seeking to boost cooperation after years of political tensions.
Kono told Wang that both countries had the opportunity to "take charge of the economic field" during a period of global uncertainty.
"It goes without saying it's important that the second- and third-largest economies in the world hold constructive discussions on economic ties," Kono said, adding that relations between the two countries had "completely recovered" last year.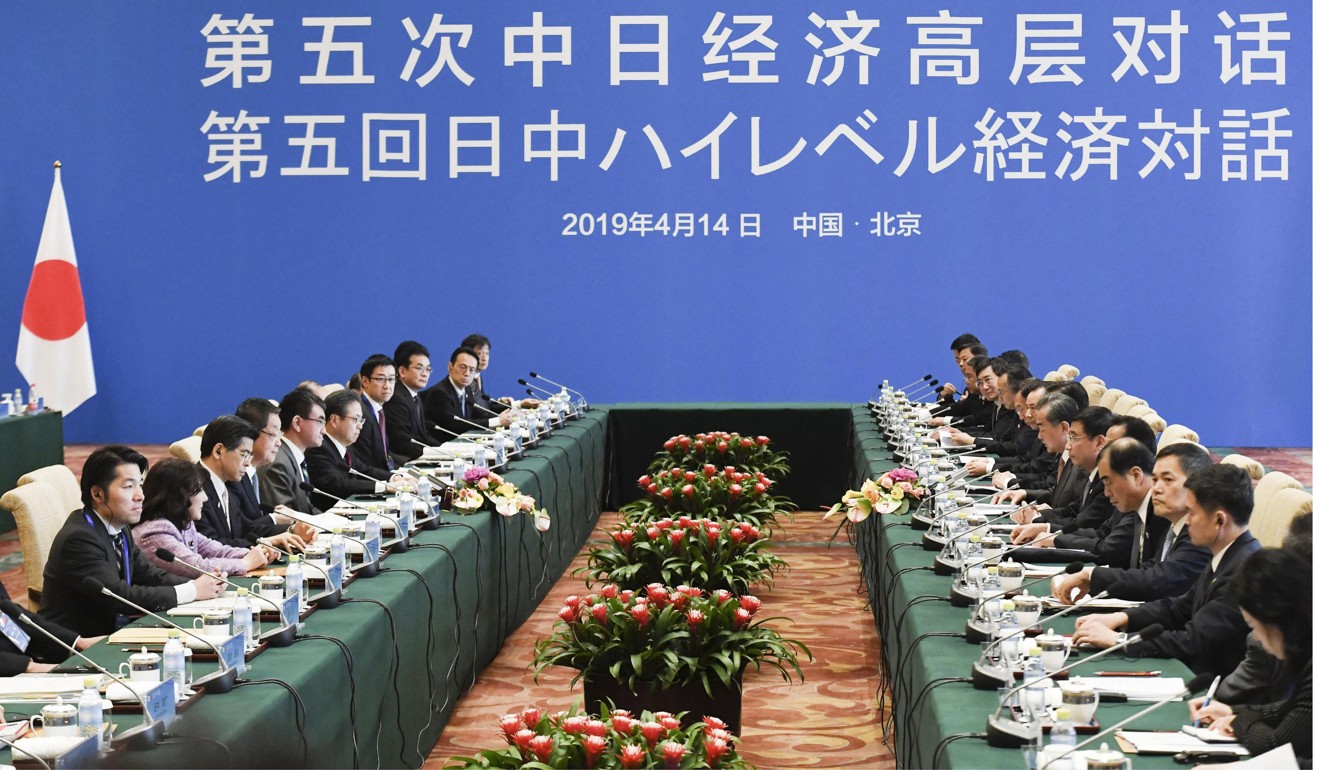 In a press briefing late on Sunday, Japanese foreign ministry spokesman Takeshi Osuga said Japan's delegation had raised issues including forced technology transfers, intellectual property and data protection and Chinese industrial subsidies during the talks.
He said Beijing, meanwhile, raised the issue of
Huawei
, expressing concerns over the Chinese tech giant's activities in Japan being affected by Tokyo's 5G policy. Japanese regulators on Wednesday allocated 5G spectrum with a condition that will mean telecoms companies cannot use equipment from Chinese firms Huawei and ZTE.
Both sides also agreed to work towards lifting a Chinese ban on food imports from 10 Japanese prefectures that has been in place since the Fukushima nuclear disaster in 2011, he said.
Kono will meet Wang again on Monday and will also have a meeting with Chinese Premier Li Keqiang before returning to Tokyo in the afternoon.
Relations between
China and Japan
have been thawing after years of tensions over maritime and historical disputes. High-level exchanges were suspended in 2012 after Japan took control of a small group of uninhabited islands in the East China Sea – the Diaoyu or Senkaku chain – claimed by Beijing. The move drew the ire of China, sparking violent protests in the country and putting the brakes on Chinese investment and tourism in Japan. Trade and investment have since rebounded, and companies from the two nations are now considering working together on joint projects in third countries such as Thailand.
Wang said that while "the current economic situation is complicated and profoundly changing, Sino-Japanese economic cooperation is constantly advancing at a solid pace".
"Economic cooperation between China and Japan is continuously progressing and having a profound impact on the world," Wang, who is also a state councillor, said at the start of the meeting. "We should exchange wisdom for the peaceful and stable development of the region and the world."
Japan and China have held the economic dialogue since 2007, though there was an eight-year hiatus as relations sank to a low due to the dispute over the Diaoyu Islands and wartime issues.
With relations having since improved, the dialogue restarted with the fourth round last April in Tokyo. For the fifth round, Japan fielded a larger delegation, including six members of Prime Minister Shinzo Abe's cabinet. Besides Kono, they are industry minister Hiroshige Seko, farm minister Takamori Yoshikawa, transport minister Keiichi Ishii, environment minister Yoshiaki Harada and regulatory reform minister Satsuki Katayama. The Chinese team included Commerce Minister Zhong Shan and Miao Wei, minister of industry and information technology.
Additional reporting by Kyodo and Associated Press
This article appeared in the South China Morning Post print edition as: China, Japan build on ties in latest economic talks