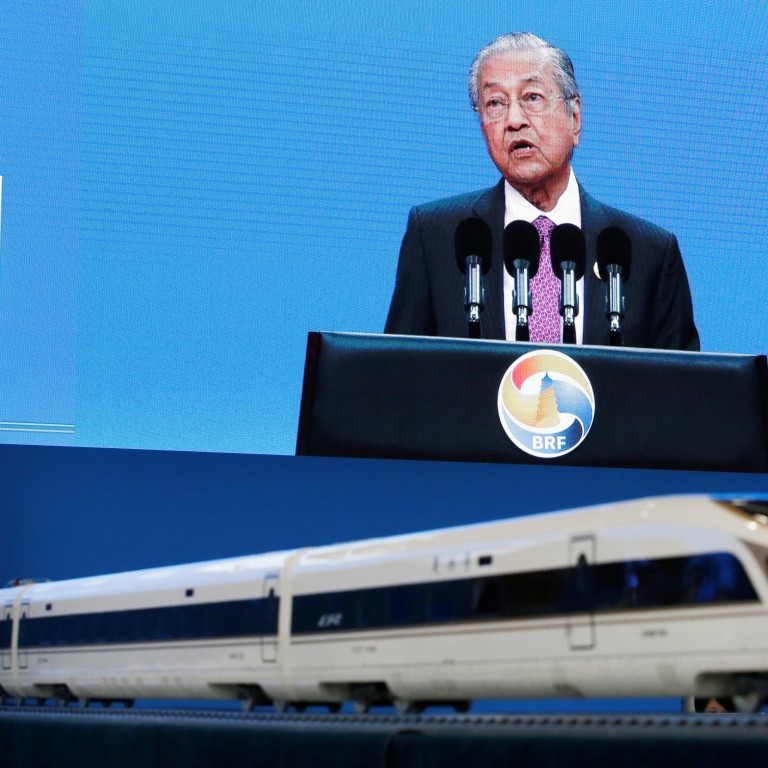 Malaysia's Mahathir backs China's belt and road but insists on open trade routes
The leader has turned from vocal critic to firm supporter of Beijing's grand plan after a rejigged rail link deal
Malaysian Prime Minister Mahathir Mohamad gave China's "Belt and Road Initiative" his "full support" after successfully renegotiating the cost of a rail link project.
But he also stressed at the Belt and Road Forum in Beijing on Friday that freedom of passage on both sea and land should be respected.
"I am fully in support of the Belt and Road Initiative. I am sure my country, Malaysia, will benefit from the project," said Mahathir, one of 37 foreign leaders at the event.
The backing from the 93-year-old Malaysian leader comes after China agreed last month to a 30 per cent cut in the US$20 billion price tag for the East Coast Rail Link.
Following his election last year, Mahathir warned that his administration might cancel the high-speed line stretching from Malaysia's border with Thailand in the east to the strategic shipping routes of the Strait of Malacca in the west. The project would connect the South China Sea – a highly contested waterway – with around half a dozen other Southeast Asian nations.
Mahathir was then one of the most vocal critics among those whose countries had signed up for China's multibillion-dollar infrastructure drive, warning of "new colonialism" and "debt-trap diplomacy".
Although now a supporter, Mahathir still voiced concerns about the initiative in his address on Friday.
He called for freedom of navigation along the initiative's trade routes near the South China Sea, where tensions have risen with Chinese and American activity.
"Everyone will benefit from the ease of travel and communication that the development of the belt and road project will bring," he said as one of the six overseas heads of state to address the forum.
"An essential element is the freedom of passage along these routes. A passageway is only as good as the freedom it provides. Both the sea and the land routes will pass through many countries. Bureaucratic hassles will slow the speed of travel. It is essential therefore for these passages be free and open to all."
He also called on the international community to share responsibility to keep pollution in the Strait of Malacca at bay as trade boomed under the initiative.
More than 90 per cent of the crude oil going through the South China Sea passes through the strait, a narrow 500 nautical mile waterway. The area is a potential trade choke point for China which is highly reliant on imported oil.
US warships routinely perform freedom-of-navigation operations in the South China Sea, prompting criticism from China. Beijing sees the moves by the United States – which does not have an overlapping claim with China in the area – as an attempt to exert pressure on the Asian giant.
This article appeared in the South China Morning Post print edition as: Mahathir 'fully backs' drive but says routes must be open