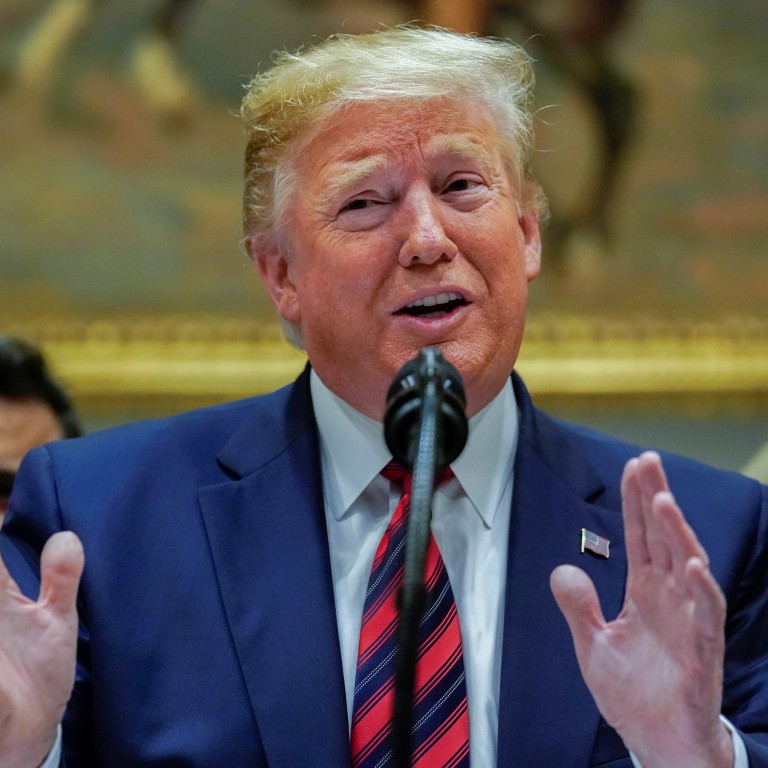 Donald Trump says trade deal with China may still happen after Xi Jinping sent him a 'beautiful letter'
The US president told reporters that the letter said 'Let's work together, let's see if we can get something done'
He suggested his threats to raise tariffs on US$200 billion of imports had helped speed up the reconciliation process
US President Donald Trump said on Thursday that a trade deal with China is "possible" this week and that his Chinese counterpart Xi Jinping had sent him a "beautiful letter" – comments that contrasted sharply with several hard-line tweets he had posted recently.
Speaking to reporters just as Chinese Vice-Premier Liu He arrived in Washington for an 11th round of negotiations aimed at ending a trade war between the world's two largest economies, Trump suggested that his order to raise tariffs on US$200 billion of imports from China had helped accelerate the reconciliation process.
"We put the tariffs on, we made the statement, and then they upped the meeting. 'How about let's go back to Thursday?'," Trump said after claiming that the Chinese side suggested a delay in talks until a later date.
In remarks at the White House, Trump reiterated that he had announced the increase of tariffs on those goods to 25 per cent, from 10 per cent, in response to Beijing's bid to backtrack on a number of fundamental commitments.
"We were getting very close to a deal, then they started to renegotiate the deal," he said, adding that one of those areas was protection of intellectual property rights.
"So I have no idea what's going to happen," Trump added. "I did get last night a very beautiful letter from President Xi [saying] 'Let's work together, let's see if we can get something done.'"
"I like the president a lot," he said of Xi, with whom Trump said he would "probably" be speaking to by telephone. "He's a good friend of mine, but I'm representing the USA and he's representing China, and we're not going to be taken advantage of anymore."
Trump confirmed that members of his cabinet would meet with Liu and other members of the Chinese delegation at 5pm on Thursday to kick off talks that are scheduled to continue through to Friday.
In light of the Trump administration's move to escalate tariffs, the strategy of US negotiators going into those talks would be "very straightforward," said Scott Kennedy, a senior fellow at the Centre for Strategic and International Studies (CSIS).
"The US side says you need to agree to restore everything that we had come to agreement about before [and] remove all those red lines," said Kennedy, an expert in Beijing's economic policy who has testified numerous times in congressional hearings on the trade and economic relationship between the US and China.
The choice, he said, would be China's as to whether it wants the negotiations "to move forward or not".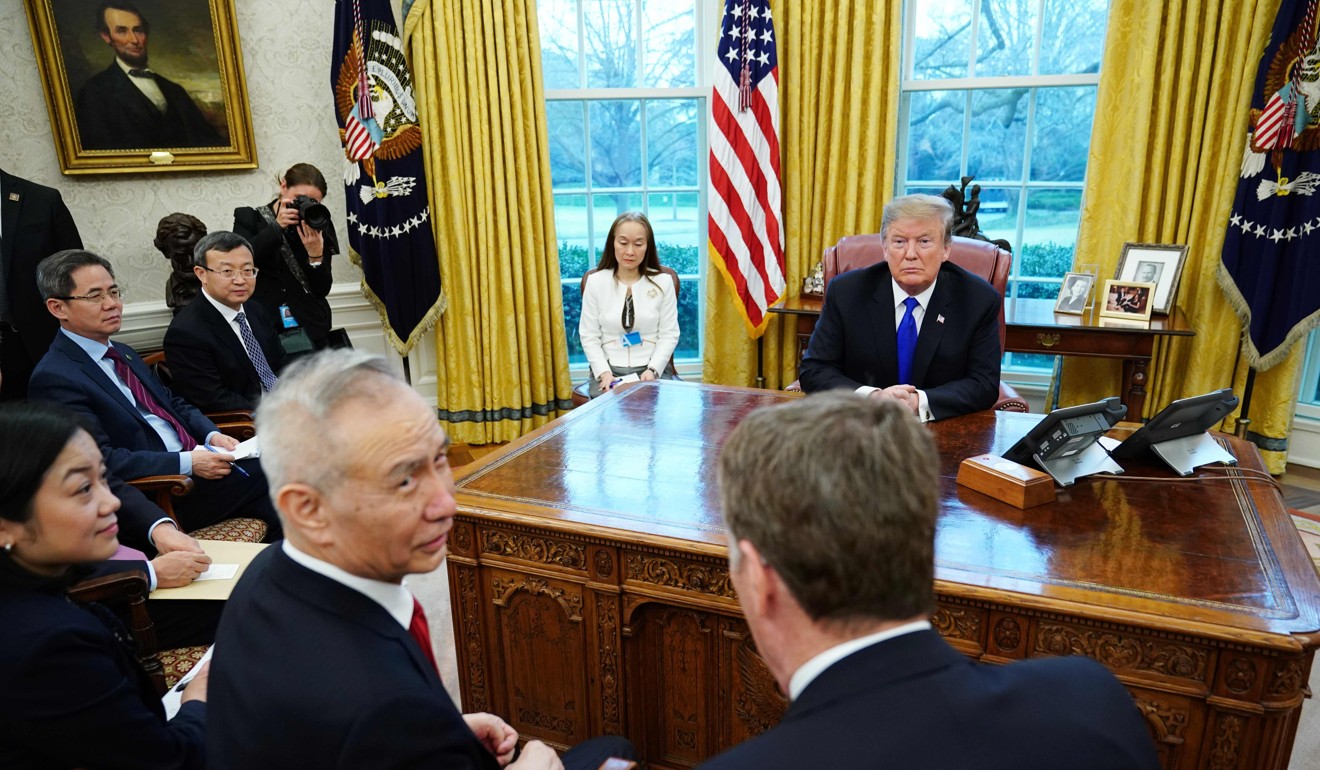 Though Trump seemed to connect the participation of Liu – whom he called "one of the highest officials in China" – in this week's talks as a sign that a deal was possible, the vice-premier's status is not as authoritative as it was in some previous rounds.
A statement issued by the Chinese Ministry of Commerce ahead of this week's trip did not include the title "Special Envoy to Chairman Xi Jinping" in its list of Liu's credentials.
Liu's apparent demotion, combined with the reduced size of the delegation and the short length of stay in Washington, suggested "a narrower range of negotiated topics and room for compromise," Kennedy said. "It could be the higher the stakes, the tighter the decision-making authority is."
Reiterating just how high those stakes are should both sides fail to make a deal this week, Trump said on Thursday that US officials were "starting [the] paperwork today" for the imposition of 25 per cent tariffs on US$325 billion worth of Chinese imports not currently subject to the punitive measures.
Trump raised the prospect of those new tariffs on Sunday in postings on Twitter, taking many observers by surprise and
weighing on markets
worldwide this week.
On Wednesday, he took to Twitter again to accuse Beijing of playing for time in the hope of negotiating a trade deal with a Democratic administration in 2020.
Recent stutters in the talks – which had until last week been hailed by Washington and Beijing as productive and close to a deal – suggested that both sides' fundamental positions remained "pretty far apart from each other," Kennedy said, adding that Trump's conclusion that Beijing was stalling was "not unreasonable".
"We may be looking at this being the normal course of events all the way to the election," he noted, though he cautioned that a Democratic administration would likely be just as tough on trade and would even "widen the conversation to be not just about trade and North Korea but about human rights [and] other issues.
"And so in that regard it doesn't really get any easier for the Chinese, it gets harder."
Meanwhile, the talks in Washington proceed.
A smiling Liu He waved to reporters and ignored shouting protestors as he left the USTR on Thursday after around 90 minutes of discussions with US counterparts. He was scheduled to attend a dinner later in the evening with Lighthizer and Mnuchin.