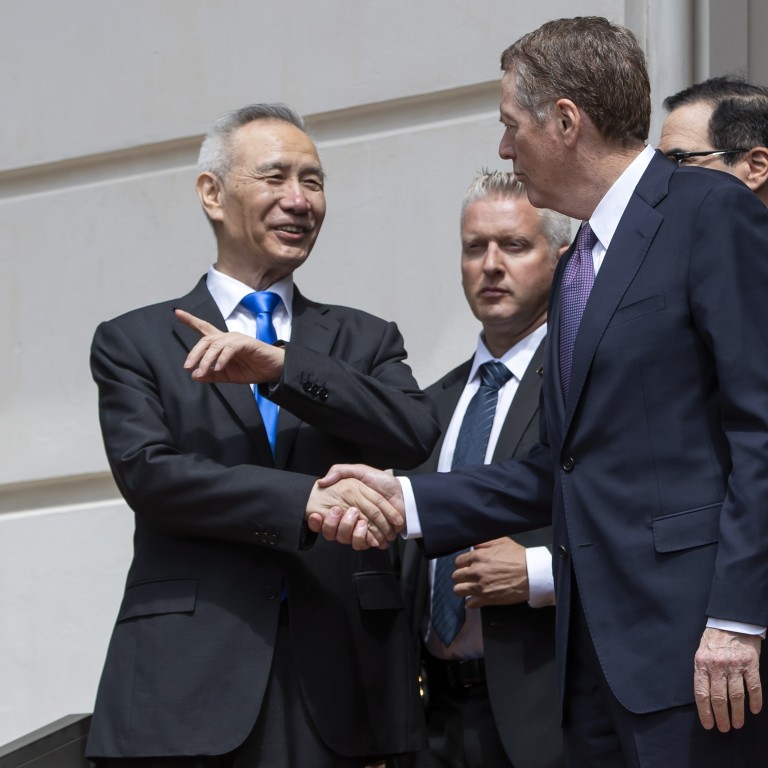 Where did the US-China trade war talks take a turn for the worse?
Just two weeks ago, Beijing and Washington were on track for an agreement to end their tariff dispute. Then everything changed
After nearly one year and 11 rounds of talks, China and the United States were late last month supposed to be close to ending their trade war.
At the start of negotiations in Beijing on April 29, US Treasury Secretary Steven Mnuchin said the talks had entered the "final laps".
He headed back to the US, saying the discussions were "productive" and both sides would meet again in Washington in about a week.
Expectations of an endgame were still high that Friday when US President Donald Trump said the talks had gone "very well" and a deal was in sight.
"We're getting close to a very historic, monumental deal," Trump said.
But he ended the sentence with a warning: "If it doesn't happen, we'll be fine too. Maybe even better."
And that's when the script changed.
On Sunday, Trump tweeted that tariffs of 10 per cent on certain Chinese goods would rise to 25 per cent by May 10, and US$325 billion of untaxed goods could face 25 per cent duties "shortly".
"The trade deal with China continues, but too slowly, as they attempt to renegotiate. No!" he said.
The president's tweets roiled financial markets around the world amid fears of a breakdown in the talks. Some even doubted that chief negotiator Vice-Premier Liu He would go to Washington that week as planned.
Further details emerged on Monday when US Trade Representative Robert Lighthizer said the new tariffs were in response to China reneging on promises.
"We're moving backwards instead of forwards, and in the president's view that's not acceptable," Lighthizer said. "Over the last week or so, we have seen an erosion in commitments by China."
The US lead negotiator said China had tried to substantively change the text of the agreement while the negotiations were nearing the final stages.
"We're not breaking off talks at this point. But for now ... come Friday there will be tariffs in place," he said.
In China, the official public response was brief, with foreign ministry spokesman Geng Shuang saying the talks remained alive.
"Regarding the US threat to levy additional tariffs on some Chinese products, there have been many similar precedents. China's position and attitude have always been clear and the US knows that very well ... What I can say is that the Chinese delegation is preparing to travel to the US for consultations," Geng said.
But the spokesman did not say if Liu would lead the team, fuelling speculation of disagreement at the top about whether a deal was in China's interest.
Then on Tuesday Commerce Ministry spokesman Gao Feng confirmed that Liu would go to Washington after all – albeit a day later than originally scheduled. But, he would not go as Xi's "special envoy" – a title the vice-premier had carried in previous rounds of negotiations.
In the United States, various business groups – ranging from soybean farmers to the US Council for International Business – expressed grave concerns about a breakdown in talks.
At the same time, the US House of Representatives pushed for a tougher approach to Beijing on another front, with members unanimously reaffirming a non-binding resolution supporting Taiwan, which Beijing has vowed to bring back to its fold – by force if necessary.
It also backed the Taiwan Assurance Act of 2019, which supports Taiwan and urges it to increase its defence spending, noting that Washington should conduct "regular sales and defence articles" to Taiwan and back Taipei's participation in international organisations.
That prompted stern representations on Wednesday, the 20th anniversary of the bombing of the Chinese embassy in Belgrade by US-led Nato forces.
China's Commerce Ministry also released a statement saying retaliatory measures would be taken if Washington went ahead with a plan to raise tariffs on Chinese products on Friday.
Trump said he would be happy to keep tariffs on Chinese exports rather than make a bad deal.
Meanwhile, he sent Secretary of State Mike Pompeo to London to try to keep one of the US' oldest allies behind Washington on cybersecurity issues against China.
In talks with British Prime Minister Theresa May, Pompeo warned against allowing Chinese telecoms company Huawei to contribute to Britain's 5G network, accusing China of seeking to divide Western countries through "bits and bytes".
Then, just hours before Liu arrived in Washington for the trade talks, the US Federal Communications Commission rejected China Mobile's application to provide interconnection services for phone calls between the US and other countries.
Trump also fired another broadside at China, accusing it of backtracking on its commitments because Beijing had wanted to negotiate with "very weak Democrats".
"The reason for the China pullback & attempted renegotiation of the Trade Deal is the sincere HOPE that they will be able to 'negotiate' with Joe Biden or one of the very weak Democrats, and thereby continue to rip off the United States ($500 Billion a year) for years to come," Trump tweeted. "Guess what, that's not going to happen!"
Nevertheless, Liu landed in Washington, saying he hoped to salvage the deal despite the pressure he faced.
"I make this trip against the pressure because we want to show our highest sincerity," Liu said. "We also want to resolve some of our differences in a candid, rational manner with self-confidence. I believe there is hope."
The Chinese lead negotiator then spent around 90 minutes of discussions with US counterparts and had a working dinner with Lighthizer and Mnuchin.
During Thursday's brief discussions, Lighthizer assured Liu that goods on US-bound cargo ships that had left Chinese ports before May 10 would not be subject to the increase in tariffs from 10 to 25 per cent, according to a source close to the negotiations.
Then on Friday morning, the Chinese team returned to the USTR office to continue the negotiations. About three hours later, Mnuchin emerged from the talks which he described as "constructive". However, no deal has been reached.
At about the same time, Liu announced to China's state media that US negotiators would return to Beijing to continue with the talks.
"Negotiations have not broken down, but rather on the contrary, this is only a normal twist in the negotiations between the two countries, it is inevitable," Liu said before he left Washington.
"Both sides agree they will meet again in Beijing in the future and keep pushing forward the negotiations."
And so China, the United States and the rest of the world prepare for a 12th round of talks but there is no word when they will be.
This article appeared in the South China Morning Post print edition as: from 'final lap' to increased tariffs: how talks soured