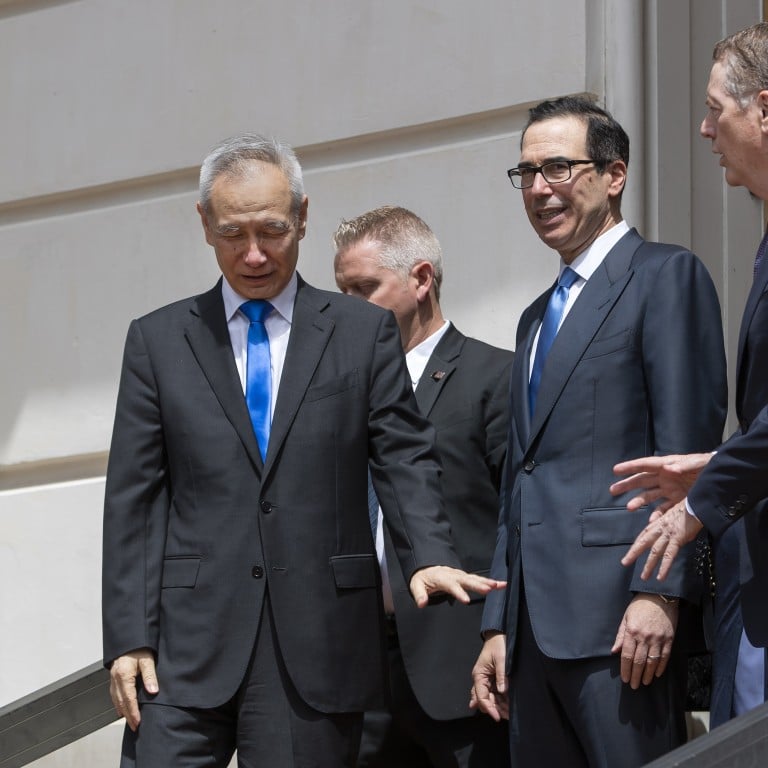 Show sincerity or cancel trade talks, Chinese state media tells US
Washington 'keeps using petty tricks to destroy the atmosphere for talks', commentary says
Doubt cast on US Treasury Secretary Steven Mnuchin's claim that he would return to Beijing to resume negotiations
China is prepared to suspend trade talks with the United States if Washington continues its tough action against Beijing, according to Chinese state media.
A commentary published by Taoran Notes, a social media account affiliated with Economic Daily, said China would not give an "effective response" to the US if Washington did not show sincerity in resolving the two countries' trade disputes.
"If there is no real concrete action by the United States, it will be meaningless for you to come and talk," it said, referring to US Treasury Secretary Steven Mnuchin's announcement on Wednesday that he would go to Beijing to continue talks.
"It is better to suspend the consultation completely and return to the normal working track."
The commentary said China had
shown its sincerity
to resolve the trade deadlock by sending Chinese Vice-Premier Liu He to Washington for negotiations even after US President Donald Trump had decided to raise tariffs on US$200 billion of Chinese imports from 10 per cent to 25 per cent.
But the US had kept up its tough stance towards Beijing, it said, after Washington also
introduced restrictions
on Chinese telecoms company Huawei.
"The US does not show any sincerity in continuing talks," it said. "Instead, it is extending its pressure tactics. The US on one hand says it engages in talks, but on the other hand keeps using petty tricks to destroy the atmosphere for talks."
In another veiled attack, China's former central bank governor Zhou Xiaochuan said in a forum in Beijing on Friday that certain leaders' tactics defied logic and were doomed to failure.
Without naming the US and Trump, Zhou said: "Some newly appointed leaders violate economic theory and common sense, and only depend on commercial thinking when making policy decisions. I believe this unscientific way of working, which ignores the knowledge and theory our predecessors accumulated, will hit a wall."
The commentary came after Chinese Commerce Ministry spokesman Gao Feng said China
was not aware
of Mnuchin's planned trip and felt regret that the US had "unilaterally and continuously escalated the trade conflict".
Addressing a congressional hearing, Mnuchin said he would most likely go to Beijing in the near future to continue discussions. Trump, meanwhile, is expected to meet his Chinese counterpart Xi Jinping on the sidelines of the G20 summit in Osaka, Japan, next month.
Beijing's willingness to retaliate should not be underestimated, it said.
"China's sincerity is not returned with a positive response," it said. "Instead, some may even think that China is weak and can be bullied."
"If anyone thinks that China is bluffing, it will only be another major miscalculation after the war to resist US aggression and assist North Korea," it said, referring to the Korean war in 1953, when it said people had not believed Chinese troops would cross the border between the two Koreas.
"We will take countermeasures against anyone who puts tariffs on us."
Tensions between the two sides escalated last week when Trump made good on his threat to more than double the tariff rate on US$200 billion worth of Chinese imports to 25 per cent after accusing Beijing of backtracking on pledges it had made in earlier rounds of talks. China hit back by imposing the same level of tariffs on US$60 billion of US products.
Chen Long, an economist with Gavekal Dragonomics in Beijing, said the two countries still had a number of "sticky issues" to discuss, including the timing and process for removing tariffs already imposed, and agreeing which products – and in what quantities – Beijing should buy to help redress the US' trade deficit with China.
This article appeared in the South China Morning Post print edition as: be sincere or forget talks, u.s. told