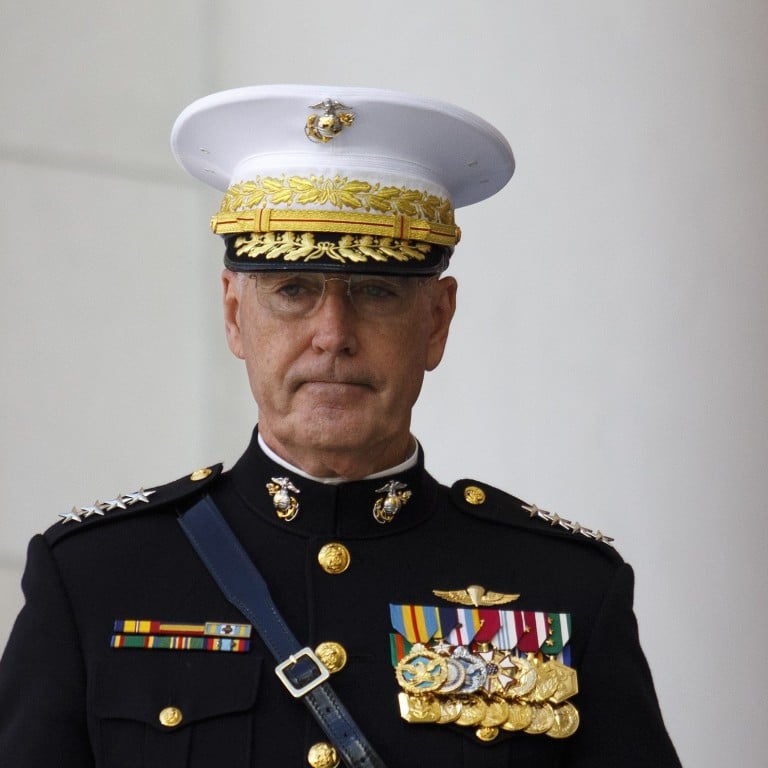 Top US military official says Beijing achieving immediate South China Sea goals, but further moves should be challenged
General Joseph F Dunford Jnr, chairman of Joint Chiefs of Staff, warns that any future expansion in the area must be checked with a collective response
US-China military communication must be improved, he said
With China's massive build-up on a "pile of rocks" in the South China Sea slowing as China increasingly achieves what it wants militarily, any future expansion by Beijing or others in the area should be checked with clear and coherent collective action, the chairman of the US Joint Chiefs of Staff said on Wednesday.
General Joseph F Dunford Jnr, the nation's highest military officer, didn't elaborate during his presentation at the Brookings Institution think tank in Washington on what would trigger a potential collective response, what form it would take or what other "tools" might ideally be employed.
"I wasn't suggesting a military response. But there's certainly diplomatic and economic steps that can be taken to hold people accountable," he told a packed audience. "There are other tools, primarily other tools, to deal with it."
The statements came amid reports by Australian media that Australian military pilots have been distracted by lasers while flying in the region, with "informal Chinese militia vessels" believed to be responsible.
The Chinese embassy in Washington did not immediately respond to a request for comment on the laser reports or Dunford's comments. The Australian embassy said it was referring questions on the laser issue to Canberra.
But China has repeatedly said that the area it claims within the South China Sea is an integral part of its sovereign territory and that other powers should not provoke or interfere in its domestic affairs.
Some analysts questioned the wisdom of the alleged laser provocation. "This is so stupid because Australia is sitting on the fence," in facing off with China, said Seth Cropsey, a director at the Hudson Institute think tank and deputy undersecretary of the Navy in the Reagan and first Bush administrations. "If China wants to push them over, this is a good way to do it."
The South China Sea encompasses a series of rocks and atolls including the Spratly and Paracel island chains that are variously claimed by China, Vietnam, Taiwan, the Philippines, Brunei, Malaysia and Indonesia for their fishing, mining and strategic potential. An estimated US$5 trillion in trade passes through the area annually.
China has embarked on a massive building programme in the disputed region in recent years and claims much of the territory as its own, citing historical precedent. In 2016, a UN tribunal ruled against China in one claim involving the Philippines, but Beijing said it doesn't recognise the body's authority and has largely ignored the ruling.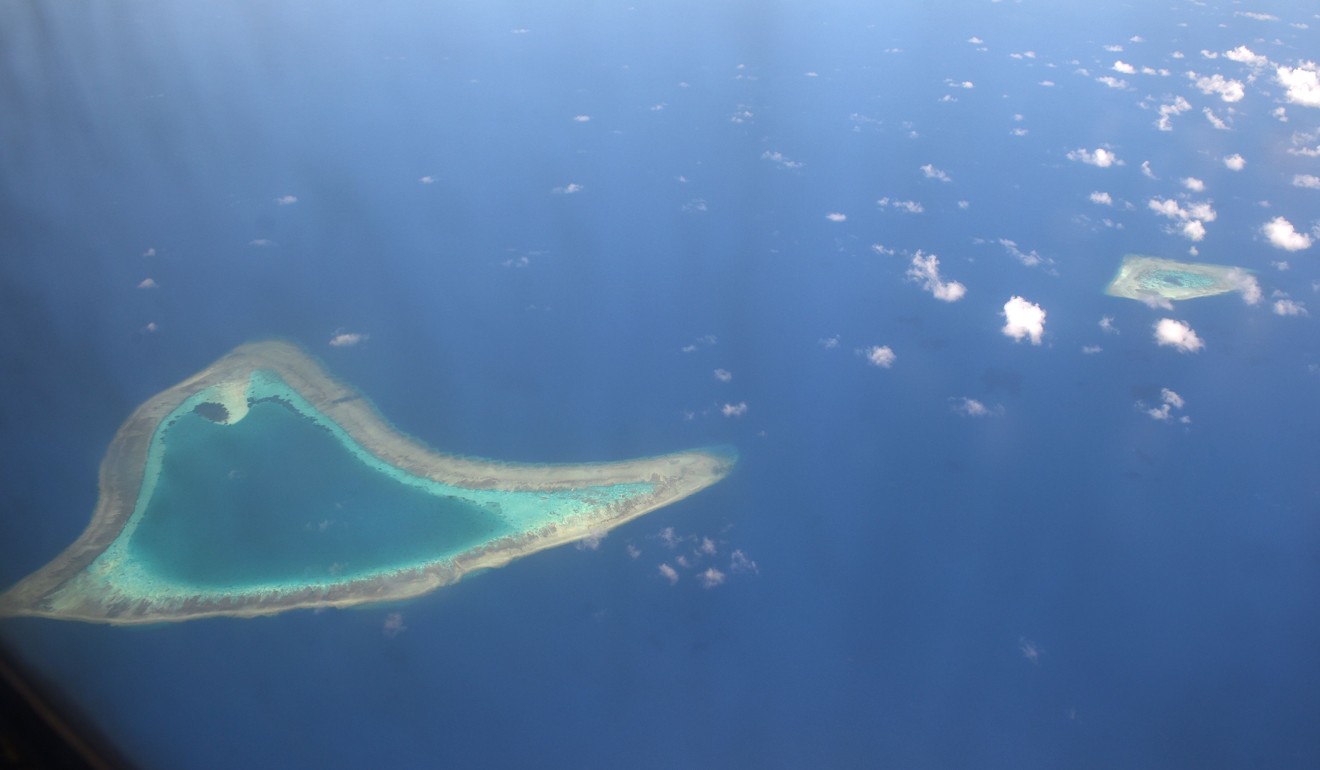 Dunford's comments on the disputed region came in response to questions about China – although he was careful to avoid mentioning China by name when speaking about any future expansion, adding that adherence to international norms applied to all areas where territory is disputed. But he was much more forthcoming in pointing a finger at China when it came to what he called bad faith on Beijing's part over island militarisation.
Late in US President Barack Obama's administration, Dunford noted, Chinese President Xi Jinping promised that China would not militarise the South China Sea islands.
"What we see today are 10,000-foot runways, ammunition storage facilities, routine deployment of missile defence capabilities, aviation capabilities and so forth," he said. "So clearly they have walked away from that commitment."
Recently China has eased up on its island-building and related construction, but this is less due to some change of heart than the likelihood that Beijing believes its work is done, at least for now, the Marine Corps general said.
"To the extent that the military capabilities haven't been increased in recent months, I assume that's because the islands have now been developed to the point where they've provide the military capability that the Chinese requires them to have," he said. "I don't know that I read much into no change over the last few months."
But some analysts said Xi's commitment to Obama was subject to interpretation and that Beijing had instead pledged not to expand into new island groups with the understanding it would finish construction on projects then underway.
"I think they've largely held to that," said Timothy Heath, a senior researcher at the Rand Corporation. "There's some debate over what Xi Jinping really" meant, he added.
Heath added that Dunford's direct language when dealing with some China issues and more evasive wording elsewhere reflects the contradictions in US policy toward China.
Washington sees a growing military threat from China even as it is still closely tied to the Asian giant on trade and investment, despite the trade war. "That's why you see US officials talking out of both sides of their mouth," he added.
In its most recent annual report on China, the Pentagon said that Beijing places a premium on developing a military that can "fight and win", that it is increasingly intent on operating beyond its borders and that the military build-up "improves China's ability to detect and challenge activities by rival claimants or third parties."
While fishing and mining are sometimes cited as China's motivation for its island building programme, analysts said Beijing's primary concern is the potential for a US embargo in the event of a US-China confrontation over Taiwan or other conflict. An estimated 80 per cent of China's oil passes through the Strait of Malacca and South China Sea.
The United States takes no official position on territorial claims in the disputed area but is instead intent on maintaining open sea lanes. Periodically it operates "freedom of navigation" voyages in the region close to Chinese-claimed territory, earning a sharp rebuke from Beijing with each one.
China has laid a keel for its third aircraft carrier, now under construction at the Jiangnan shipyard in Shanghai, that is expected to expand its ability to launch more, larger and more varied aircraft from its decks.
The current class of Chinese aircraft carriers – the 66,000-tonne Liaoning acquired from Ukraine and a second, home-built version modelled on the Liaoning – can launch about 30 aircraft, analysts said, compared with the roughly 80 each of the 11 US carriers can muster.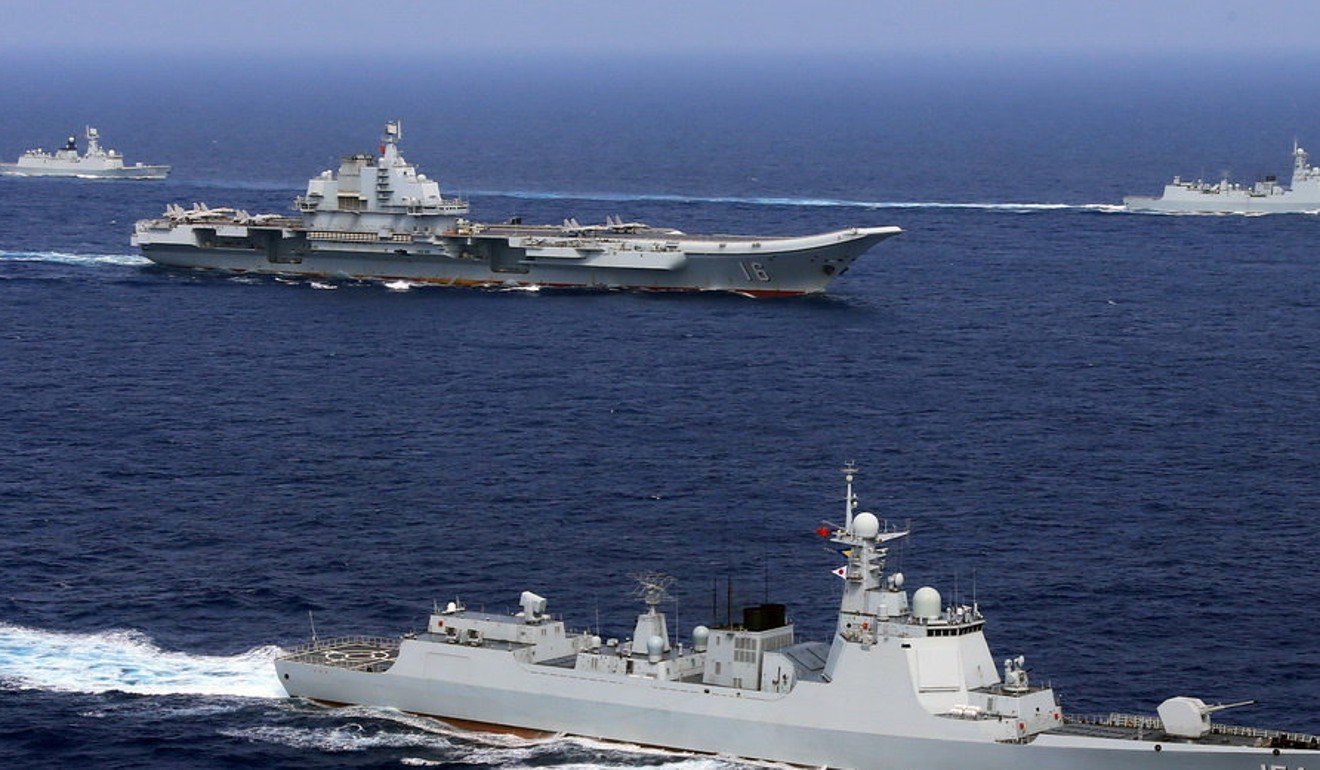 China's military build-up has prompted the US to develop precision long-range missiles that can be launched beyond the 50- to 100-mile range of China's existing missile defence systems, analysts said. The US is also altering its naval strategy to contend with a rival that is increasingly likely to challenge its ability to navigate globally.
Dunford said that the US has worked for a decade – without much success – to institutionalise regular communication between top military leaders on both sides to improve understanding, although analysts said this reflects a cultural difference.
"In our culture, we're much more willing to have the military serve as de facto diplomats of a sort," said Heath of the Rand Corporation. "In the Chinese system, they're much more sceptical of that idea, much more controlling over how they meet."
Dunford added that US-China military communication must be improved: "We aren't where we need to be in our military to military relationship with China".
This article appeared in the South China Morning Post print edition as: top u.s. general tells of steps to halt expansion