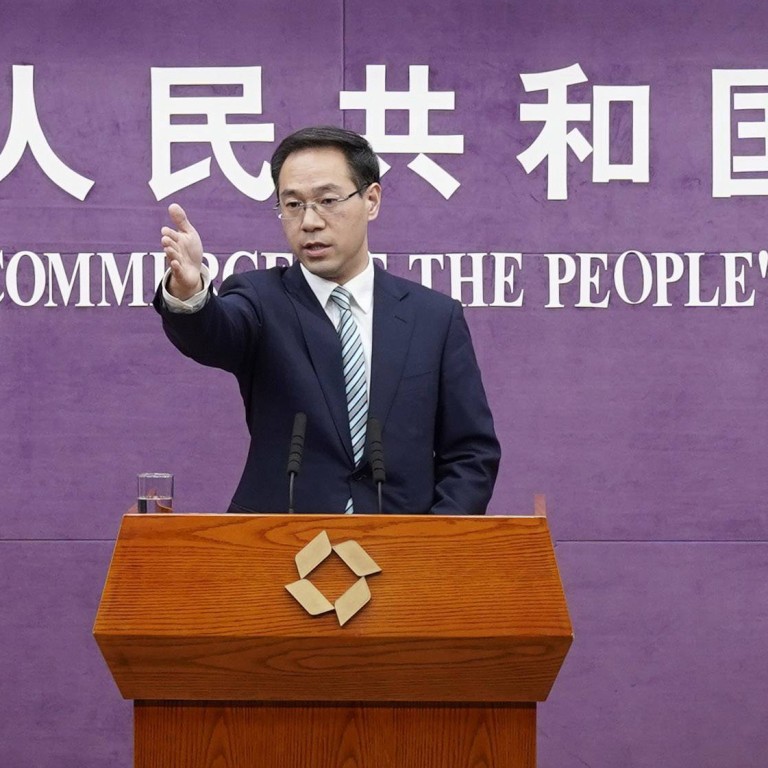 Beijing to blacklist 'unreliable' foreign entities that 'hurt interests of Chinese firms'
Commerce ministry says it will publish a list of businesses or individuals deemed to have violated market rules or taken 'discriminatory measures'
Hours after announcement, state broadcaster CCTV airs commentary saying China 'does not want a war but it is not afraid to fight'
China will publish a list of "unreliable" foreign entities deemed to have damaged the interests of Chinese firms – a move set to ratchet up tensions in its escalating conflict with Washington, after the US government blacklisted Chinese telecoms giant
Huawei
.
The Ministry of Commerce said on Friday that it would blacklist foreign businesses or individuals that violated market rules and contractual obligations, or took "discriminatory measures" to hurt Chinese business rights and interests, as well as national security and interests.
Specific measures for those on the list would be revealed "in the near future", said ministry spokesman Gao Feng.
Gao said the "unreliable" blacklist would be based on China's foreign trade, anti-monopoly and national security laws, and it would target entities that had blocked Chinese businesses out of non-commercial concerns.
Hours after the announcement, state broadcaster CCTV's prime time news aired a commentary saying that in the ongoing trade war with the US, China "does not want a war but it is not afraid to fight, and it would fight if push came to shove".
Kang Hui, the TV anchor who read the commentary, said: "If the US wants to negotiate, our door is open. If you want to fight, we will fight to the end."
The latest move by Beijing was in direct response to the US Commerce Department's decision to put Huawei Technologies and 70 affiliates on an "entity list" over national security concerns, after Washington sought to restrict the company's technology from entering the US market and from its allies' critical 5G networks.
Beijing has called the attempts "politically motivated", as the two powers engage in a fight for global technological superiority.
China and the US have already seen tensions intensify over stalled trade talks in their almost year-long tariff war, with both sides imposing punitive tariffs on billions of dollars in goods after US President Donald Trump's administration accused the Chinese side of reneging on key trade commitments.
Beijing and Washington have had several rounds of negotiations since December to tackle issues such as intellectual property protection, forced technology transfers, market access and state subsidies, but have yet to reach a deal.
Mei Xinyu, a research fellow at a research institute under the commerce ministry, said Beijing was "forced" to draw up a blacklist after the US restrictions on Huawei.
"This is a last resort," he said. "The companies that have been blacklisted will be restricted in terms of sales, investments and business licences. For relevant individuals, their travel, activities and employment in China will all be rejected."
Mei also highlighted the case of another big Chinese telecoms firm, ZTE. Washington enacted, then removed, crippling sanctions on ZTE after it was found guilty of evading US sanctions on Iran, but it remains under the oversight of US compliance officers.
"We hope [the compliance officers] will not act too outrageously, or else they will also be added to the blacklist, and in the future, those individuals and their families, as well as their organisations' activities in China, will also be restricted," Mei said.
"We hope the American people and American businesses will understand. We hope the world's people and businesses will understand."
China's decision to use an "unreliable" blacklist has the potential to hurt thousands of foreign firms operating in the country, which business groups have said would be at grave risk.
"Things are moving in the wrong direction," said Jake Parker, vice-president of China operations at the US-China Business Council.
"Punishing industry will not persuade either government to change their positions and will exacerbate the damage being done to American companies that do business with China. Negotiation is the only way to get these issues back on the right track."
CCTV on Friday also aired an interview with Chinese vice-minister of commerce Wang Shouwen, who said it would be "impossible" for the US to pressure China to make concessions in the ongoing trade war, claiming the negative impact on China's economy and foreign trade was "controllable".
Wang, who has been closely involved in trade negotiations with the US, also called allegations of Chinese forced technology transfers and intellectual property theft a "fake problem".
"Today the US enacts tariffs on Chinese goods and sanctions on Chinese businesses," he said.
"Tomorrow, they could enact the same measures on any other country and their businesses. The international community is very worried. Any country or any company could be the next victim."
In the past few days, Communist Party mouthpiece People's Daily has published a series of hawkish commentaries.
On Wednesday, a piece written under the pen name Zhong Sheng – used to express official foreign policy views – suggested Beijing may also
limit critical rare earths exports
to America, cautioning the US not to underestimate China.
In a phrase used by state media before China's 1962 border war with India, it stated ominously: "Don't say we didn't warn you!"
This article appeared in the South China Morning Post print edition as: china turns up heat with its own blacklist