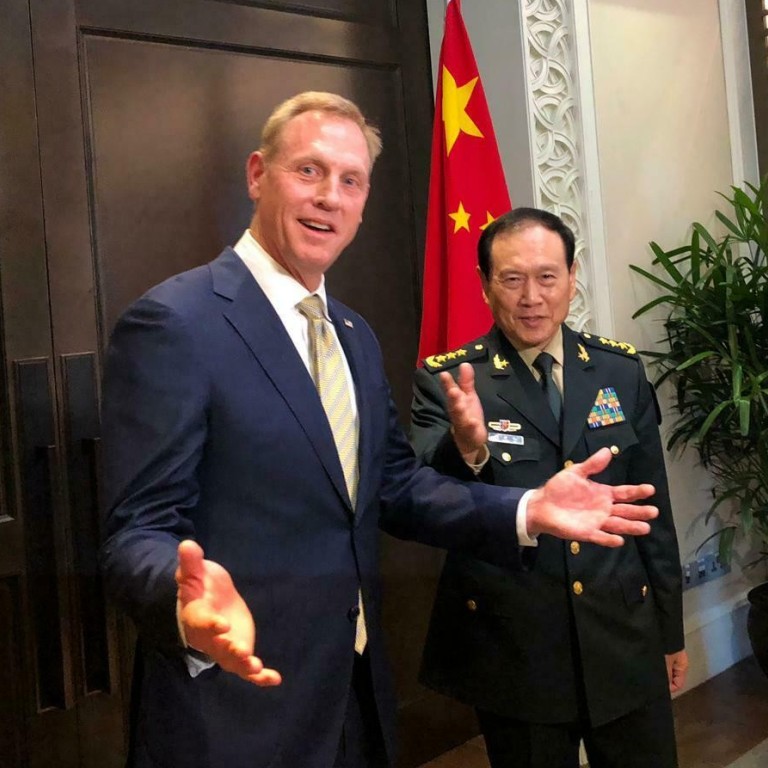 Chinese defence chief warns US not to underestimate Beijing on Taiwan during Singapore security forum
Wei Fenghe meets US counterpart Patrick Shanahan on sidelines of regional security forum in Singapore, with both sides describing talks as 'constructive'
They also discussed North Korea, reaffirming their commitment to denuclearisation and stability on the Korean peninsula
Chinese Defence Minister General Wei Fenghe warned Washington on Friday not to underestimate Beijing's determination over Taiwan, during talks with his US counterpart Patrick Shanahan on the sidelines of a regional security forum in Singapore.
In their first meeting since Shanahan became acting defence secretary in January, the two also discussed North Korea, with both sides reaffirming their commitment to denuclearisation and stability on the Korean peninsula, Chinese defence ministry spokesman Senior Colonel Wu Qian said.
Wu described the meeting between Wei and Shanahan as "constructive", "candid" and "friendly", saying both sides remained committed to continuing military exchanges although they remained deadlocked over issues ranging from trade to security.
He said Wei made clear during the meeting China's firm opposition to what it sees as Washington's interference in Taiwan affairs.
"Minister Wei stressed that the Chinese side resolutely opposes the recent series of negative actions by the US on Taiwan issues. The US side should not underestimate China's determination and ability to safeguard its national sovereignty and territorial integrity," Wu said.
Pentagon spokesman Lieutenant Colonel Joe Buccino said Shanahan found their 20-minute meeting "constructive and productive", according to Reuters.
"The two leaders discussed ways to build military-to-military relations that reduce the risk of misunderstanding and miscalculation between our nations," Buccino said.
He added that Shanahan also discussed how the two militaries could better cooperate to enforce sanctions on North Korea.
"Secretary Shanahan hopes to build on this evening's discussion with future engagements," Buccino said.
China has upgraded its representation at the Shanghri-La Dialogue this year – the last time it sent a defence minister was in 2011, when the delegation was led by General Liang Guanglie.
According to a Chinese military source, the meeting between Wei and Shanahan was initiated by the US, but it was not a formal bilateral dialogue between the two defence chiefs.
The last high-level military talks between China and the US were in November, when Wei met Shanahan's predecessor, James Mattis, in Washington for the US-China Diplomatic and Security Dialogue.
"The meeting was initiated by the Pentagon when the International Institute for Strategic Studies, which organises the forum with Singapore, was preparing for the event earlier this year," the source said.
"The Chinese preferred to have a formal meeting, but the US suggested a less formal one since Shanahan is in an acting role and his nomination has not been confirmed."
Beijing-based military expert Zhou Chenming said the meeting indicated that the two sides did not want their protracted trade war to get out of control.
"The ongoing trade dispute between China and the US has worsened and the row has begun to affect security matters, but there is no sign it will start affecting their militaries, which suggests the situation is still under control," Zhou said.
"Beijing hopes to limit the dispute to the economic and trade sectors, even though [US President Donald] Trump's administration has begun to target China's technology and cyber industries."
Another Chinese military official said Beijing believed it was important to continue the military engagement, especially as the tug of war over trade deepened.
Rajeev Ranjan Chaturvedy, a visiting fellow at the S Rajaratnam School of International Studies at Nanyang Technological University in Singapore, said the talks between Wei and Shanahan were a normal and pragmatic step to keep all options open.
"I do not expect any important outcome [for the ministers' meeting]," he said, adding that countries in the region were keeping a close watch on the development of the US-China trade war, especially whether it would have an impact on security issues.
"Regional countries do not want to take sides. China is getting more and more important."