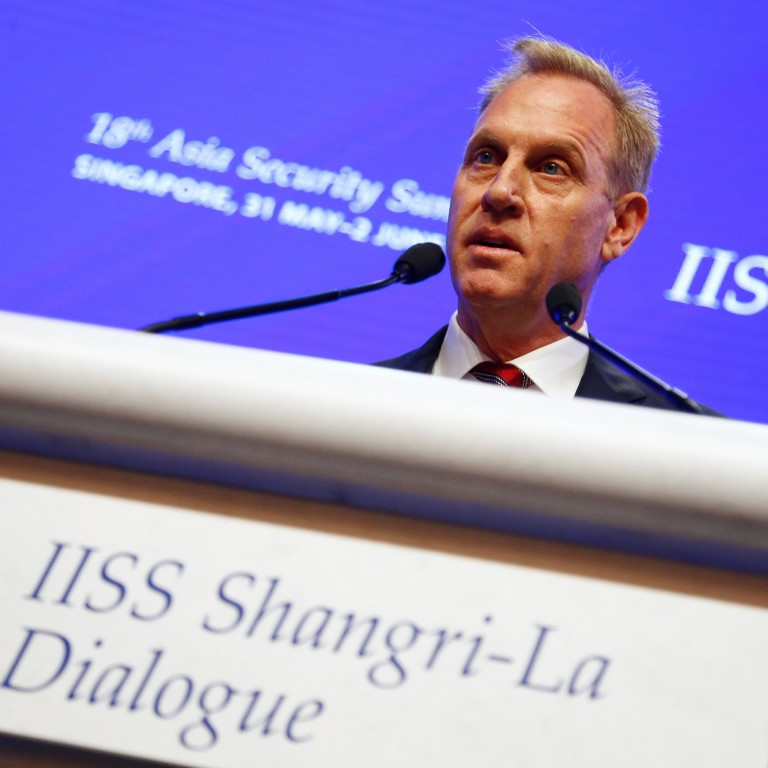 Erosion of nations' sovereignty must end, US defence chief Patrick Shanahan tells Asia forum
Having the capability to win wars the best way to deter aggressive behaviour in Indo-Pacific, official says at Shangri-La Dialogue
Shanahan appeals to Asian countries to invest in themselves to increase 'ability to exercise sovereign choices'
The United States does not seek conflict but coercive behaviour like China's that erodes other nations' sovereignty must end, acting secretary of defence Patrick Shanahan told an Asia security summit in Singapore on Saturday.
Speaking at the annual Shangri-La Dialogue, organised by the International Institute for Strategic Studies, Shanahan criticised China for breaching the US-led world order and urged Beijing to cooperate with Washington.
"[Some] actors undermine the system by using indirect, incremental actions and rhetorical devices to exploit others economically and diplomatically, and coerce them militarily. They destabilise the region, seeking to reorder its vibrant and diverse communities toward their exclusive advantage," he said.
"Behaviour that erodes other nations' sovereignty and sows distrust of China's intentions must end … the US does not seek conflict, but we know that having the capability to win wars is the best way to deter them."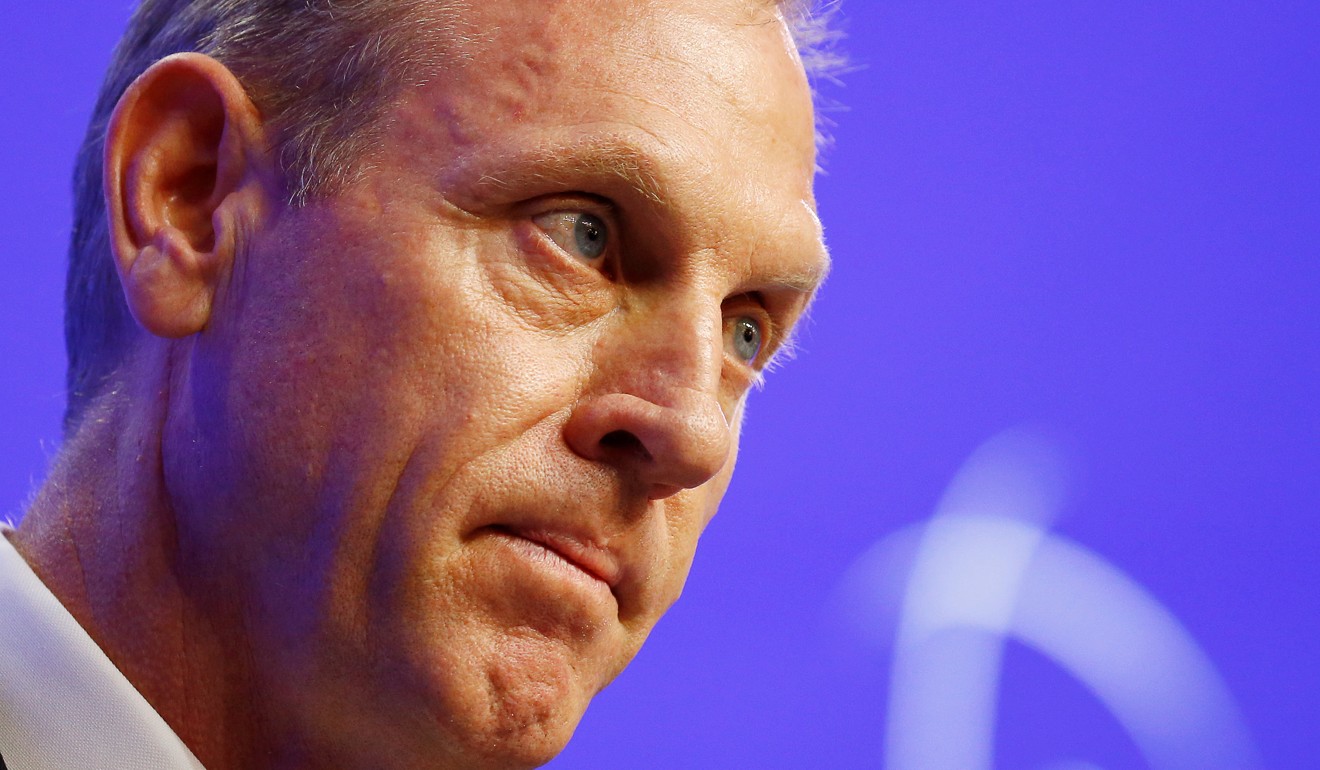 The defence official also warned of "actors" engaging in "predatory economics and debt for sovereignty deals, lubricated by corruption, which take advantage of pressing economic needs to structure unequal bargains that disproportionately benefit one party".
In a speech lasting almost 40 minutes, Shanahan said Washington had already committed US$125 billion for "operational readiness and sustainment" for the next financial year, and had requested an extra US$104 billion for research and development into emerging technologies.
"This funding will boost the depth and capacity of our armed forces, and also help expand our training – including with allies and partners – to improve mission readiness critical to meeting this region's challenges," he said.
He also urged other nations to increase their military spending.
"We need you to invest further in yourselves. We need you to invest in ways that take more control over your sovereignty and your own ability to exercise sovereign choices," he said.
Despite Shanahan's strong words, Wu Shicun, one of the Chinese delegates at the Singapore forum and head of the National Institute for South China Sea Studies, said the US defence official struck a conciliatory tone.
"Shanahan's moderate view shows the US wants to maintain a stable security relationship with China by trying to prevent any possible military conflicts, even though he intentionally showed off America's long history and far-reaching military influence in the region," Wu said.
The one possible fly in the ointment was Taiwan, which could become the defining factor in future US-China relations, he said.
"The Taiwan issue remains the core problem in the Sino-US relationship. The US will not allow the reunification of the two sides of Taiwan Strait and will keep selling arms to Taiwan and coming up with measures to support independence-leaning forces."
China is involved in multiple territorial disputes in the South China Sea with Southeast Asian countries, including Vietnam and the Philippines.
Shanahan's speech provided a detailed picture of the United States' Indo-Pacific defence strategy as it seeks to counter not only Beijing's growing economic and military clout in the region, but also rising scepticism about Washington's commitment to it.
"From our trilateral relationships with Australia, Japan and South Korea, to our work with Thailand co-organising the Asean-US Maritime Exercise scheduled for this September, we are building an interconnected Indo-Pacific," he said.
China and the US have been locked in a trade war for close to a year, and in that time their rivalry has extended into 5G technology, cyberspace and the South China Sea.
"We compete with China where we must. But competition does not mean conflict. Competition is not to be feared," Shanahan said.
The Shangri-La Dialogue is part of a broader regional tour for the defence official, which began on Wednesday in Jakarta and will be followed by visits to Seoul and Tokyo.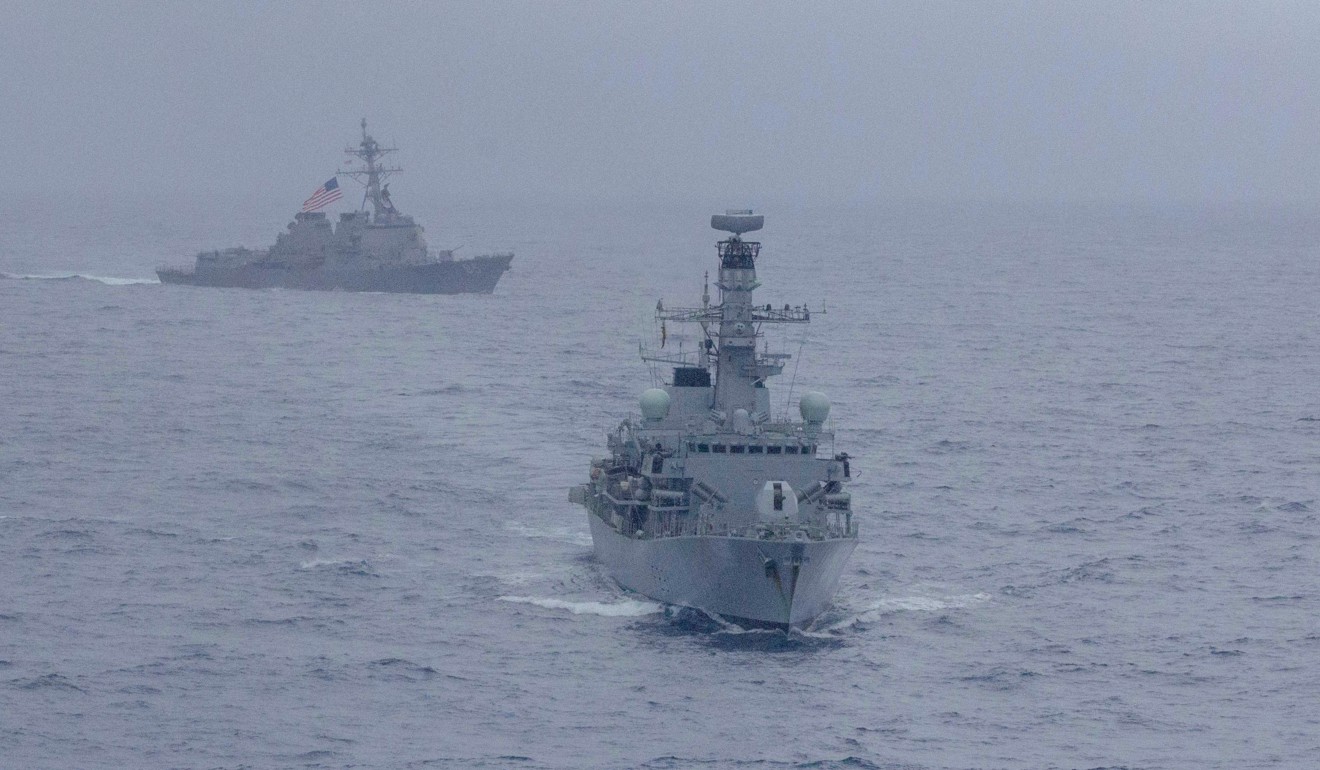 Collin Koh, a maritime security analyst with the S. Rajaratnam School of International Studies at Nanyang Technological University in Singapore, said China was keen to avoid a military conflict in the South China Sea.
"Its biggest maritime fear is the prospect of a clash with the US," he said, adding that opinion on Washington's Indo-Pacific strategy was mixed.
"Some Chinese scholars think the US-led Indo-Pacific discourse is heading nowhere, so there's no need to overreact to it.
"On the other hand, there appear to be nagging concerns that the strategy poses a long-term obstacle to China's emergence," Koh said.