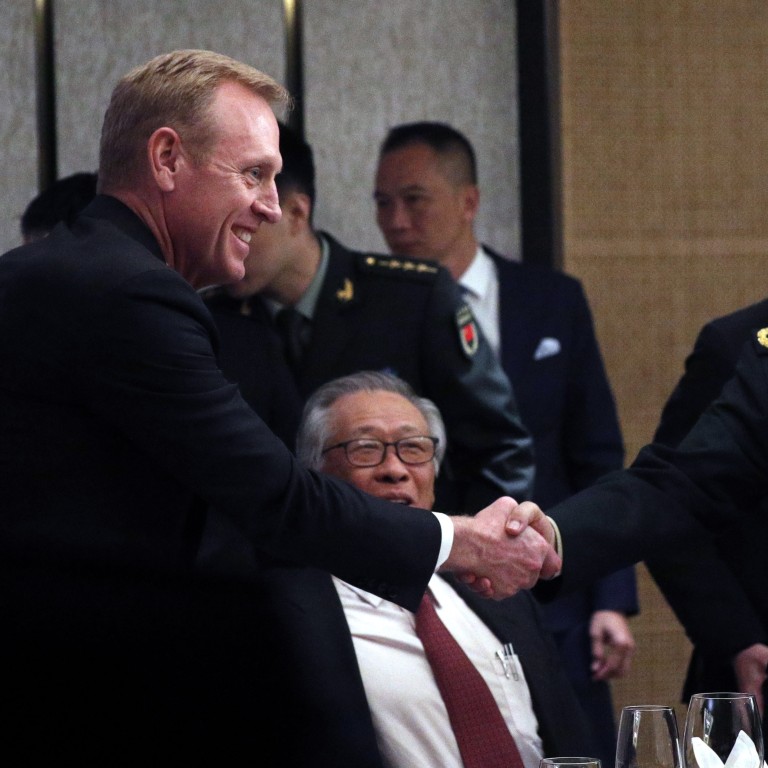 'Competition does not mean conflict': American defence chief leaves door open to cooperation with China
Patrick ­Shanahan's address to Singapore security forum signals Washington's willingness to ­engage with Beijing, Chinese colonel says
The United States slammed China on Saturday over its "aggressive behaviour" in Asia, but left room for continuing bilateral ­cooperation in the region.
Speaking at the Shangri-La ­Dialogue in Singapore, acting US secretary of defence Patrick ­Shanahan said Washington would continue to compete with Beijing, but was still willing to cooperate when the two countries' interests aligned.
"Competition does not mean conflict," he added.
"We cooperate with China where we have an alignment of interests, from military-to-military dialogue to develop risk reduction measures, to tackling transnational threats such as counter-piracy, to enforcing United Nations sanctions on North Korea," said Shanahan, who met Defence Minister ­General Wei Fenghe at the security summit.
"Competition is not to be feared. We should welcome it, provided that everyone plays by internationally established rules."
Senior Colonel Zhou Bo, director of the Centre for Security ­Cooperation at the Ministry of National Defence, said ­Shanahan's speech reflected Washington's willingness to ­engage with China.
"[The US side] still attaches great importance to bilateral relations with China. Shanahan mentioned his meeting with Minister Wei four times, and emphasised that competition does not equal conflict ... and that we can manage the competition in a constructive way," Zhou said.
"Neither China nor the US wants the breakout of military conflict. This is an important ­message [that both sides want to send]," he said.
Zhou also said that China was willing to cooperate with the US in redefining what Washington calls freedom of navigation. "We can have a more flexible explanation for [freedom of navigation] and there should be room for interpretation. But the US should not be the only party who can provide a definition for freedom of navigation, where the concept is ambiguous to begin with," Zhou said.
"The world's ocean is vast.
"Instead of always coming to our waters to conduct freedom of navigation [operations], the US side should look beyond that and cooperate with China in waters of other regions," he added, noting that Beijing was willing to explore ways to avoid conflicts.
But in a speech lasting almost 40 minutes, Shanahan also criticised Beijing over Taiwan.
"We maintain that any resolution of differences across the ­Taiwan Strait must occur in the absence of coercion and accord with the will of the people on both sides of the Taiwan Strait," he said.
The US official also warned of "actors" engaging in "predatory economics and debt for sovereignty deals, lubricated by corruption, which take advantage of pressing economic needs to structure unequal bargains that disproportionately benefit one party".
A Pentagon report released on Saturday as Shanahan spoke in Singapore slammed China for "eroding the values and principles of the rules-based order".
According to the more than 50-page Indo-Pacific Strategy Report, "China is using a steady progression of small, incremental steps in the 'gray zone' between peaceful relations and overt hostilities to secure its aims, while remaining below the threshold of armed conflict."