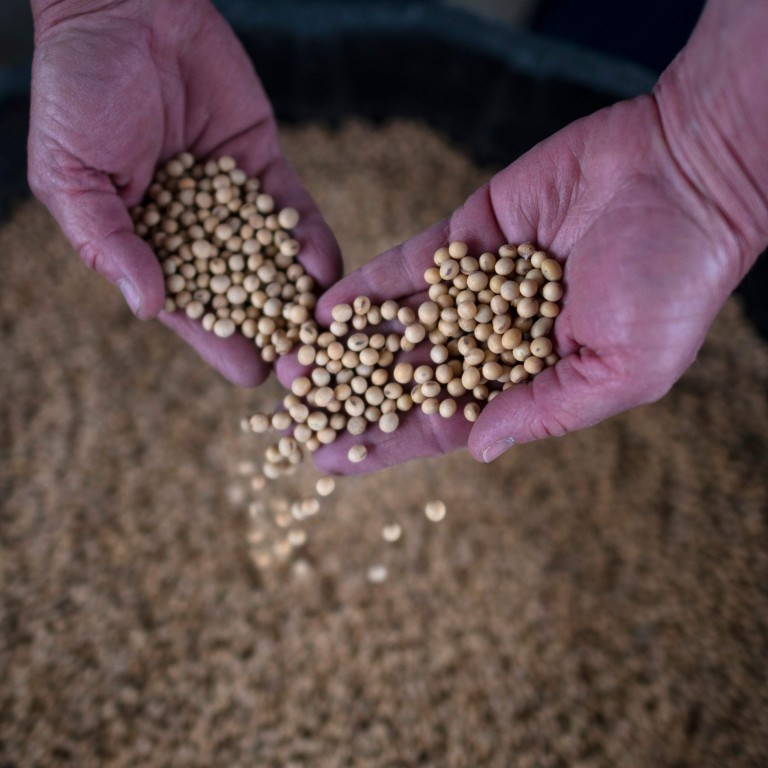 Russia ready to fill China's food gap left by US in trade war fallout
As African swine fever devastates local industry, China has been turning to other sources of protein
Russian meat producer looks forward to adding pork and soybeans to its poultry exports to China
Russia's leading meat producer has said it is ready to fill the supply gap left by the US as the world's most populous market struggles with the double blow of a devastating swine fever epidemic and a protracted trade war.
Cherkizovo Group, the largest meat producer in Russia, began shipping poultry products to China last month, and is now looking forward to selling pork and soybeans there, according to CEO Sergey Mikhailov, in an interview with the South China Morning Post on Thursday.
Hopes that China would buy more pork, soybean and other protein products from the US were dashed last month after trade negotiations with the Trump administration fell apart. Beijing included pork and chicken on a list of retaliatory tariffs on US$60 billion worth of American products in May and China has also reportedly suspended its soybean imports from the US since then.
As a starting point, Mikhailov said his company expected to ship around 1,000 to 1,500 tonnes of poultry products, mostly chicken feet, wings and drumsticks, to the Chinese market next month, quickly rising to 2,000 to 3,000 tonnes per month.
"We estimate the potential for Russian poultry exports to China may be around 200,000 tonnes a year, and Cherkizovo alone is targeting to reach 40,000 tonnes of poultry products to China next year," Mikhailov said, on the sidelines of the St Petersburg International Economic Forum.
As the world's biggest producer and consumer of pork, China has been turning to other types of protein, both locally produced and imported, after a devastating outbreak of African swine fever which began in August last year.
China's production of pork, a staple protein consumed by millions of people in the country every day, is expected to drop by 30 per cent because of the epidemic, according to some estimates.
China and Russia have been seeking to increase trade in agricultural products over the past few years. Last year, trade between the two countries in agricultural products and food rose by nearly 30 per cent, to US$5.23 billion – still less than 5 per cent of their overall trade in 2018, which reached to a milestone of US$108 billion.
Agriculture cooperation has been high on the bilateral agenda as Beijing and Moscow seek to further cement their already close ties in the face of their strained relationships with the US.
In a joint statement released on Wednesday, Chinese President Xi Jinping and Russian President Vladimir Putin pledged to "expand trade of good quality agricultural products and food". Companies from the two countries were also encouraged to push forward with cooperation in soybean supply chains, the statement said.
Mikhailov said Cherkizovo was one of 30 Russian companies recently allowed to directly supply poultry products to China, and was ready to fill the gap in the Chinese market "not just for short term opportunities but also long-term relationships".
"Potentially, we'll be able to build some future partnerships to further process some of our products, maybe in China, to make value-added products," he said.
So far, Russia remains a small exporter in both pork and soybeans, but Mikhailov said the country's the vast land and water reserves, as well as a close relationship with China, would make Russia a reliable candidate supplier to meet China's demand, adding that he expected their cooperation to thrive in the long term.
"Nothing is short term in the pork business as it takes two years to build the farms, one year to breed the pigs and so three years in production, and to have a normal payback then you must work for another five to 10 years," he said.
"For the pork industry, you must have a long-term mission and long-term commitment from both sides. I think Russia could play some role in helping China to close the gap in its shortage of pork production," he said.
Though Cherkizovo's soybean production is small – about 40,000 tonnes a year – soybean exports are also on the agenda for the company. "It is something we can look at in the future," he said.
China also began importing dairy products in May and, Mikhailov said, the two governments had been in talks over pork exports too, though sanitary and phytosanitary (measures for the control of plant diseases) requirements were complicated and sometimes arbitrary.
To date, the US, Brazil and Argentina have been China's major soybean suppliers, with Russia providing only a small fraction of the total, while countries like Germany, Canada, Brazil, Spain and the Netherlands are the top pork exporters to China.
This article appeared in the South China Morning Post print edition as: Russia keen to fill China food gap left by the US