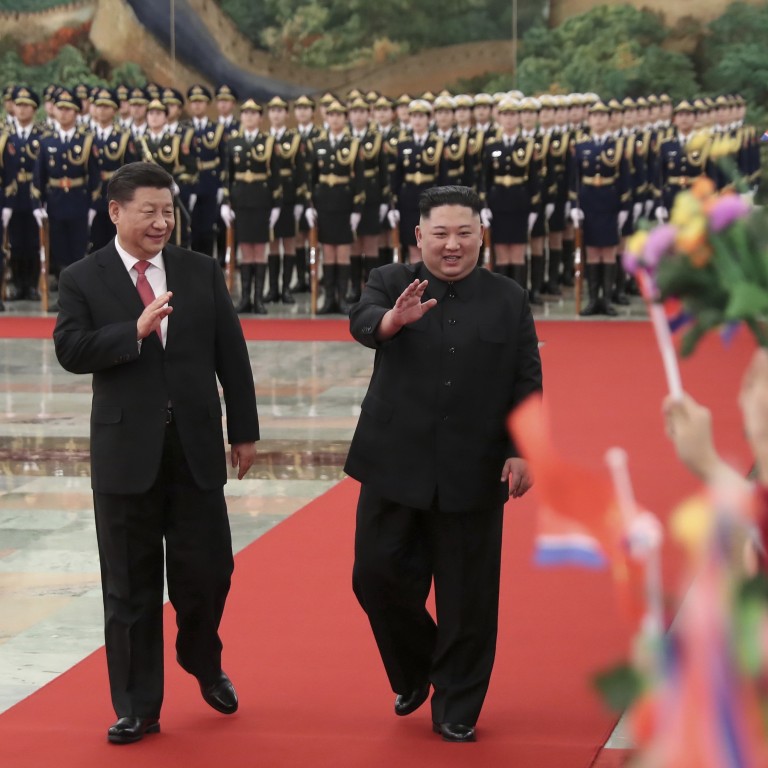 Xi Jinping's state visit to North Korea aims for 'new impetus' in ties
Stalled denuclearisation talks also expected to be on the agenda when Chinese president meets Kim Jong-un this week
Analysts say Korean peninsula has become intense diplomatic battleground between Beijing and Washington
Xi Jinping's upcoming trip to
North Korea
will be a state visit – a higher status than the last trip to the hermit kingdom by a Chinese president, highlighting the close bilateral ties between Beijing and Pyongyang.
Xi's two-day trip, which
begins on Thursday
, is the first by a Chinese president to North Korea in 14 years and comes just a week before he is due to meet US President Donald Trump for talks on the sidelines of the Group of 20 summit in Japan.
"Leaders of the two countries will review the development of the bilateral relationship and carry out an in-depth exchange of opinions on the development of Sino-North Korean relations in the new era, and chart the future course of development," state news agency Xinhua reported on Tuesday.
Xi's predecessor, Hu Jintao, went to North Korea in October 2005 on a three-day trip described as an "official goodwill" visit.
Speaking at a regular press briefing in Beijing on Tuesday, foreign ministry spokesman Lu Kang said Xi's visit aimed to "inject new impetus" into relations in the year the two countries marked the 70th anniversary of establishing diplomatic ties, and to give stalled denuclearisation talks a much needed push.
"Regarding the progress on denuclearisation, as I said, the result of the Hanoi leaders' meeting in February was indeed a little unexpected. But after that, everyone actually looks forward to the resumption of dialogue in a good direction," Lu said, referring to the failed talks between Trump and North Korean leader Kim Jong-un in the Vietnamese capital four months ago.
Trump hinted at the possibility of another meeting with Kim after receiving what he called "a beautiful letter" from the North Korean leader last week. On Tuesday, South Korea's chief nuclear negotiator, Lee Do-hoon, said the US had been in contact with the North.
Washington will also send US Special Representative for North Korea Stephen Biegun to South Korea next week, days after Xi's visit to Pyongyang, to fully align its position on North Korea with its ally.
Meanwhile, Trump confirmed he would meet Xi for talks in Osaka next week, saying in a tweet on Tuesday they had "a very good telephone conversation" and would hold "an extended meeting" at the G20 summit, where they are
expected to try to cool tensions
over an almost year-long trade war.
Analysts said the Korean peninsula had become an intense diplomatic battleground between Beijing and Washington.
Cha Du-hyeogn, a visiting research fellow at the Asan Institute for Policy Studies in Seoul, said China and the US were competing for influence over the peninsula.
"The US and China are seeking a greater sphere of influence in the region. After the Singapore summit between Trump and Kim last year, the US and North Korea are the only key players on peninsula matters. China may want to restore its influence and become a major player," Cha said.
"But China is less likely to have a so-called strategic competition with the US – that is to say, it won't challenge the US-led sanctions regime and its goal in achieving North Korea's denuclearisation. In fact, it is likely to persuade Kim to come to the negotiating table for complete denuclearisation."
Pyongyang has demanded the lifting of sanctions imposed on the regime following its nuclear and missile tests, while Beijing has said the livelihoods of North Koreans should not be affected. But Washington insists full sanctions should remain in place.
The US has also voiced scepticism about Chinese compliance with the sanctions. At a security summit in Singapore earlier this month, US acting Pentagon chief Patrick Shanahan – who on Wednesday stepped down from his role
amid domestic abuse claims
– presented his Chinese counterpart Wei Fenghe with photographs and satellite images of North Korean ships transferring oil near China's coast.
Analysts said Xi would seek to use the visit to boost China's diplomatic leverage on the North Korean nuclear front, strengthening its hand in dealing with the US.
Exports from North Korea to China, which account for the bulk of its trade, plunged 87 per cent last year from 2017, and the country has faced other economic problems at a time when Kim has vowed to deliver on the economy.
A diplomatic source said China was expected to offer a large amount of humanitarian assistance, such as food and fertiliser, to North Korea, which could weaken the impact of sanctions.
Communist Party mouthpiece People's Daily on Tuesday said via its social media account that Xi would discuss economic and trade cooperation with Kim during the visit.
Quoting Zheng Jiyong, director of the Centre for Korean Studies at Fudan University in Shanghai, the newspaper said Pyongyang had taken steps to reform its economy and introduced China's industrial manufacturing blueprint.
In September, Beijing proposed building a rail link from the city of Dandong, in China's northeastern Liaoning province, to Pyongyang and then on to Seoul and Busan in the South, as well as a new road between Dandong and Pyongyang through Sinuiju.
Lu Chao, a North Korean affairs expert at the Liaoning Academy of Social Sciences, said large-scale economic cooperation between China and North Korea was unlikely because of the sanctions, but smaller moves were possible.
"For example, China may export daily necessities to North Korea. And if it's needed, China is very likely to provide [food] assistance to North Korea," Lu said. "I believe the UN sanctions on North Korea should change, because it has shown a more substantive approach to [achieving] denuclearisation."
But analysts said Beijing remained firm on the need for Pyongyang to honour its pledges so that denuclearisation could be achieved.
"China's goal of denuclearisation on the Korean peninsula is unwavering and will not change … China supports [North Korea] and the US continuing to hold talks," Lu said.
Beijing also had an important part to play in the peace process, according to Boo Seung-chan, an adjunct professor at the Yonsei Institute for North Korean Studies in Seoul.
"China can have a positive role as a mediator to facilitate the peace process on the Korean peninsula," Boo said.
Additional reporting by Laura Zhou
This article appeared in the South China Morning Post print edition as: Xi's state visit to North Korea aims for 'new impetus' in ties