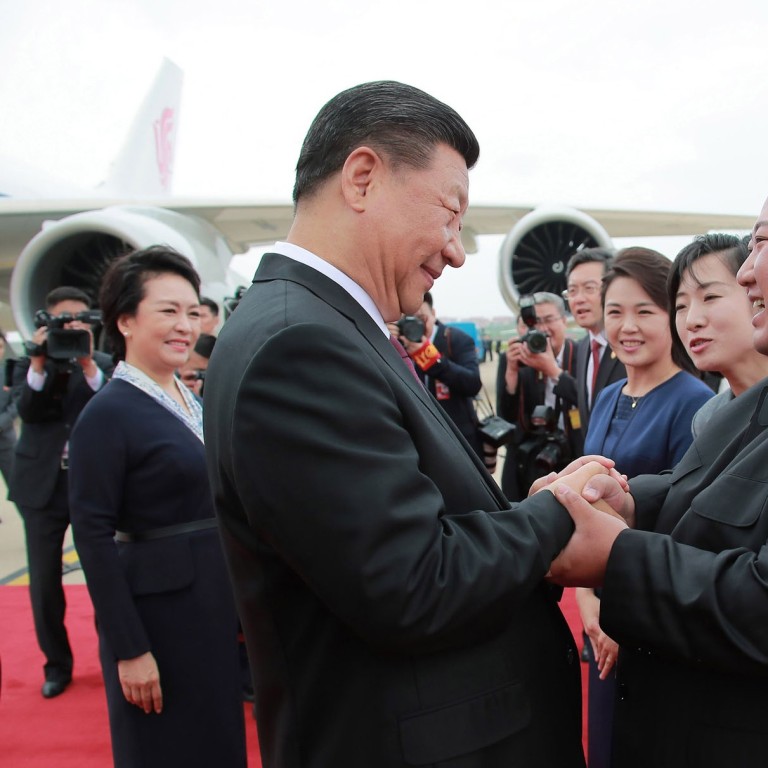 Xi Jinping vows to work with North Korea on 'political resolution' to nuclear issue
Chinese president also tells Kim Jong-un that Beijing is determined to support the country's new 'strategic path'
North Korean leader calls visit 'decisive' in showing the unchanging friendship of the two countries to the world
Chinese President Xi Jinping wrapped up his two-day state visit to North Korea on Friday after pledging to work with Pyongyang to achieve a "political resolution" to the nuclear issue.
In a meeting with North Korean leader Kim Jong-un before returning to Beijing, Xi also said China was determined to support the country's new "strategic path", Chinese state-run newspaper People's Daily reported.
"This visit … has achieved complete success in reinforcing the traditional friendship between China and North Korea," Xi was quoted as saying.
"It has laid down the direction of future development of China-North Korean relations in the new era, and also shown to the outside world the firm determination of China and North Korea in achieving a political resolution to the Korean peninsula problem and delivering long-lasting peace in the region."
North Korea's state media quoted Kim as emphasising Beijing's rock solid relationship with Pyongyang. According to Korean Central News Agency (KCNA), Kim told Xi that his visit was "decisive" in showing the unchanging friendship between the two countries to the world.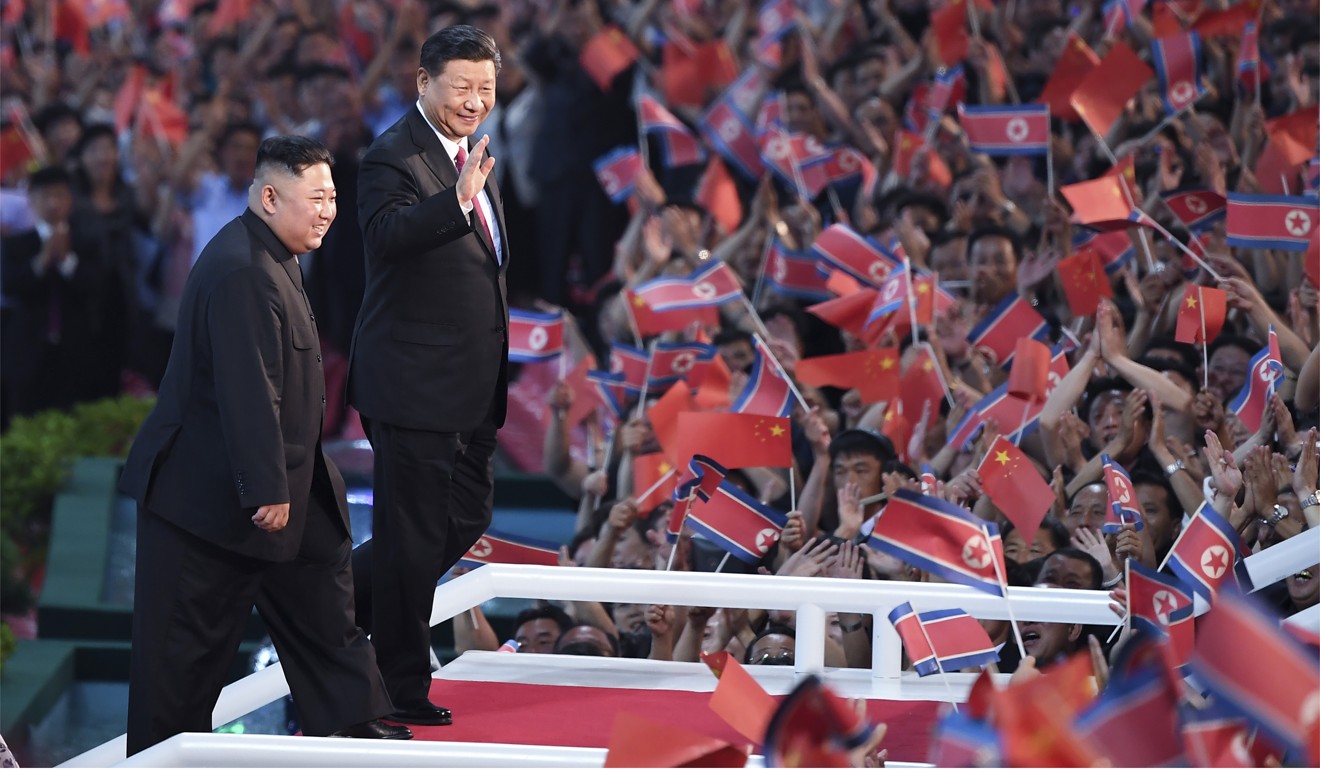 Xi's trip came after Kim's second summit with US President Donald Trump, in Hanoi in February,
collapsed
against a backdrop of continued economic struggle faced by North Korea. China, meanwhile, is fighting a protracted trade war with the United States.
KCNA on Friday said that "serious and complex" international affairs made it more important for Pyongyang and Beijing to strengthen bilateral ties.
"The supreme leader has exchanged wide-ranging opinions on important international and regional issues [with Xi] under the serious and complex changes in the international and regional situation," KCNA said, referring to talks between the two leaders on Thursday.
It added that Xi and Kim agreed to have close strategic communication and deepen cooperation in various fields.
Xi's visit to North Korea, which was only announced early this week, came just a week before he is due to meet Trump on the sidelines of the Group of 20 meeting in Osaka, Japan. By securing Kim's commitment to resolve the Korean nuclear issue through political means, Xi had boosted his bargaining power with Trump ahead of their meeting, observers said.
Although it was a whirlwind trip, Pyongyang
put on a lavish reception
that included mobilising tens of thousands of North Koreans to welcome the Chinese leader, and staging a mass gymnastics and arts performance on Thursday night, entitled "Undefeated Socialism".
The show – celebrating 70 years of diplomatic relations between North Korea and China – included fireworks, music, traditional Korean dance and mass games, during which banners were unfurled reading "Happy to meet Xi", "Unbreakable unity" and "DPRK-China friendship".
DPRK refers to the Democratic People's Republic of Korea, North Korea's official name.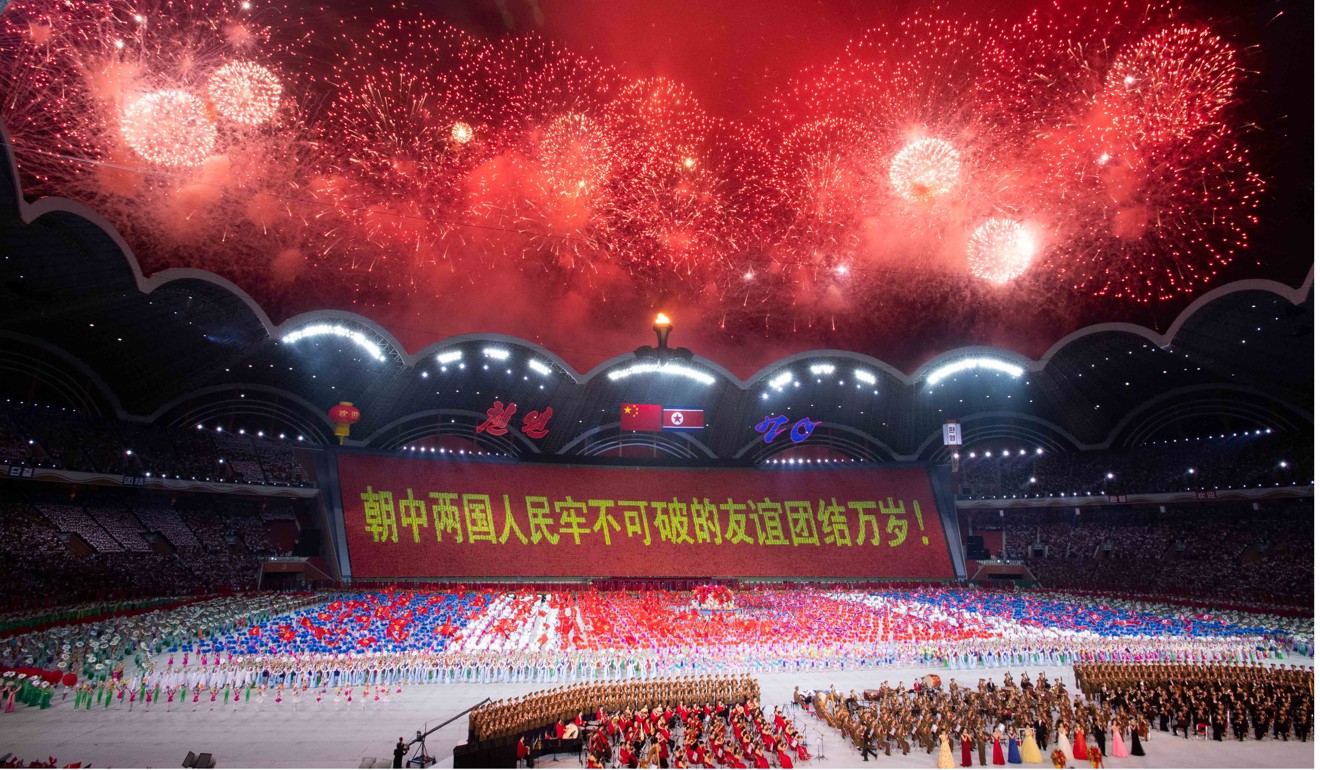 On Friday morning, Xi and Kim visited the DPRK-China Friendship Tower – a 30-metre-tall monument in downtown Pyongyang built in 1959 to commemorate China's involvement in the Korean war, fighting on the side of North Korea.
Xi mentioned the names of several Chinese who died during the conflict from 1950 to 1953.
"Their heroic deeds are well known in China," Xi said. "We are here to … remember the glorious history of our older generation who fought side by side with each other, and to encourage the future generations to inherit the traditional friendship.
"We must pass on this friendship … to consolidate socialism, to better serve the people, and to promote regional peace, stability, development and prosperity," he said.
About 360,000 Chinese soldiers were killed or injured during the Korean war, according to Beijing, but some Western scholars estimate nearly 400,000 Chinese died and 486,000 were wounded.
Kim said he was grateful for China's support in the past and again vowed to further strengthen relations between the two countries.
China has been North Korea's biggest guarantor of security since the Korean war, and the 1961 Sino-North Korean Mutual Aid and Cooperation Friendship Treaty promises Chinese military intervention if the country is "subjected to armed attack by any state or states".
Zhang Baohui, director of the Centre for Asian Pacific Studies at Lingnan University in Hong Kong, said China's position on the Kim regime was unchanged.
"China remains the main backer of North Korea and its strategic interests on the Korean peninsula have been consistent," Zhang said, adding that Beijing had promoted what it called the "Three Nos" – no nuclear weapons, no war and no chaos – on the peninsula.
"While China has been working with the international community to achieve denuclearisation on the Korean peninsula, it opposes any measures that could lead to war and instability [there]. The geographical proximity [between North Korea and China] means that it serves China's core interests to continue this policy."
This article appeared in the South China Morning Post print edition as: Xi to help Kim find 'political resolution' to nuclear problem