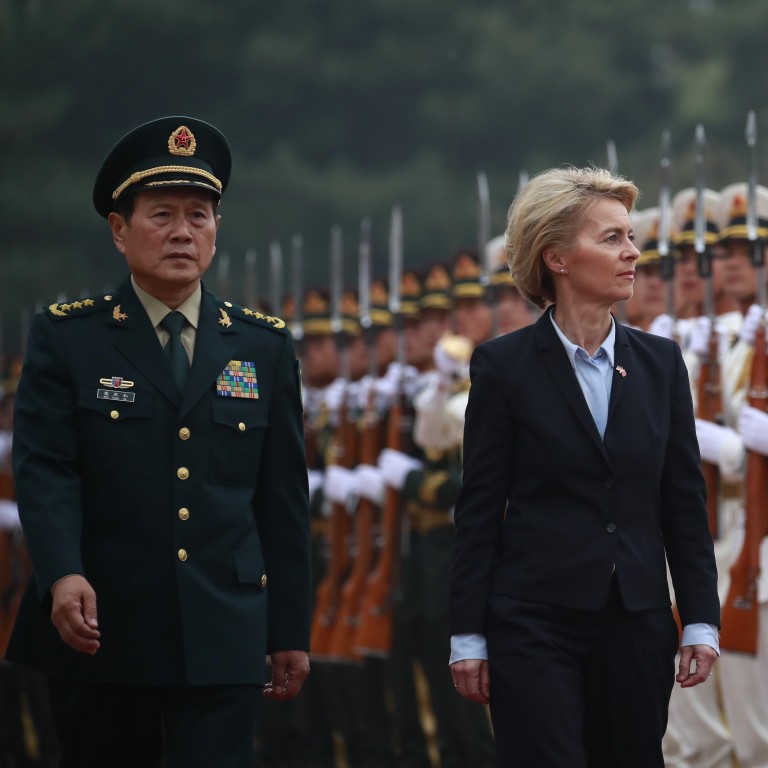 Ursula von der Leyen nominated to lead European Commission – but will she be tougher on China?
EU countries' choice to replace Jean-Claude Juncker gave interview in January in which she said threat from China had been 'overlooked'
She also said Chinese people would not put up with Beijing's social credit system in the long run
The newly announced nominee to lead the European Commission has previously sounded alarm bells about China's impact on Europe, leaving Chinese diplomatic observers wondering whether China-EU relations face an uncertain next five years.
Ursula von der Leyen became the
surprise choice
on Tuesday to replace Jean-Claude Juncker at the head of the EC – the EU's executive – after three days of bitter wrangling by the European Council, comprising the leaders of the 28 European Union member countries.
Von der Leyen, 60, is Germany's defence minister and has served in various positions in Angela Merkel's cabinet since Merkel became German chancellor in 2005.
The first woman nominated for the top job, Von der Leyen had the crucial backing of French President Emmanuel Macron, as well as the support of the Visegrad Four bloc of Hungary, Poland, the Czech Republic and Slovakia.
But in Chinese diplomatic circles there was scepticism about her potential ascent, pointing to her interview with the German newspaper Die Zeit in January.
In the interview, she said China "kindly ensnares" Europe, meaning that "we often overlook how consistently it pursues its goals – and how cleverly".
EU-China relations have been critical to Beijing's strategic calculations in recent years as it counts on a relative level of goodwill from Brussels amid ongoing trade and geopolitical tensions with the United States.
Some analysts say the departure of Juncker will have little impact on the overall EU-China dynamic, given that most EU policymaking requires consensus among the 28 member states.
But Chinese diplomats who talked to the South China Morning Post on condition of anonymity said personalities mattered, and rhetoric uttered by key politicians in Europe could have an impact on the way they were perceived by China.
"Juncker has been very careful in treading a fine balance in criticising China's economic policies without going too far on our politics and human rights," one former diplomat said.
Von der Leyen's tenure will be judged in Beijing by whether the close trade links between the two economies continue to thrive. At present, China is the EU's second-biggest trading partner, while the EU is China's biggest.
In the interview with Die Zeit, Von der Leyen went into detail about her views on China's economy, military and politics, and compared Chinese influence to Russia's threat to Europe.
"The guideline we have for Russia must also apply to China," she said.
She suggested that Europe needed to pay more attention to China, whose threats had been "overlooked" by many politicians in the EU.
She also mocked President Xi Jinping for not giving a question-and-answer session after he boasted of China's commitment to free trade at the World Economic Forum in 2017.
Von der Leyen criticised the way China treated its citizens, saying that Chinese people would sooner or later resist the social credit system.
"I am firmly convinced that the pursuit of freedom defines man," she said.
"Therefore, the Chinese will not put up with it in the long run that their government keeps a data account about the complete professional and social behaviour of every single citizen [that] decides, for example, which child is allowed in which school and who gets an apartment.
"Sooner or later, people will resist this total guidance," she said. "I believe that, beneath the surface, the desire for freedom and self-determination continues to glow."
As defence minister, Von der Leyen visited Beijing last year and gave a speech at the People's Liberation Army's National Defence University. She refrained from mentioning the South China Sea, despite mounting international concern over Chinese
military activities
there.
This article appeared in the South China Morning Post print edition as: Comments by woman in line for top EU job put focus on China relations