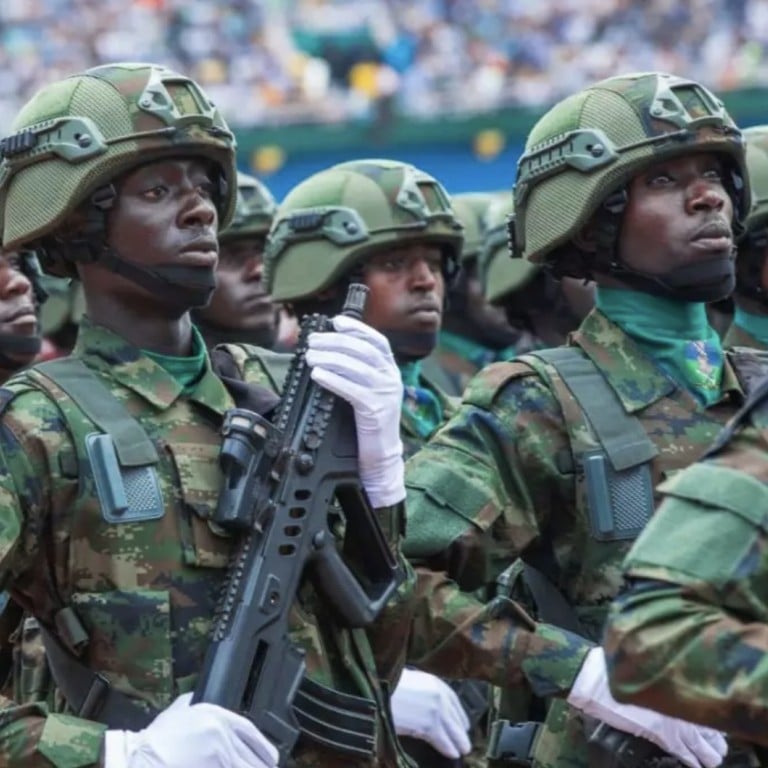 Rwandan troops trained by Chinese military mark 25th anniversary of liberation
Leaders from seven African nations among thousands watching parade to commemorate end of the 100-day genocide in 1994 against Tutsi minority
PLA sent over drill instructors in April to help train soldiers, who shouted commands in Mandarin during the event
Rwandan troops trained by the Chinese army marched in the east African country's grand military parade to mark the 25th anniversary of the liberation from genocide, even shouting commands in Mandarin.
Leaders from seven African nations were among thousands watching the colourful parade for Rwanda's Liberation Day at the packed Amahoro National Stadium in the capital of Kigali on Thursday, to celebrate the end of the 100-day genocide in 1994 against the country's Tutsi minority.
For the first time, the parade featured Chinese-style drills and slogans instead of Western military formations, China's state broadcaster CCTV reported.
When troops marched by the stadium rostrum to their right-hand side, the commanding officer held a salute and engaged in a call and response in accented Mandarin: "Look to the right!" The soldiers yelled back: "One! Two!"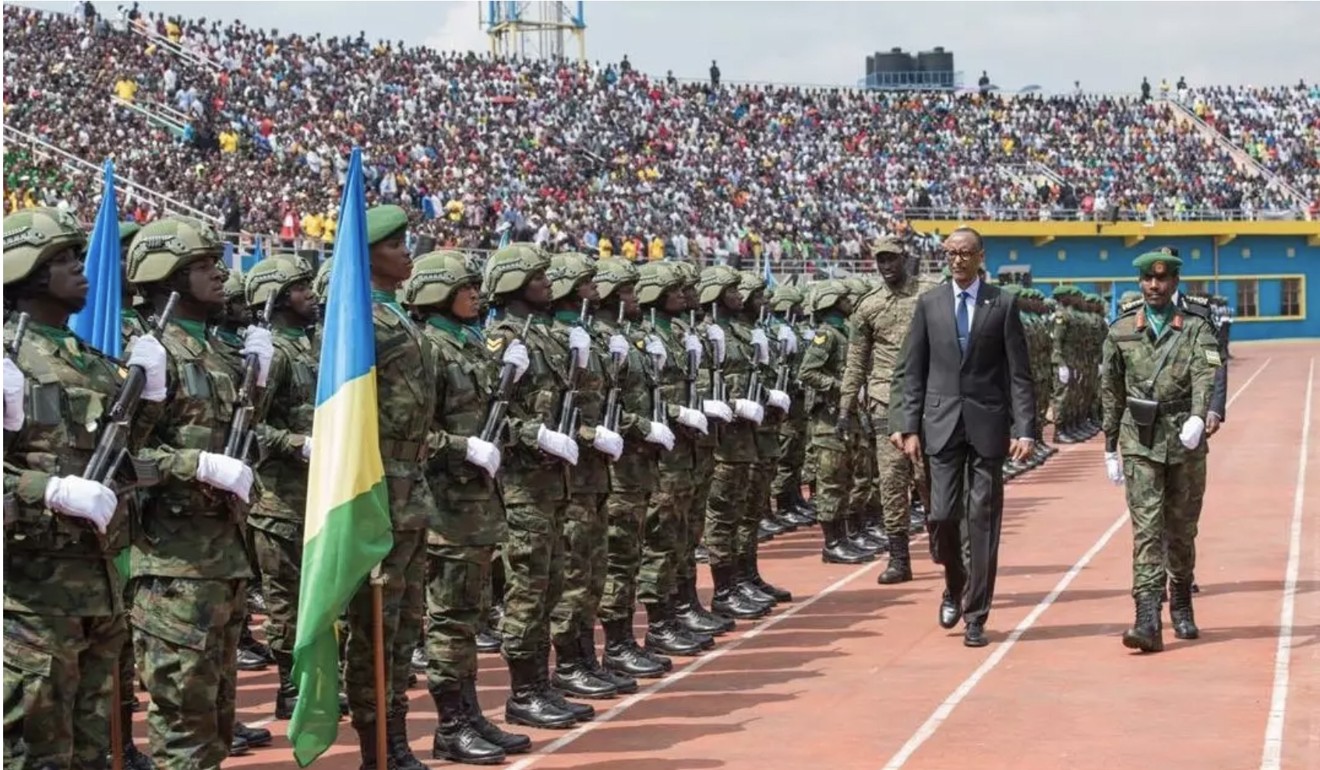 In April, the Rwanda Defence Force invited the Chinese People's Liberation Army (PLA) honour guard to send over drill instructors to help train Rwandan soldiers and police, according to the CCTV report aired on Friday.
Six Chinese instructors worked to train nearly 2,000 Rwandans, who made up 22 squads in the military parade.
PLA instructor Liu Baoxin told the broadcaster that the Rwandan soldiers and police officers were trained for over eight hours every day, based on Chinese military training methods.
"Today their performance has exceeded our expectations, and has reached the standard of our training," he said. "We are very satisfied with their performance."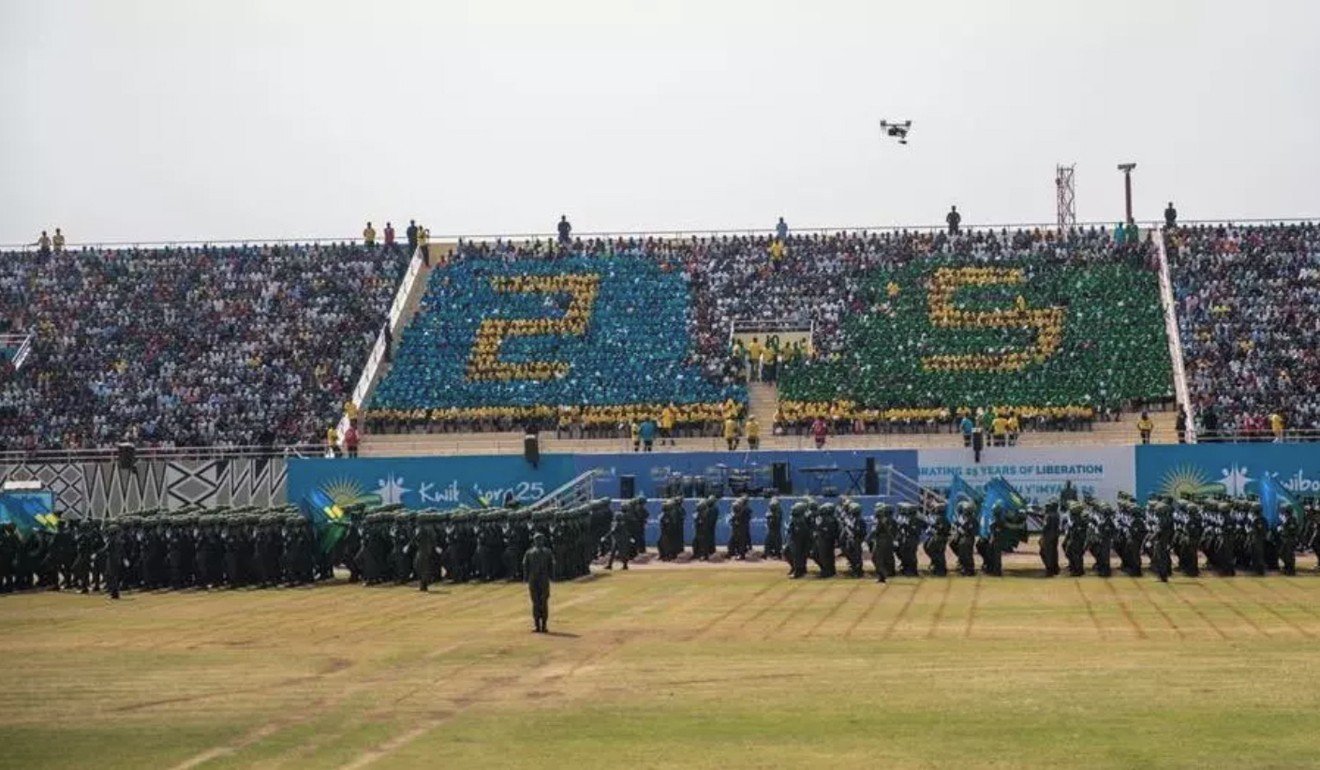 The event for Liberation Day, known as Kwibohora in Rwanda, commemorates the day that Rwandan Patriotic Front forces put a stop to the bloody genocide that is estimated to have claimed 800,000 lives, largely Tutsis killed by the Hutu majority.
Rwandan President Paul Kagame, who spoke about the country's turbulent history at the event, commanded the rebel force that ended the genocide.
Also attending the celebration were the presidents of Zimbabwe, Namibia, the Central African Republic, Somalia, Botswana, Sierra Leone and Togo.
China has expanded
ties to the African continent
in recent years, in both trade and investment as well as military engagement and arms sales. Rwanda, one of the world's poorest countries, has regularly purchased Chinese arms, including air defence missiles and self-propelled arms vehicles.
In December, the Rwandan army displayed
Chinese military hardware
, including a PCL-09 self-propelled howitzer system, one of the main artillery systems used by the PLA.
Kagame, the former chairman of the African Union, has supported growing Chinese investments on the continent and in Rwanda, denouncing fears about Beijing's debt-trap diplomacy as "anxiety by the West relating to China's involvement in Africa".
This article appeared in the South China Morning Post print edition as: PLA-trained troops show off their skills in Rwanda